Foreign Language
Exploring how the pandemic has impacted how students prepare for the exam
The National French Contest, also called Le Grand Concours and more commonly, French Concours, is a French language competition held annually by the American Association of Teachers of French. Students who learn French, ranging all the way from first to 12th grade, take the exam and compete against peers with similar educational levels for rewards. The competition is held from either Feb. 14 through March 1, or Feb. 17 through March 31. According to French teacher Sarah Finck, MVHS has participated in the French Concours multiple times throughout its history and has provided many students the opportunity to take the exam for many students. 
"My first year at [MVHS], I think I only had my French 4 class take [the French Concours] because I was still getting a feel for how the rhythm of the school year worked," Finck said. "Since then, I've been here 12 years now. Initially, we were still allowed to ask students to pay for things when I started, and so it's four dollars per test. So there was a time when we were asking students to pay, and then we were able to subsidize any kids who either couldn't or chose not to pay. We still said, 'This is important, why aren't you going to take it?' For the last at least five years, we are not asking students to pay for things anymore, but [former Principal April] Scott funded it from her principal's fund a little bit, and also encouraged us to apply to School Site Council funds because the school can see the educational value in having students take the test."
Senior Kyle Lee, who has taken the French Concours three times at MVHS, reflects that the style of the exam is similar to other types of tests he took in the past.
"I would say that the Grand Concours is comparable to the SAT, specifically the reading section and the grammar section of the SAT, except of course it is in French," Lee said. "By nature, it's a standardized exam. So it's going to have one right answer for every question, and every single question is multiple choice. Sometimes, it's very tricky, and you need to make sure that the response you're picking is explicitly in the text on the exams."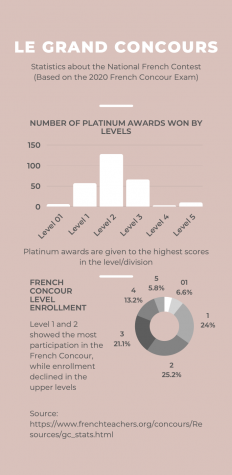 Due to MVHS transitioning to distanced learning because of COVID-19, Finck and other French teachers have attempted to adapt to the new learning environment and search for new ways to prepare students for the French Concours. One of the methods, according to Finck, is showing past French Concour exams to students.
"When we purchase an exam, one thing that I like is that those four dollars give us access to the last seven or so years of tests in the testing system," Finck said. "Because the test is divided up into two parts, a listening part and then a reading comprehension part, I can assign one half of the test as homework, which takes about half an hour. Then I've been having them do a screenshot of their score at the end so I can see how they are doing. So I think right now, it's a really nice enrichment tool that' is digital, that I know is aligned with standards, and pushes all the students at every level. Those who are really motivated are fully taking advantage, and those who are doing what I'm asking, they are just doing what I'm asking." 
Senior Aditi Phatak, who has also taken the French Concours three times and is planning to take her final exam this year, shares that her French class has been doing numerous activities in preparation. 
"Part of the Grand Concours, there is a [listening] part where [the actors] speak very quickly," Phatak said. "So to practice that, we listen to French news and discuss it in class. We also do a lot of reading comprehension stuff in class. Right now, we are reading the [title of the play], which is a play, so by reading excerpts, that helps us as well. We do a lot of practice in class and then we discuss it, so it's pretty helpful in that terms." 
"The language really becomes second nature, especially when you have been studying it for years," Lee said. "I would say that really a lot of your studying should not be done last minute. You should really have knowledge of the language and, if anything, what you're studying should be about the style of the test rather than content concerning the French language."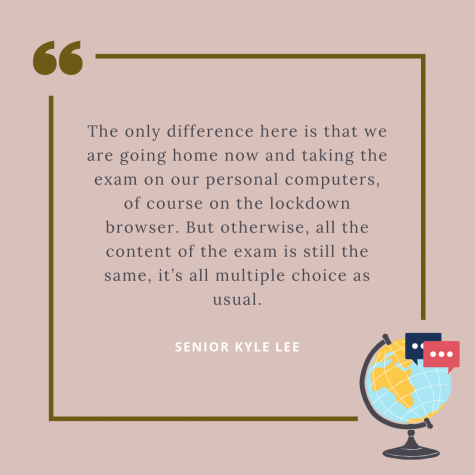 Lee shares that while the environment in taking the exam has changed, the French Concours as a whole was not greatly affected by the pandemic, and he has not faced specific challenges while taking the exam online. 
"In a typical year, what we do is we go to the library for a class period, and we just take the exams on those computers," Lee said. "The only difference here is that we are going home now and taking the exam on our personal computers, of course on the lockdown browser. But otherwise, all the content of the exam is still the same, it's all multiple choice as usual."
Phatak also believes that the exam has not been greatly affected by the pandemic, and besides the small problems that might arise, the preparation process for her French class and herself has been going well.
"We're taking it online on our computers, and we have to stay on during Zoom," Phatak said. "There might be some concern on Wi-Fi issues since we're all doing it at home, but besides that, I think we have prepared very well in class and Madame Finck has helped us a lot so it's pretty smooth in my opinion."
Music by Bensound
About the Writer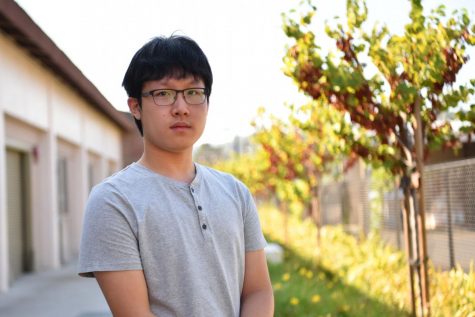 Minjae Kang, Staff Writer
Minjae Kang is currently a junior and a second-year staff writer of El Estoque. In his free time, he enjoys listening to music, watching movies and chatting with friends.