Boys Soccer: MVHS defeats Cupertino High School 1-0
The team secures its first win post-pandemic despite struggles with team chemistry
On March 15, the MVHS Varsity Boys Soccer team had their first win of the season, defeating Cupertino High School (CHS) 1-0. Despite challenges including team nerves, playing against an ex-MVHS coach and tough referee calls, the game ultimately ended on an optimistic note.
When the Santa Clara Valley Athletic League (SCVAL) first suspended sports in March 2020, the soccer team had just ended their season. They had a record of 7-9-6 and had been consistently winning and tying games — coach Pancho Tzankov believes this was due to strong team chemistry.
Even after the pandemic canceled sports, some of the players continued playing together in small groups with masks and social distancing off campus, unaffiliated with the school. Junior Edin Kraja recounts how playing and hanging out with other teammates was key to building team chemistry.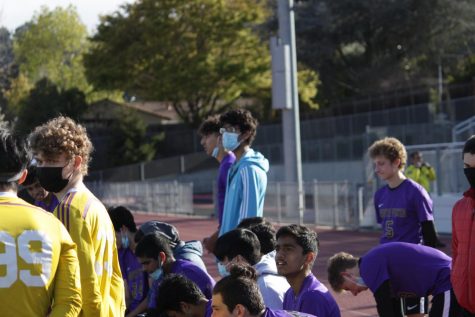 According to senior Zyad Khater, the main challenge during Monday's home game was the team's nerves. Players that hadn't played in over a year mainly played "boot ball" in the first half — kicking the ball far forward instead of using controlled passes to keep possession.
The first half was an array of missed opportunities, but it was mainly a stalemate due to strong defense and limited possession for both sides. However, near the middle of the first half, junior Avi Das caught a counterattack and was likely going to score if not for the holding foul from CHS. The CHS player received a yellow card and senior Nakul Nayak successfully scored the penalty kick, making the score 1-0.
"We've been putting in this work for a long time so we were confident in what we [could] do," Kraja said. "[For] weeks upon weeks, everybody has been putting 100% in and I could see that now that I'm sitting on the outside. I love seeing the team work hard and I see a lot of great chemistry on the team. It was fantastic to watch." – Junior Edin Kraja
"Instead of letting our striker just score, they made a quite stupid foul," Kraja said. "But we scored that penalty … [It was] the first goal of the season. It was a very good penalty [kick] and I think that definitely boosted our confidence a lot and made us feel more secure in the match."
Going into the second half, the team became more comfortable making the gameplay more controlled and strategic. The CHS team, led by ex-MVHS Boys Varsity Soccer coach Todd Kimble, was instructed to play "a lot more physical and fast paced" while MVHS countered with midfield control, according to Khater.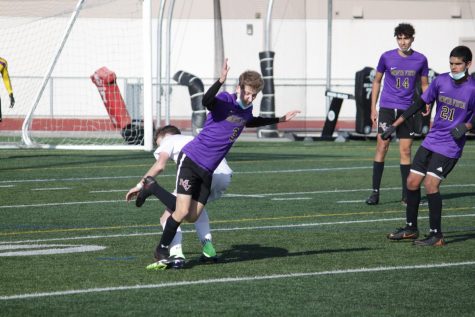 "Our main strategy was to dominate the midfield," Khater said. "Because we're aware that their best players are in the midfield and we also have really strong midfielders. Our game plan was to dominate the midfield and play out wide to wingers like myself and Mikey [Tzankov]."
MVHS determined their strategy due to prior knowledge about the opposing coach and team. Many of the CHS players are close friends and club soccer teammates of the MVHS players. Because of this, Kraja says there was a "nice environment" and "a lot of smack talk." In addition, the ex-MVHS coach Todd worked with Tzankov during his initial recruitment.
"Coach Todd is the former varsity coach of MVHS but also my mentor and my teacher, so I've learned a lot from him," Tzankov said. "This was the first time that he wasn't mentoring me since a few years, and now we actually played each other. I know very well how he thinks and how he coaches and he knows how I coach … It was a very nice atmosphere, much different than what we had in previous years."
Throughout the rest of the game, the matadors mainly controlled possession. They played the ball to the wings and the defense played a strong regulated passing game. CHS was only able to get two shots in during the second half, both of which were not successful. Despite MVHS' control of the game, they weren't able to score during the second half, which Kraja mainly attributes to a series of offsides calls by the referees.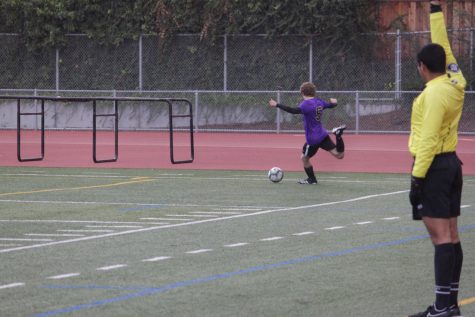 "The bad calls definitely did impact us a little bit, especially the forwards," Kraja said. "[The forwards] started feeling less confident only because everything they're working for [was] just stopped by a bad call with a whistle. It was tough to watch and definitely tough to play for [these referees]. But I think we maintained our composure very well, because most people would get angry and not play their game after that."
Reflecting on the game, Tzankov is optimistic about the team's prospects for the rest of this season. While the season is shorter than it would be in normal years and there likely won't be playoffs due to the new SCVAL policies, the team has won games — 1-0 against CHS and later 5-0 against Milpitas High School on March 17. Yet he's most proud of their collaboration and sacrifice for a common purpose.
"Our goal this season is to be champions of our league… [and] this is a very unifying goal," Tzankov said. "Everybody is on board and is buying in. This is part of the reason we're playing so well — we have such a passion, a very hard work rate and [went into the game with a lot of preparation]… But everyone is working very hard to sacrifice for the team and I'm very proud of this."
About the Contributor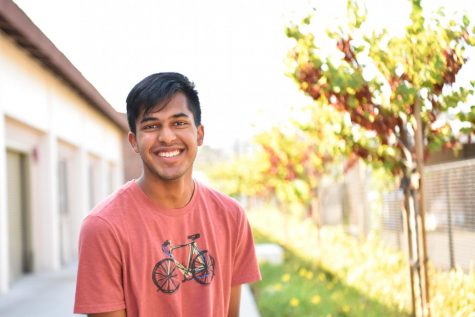 Devin Gupta, Managing and Web Editor
Devin is currently a senior and a third-year staff writer, managing editor and website editor for El Estoque. In his free time, he enjoys skateboarding and watching Star Trek.