Who made Taylor Swift famous?
How recent sexist comments about Taylor Swift demonstrate society's normalization of misogyny
"What do you care? You go through men faster than Taylor Swift." 
This line in the 2020 Netflix TV series "Ginny and Georgia" caused controversy on Twitter, accompanied by a response from the pop singer Taylor Swift herself on March 1. The show increased in popularity after being added to Netflix on Feb. 24 and this sexist quote quickly caught viewers' attention. As thousands of fans commented their support and decided to boycott the series, the hashtag #RespectTaylorSwift started trending on Twitter. Although the line was probably written as a harmless punchline, the stereotype that Swift constantly switches between men has haunted her throughout her career. From "Enchanted," a song about her relationship with singer Adam Young, to "Style," allegedly written about singer Harry Styles, Swift has been known to write music about her past heartbreaks and is greatly ridiculed for it. 
Hey Ginny & Georgia, 2010 called and it wants its lazy, deeply sexist joke back. How about we stop degrading hard working women by defining this horse shit as FuNnY. Also, @netflix after Miss Americana this outfit doesn't look cute on you 💔 Happy Women's History Month I guess pic.twitter.com/2X0jEOXIWp

— Taylor Swift (@taylorswift13) March 1, 2021
After releasing her album "Red" In 2013, The Ellen DeGeneres Show invited Swift to participate in a game segment in which images of men rumored to be her exes appeared on a screen, and Swift was instructed to indicate whether she had dated them. Later in the game, Swift commented, "[This game] makes me really question what I stand for as a human being," while Ellen and the audience continued to laugh at her reactions. Even after the release of her fourth studio album, people seemed more entertained by the discussion of her love life than her newly released songs, despite the album's success. The fact that Swift's success was and still is overshadowed by the men of her past indicates that the accomplishments of women are seen as less important than their love lives, reinforcing the sexist idea that women cannot be independent. 
Not only are Swift's musical accomplishments often overlooked, but even the fame Swift receives from her music is often attributed to men. Some believe Swift owes her success to rapper Kanye West, who stated in his 2016 song "Famous" that "I feel like me and Taylor might still have sex // Why? 'Cause I made that b*tch famous." The line alludes to the 2009 Video Music Awards (VMAs), where Swift won Best Music Video of the Year for her hit song "You Belong With Me" and West interrupted her on stage to claim that pop singer Beyoncé was more deserving of the award. In "Famous," West makes the statement that this incident was the kickstart to Swift's singing career and that he was the one that gave her a name in the industry.  
Similar to the quote referencing Swift in "Ginny and Georgia," the song was intended to be a joke and allude to an event that occurred nearly seven years earlier. However, West failed to understand the depth of his influence, leaving the lasting impression that Swift was just a girl that West had "made famous." How can a woman who was already accepting a prestigious award somehow owe her success to a man who talked about her for two lines in a rap song? These lyrics reinforce the false narrative that women are incapable of achieving their goals without the aid of men, even implying that Swift should repay West for his help by having sex with him, which is also suggested in the music video where a wax figure of Swift's nude body is shown directly next to West's in a bed. 
For over a decade, Swift has been on the receiving end of thousands of misogynistic jokes and comments, purely because she produces music about her emotions and past dating experiences. By normalizing these sexist jokes in TV show scripts and song lyrics, people continue to harbor implicit bias against women and turn their careers into something laughable. 
Over the years, Swift has acknowledged these distasteful jokes and has even written songs embracing the stereotype of her dating too many men. In her response to the line in "Ginny and Georgia," Swift points out the outdatedness of the joke and says, "Hey Ginny & Georgia, 2010 called and wants its lazy, deeply sexist joke back." It is disappointing that Swift still has to defend herself in 2021, despite constantly advocating for the feminism and #MeToo movement.  The Netflix show writer's attempt at a "joke" is a reminder that society has a long way to go in terms of achieving any semblance of gender equality and that women are still subjected to the same misogynistic jokes that they were years ago.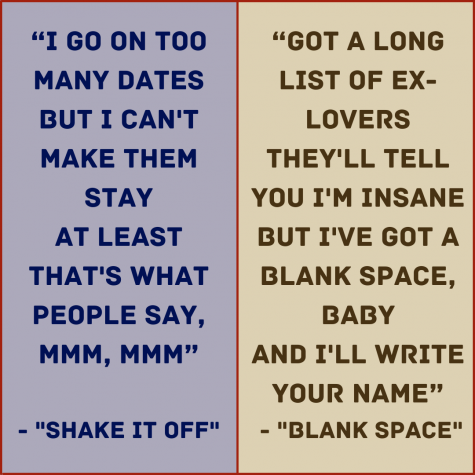 To begin dismantling an inherently misogynistic system, we must first begin with calling out the seemingly harmless jokes that bring down women for simply being women. It's important to remember that the number of men a woman has dated is never justification for disrespect. Correlating the number of relationships a woman has with the amount of respect they're given highlights a double standard in our society — men are continuously praised for dating numerous women. This idea of slut-shaming can sometimes be implicit and subconscious since the idea of a "pure" and "innocent" woman is heavily ingrained into our society, and to prevent this, we should actively check ourselves and our biases before making a comment on other womens' relationships. 
Giving women an equal opportunity and chance to actually prove their talents is also monumentally important. Everyone should try to listen to Swift's discography with an open mind and erase the preconceived notions that are previously held about her music. Beneath the surface of corny lyrics and guitar solos of some of her earlier work, we can learn to appreciate the vivid stories she is capable of portraying in just four minutes of a song or how she's able to describe her feelings in a different way on every track. Being willing to change our opinions and finding enjoyment in stereotypically feminine things, like Swift's music, can help women feel more comfortable with embracing the "girly" qualities that society often mocks.
As Swift begins to re-record all of her songs that were sold to Shamrock Holdings by her ex-producer Scooter Braun, she will finally regain ownership of her music. On Feb. 11,  Swift announced that she finished re-recording her second studio album "Fearless" and released the lead single "Love Story (Taylor's Version)" on Feb. 12. Since Braun sold her old master recordings rights and she no longer profits off of her first six albums, these re-recordings serve as a symbol of her reclaiming her own success. While she revisits the old music she wrote about her teenage love stories, we hope that she sings them with the same passion she's always had. Although every one of Swift's albums has encompassed a different chapter in her life, they all have one consistent element — her emotions. 
Swift will continue to release new music that reflects her newfound emotional maturity, yet we can't help but listen to "You Belong With Me" every now and then and allow ourselves to be normal teenage girls, dreaming about the cute boy-next-door. In honor of Women's History Month, we thank Swift for opening up to us regardless of how society has perceived her, and teaching young women that it is OK to unapologetically embrace our femininity and independence. 
This month, let's remember that Swift's incredible ability to storytell in her songs, her compassion towards her fans and beautiful stage presence is what made her famous, not Kanye West, not Scooter Braun and not any man she's ever dated. So all things considered, we think it's safe to say that Taylor Swift made Taylor Swift famous. 
A playlist of our personal favorite Taylor Swift songs: