French teacher Sarah Finck receives the California Language Teacher Association's 2021 Outstanding Teacher Award
Examining the impact of Finck's teaching for her colleagues and students
French teacher Sarah Finck received the California Language Teacher Association (CLTA) 2021 Outstanding Teacher Award, a statewide honor, at a virtual award ceremony called Celebrating the Best of Us on Feb. 28. The award recipients were announced prior to the ceremony on Feb. 23. 
CLTA is California's state organization for all language teachers and languages taught, including American Sign Language (ASL). Each year, the CLTA has a conference that switches locations, rotating around the state. This year, the conference was virtual and began on Feb. 26, with an award ceremony on Feb. 28 acknowledging winners who will later receive plaques by mail. 
Finck is a part of CLTA, and since it is the umbrella organization for smaller branches like the local Santa Clara County branch, Finck utilizes its community of French teachers and local conference network.
Finck is also part of the national organization for French teachers, titled the American Association of Teachers of French (AATF), and is the president of the Northern California chapter. Through her involvement with this organization, she has come to know several veteran French teachers like former Mountain View High School French teacher Helene Chan, who nominated her for the CLTA Outstanding Teacher Award.
Finck explains that there was an extensive rubric for qualifying and there was transparency in terms of knowing what needed to be done in order to meet the criteria. She says that Chan spearheaded the effort and took charge of the application process — Chan asked Finck for a list of items she has implemented in her classroom, such as meeting the language teaching standards, as well as professional, cultural and extracurricular activities. Chan also asked Principal Ben Clausnitzer, Language Department Head Molly Guadiamos, French teacher Janissa Zahn, several AATF colleagues, Finck's student teacher from the 2019-20 school year, one of Finck's former students, a parent of one of Finck's current students and Finck's current student, senior Aditi Sadwelkar, to write letters of recommendation in November of 2020.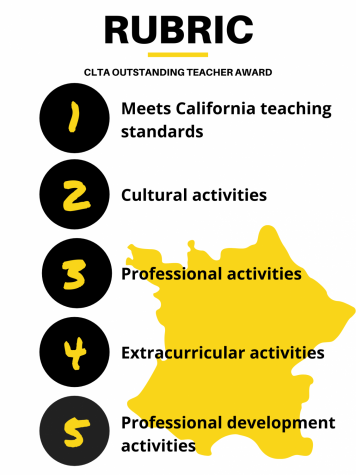 In her list, Finck included activities she does in the classroom such as tasting authentic French food and inviting guest speakers. She also included activities she does outside the classroom, like encouraging students to participate in writing competitions that many have won and participating in a local French camp at Walden West where she "brought a few students for a weekend of immersion." She has also "traveled to France with a few students on a few different occasions" and leads the French Honor Society to participate in the National French Contest each year where they debate with Lynbrook High School.
"I can brag about my students — there's been a 100% success rate for students on the AP test since 2012," Finck said. "[Chan] as the nominator needed to prove that I met their criteria on the rubric by saying what I had done, but I didn't really have to show a lot of evidence beyond saying that I'd done it, I think the letters of recommendation substantiated them."
Finck says she was honored to receive the award and recognizes the amount of work that went into this endeavor from the people who wrote her letters — speaking from personal experience, she says that writing recommendation letters, "even for someone you have things to say about, it's work, so I'm very appreciative that people took the time to do that." 
One of her recommendation letter writers, French teacher Janissa Zahn explains that it's rare as a French teacher to even have colleagues, since many high schools only have one French teacher. Zahn is grateful she has someone — especially someone like Finck — to collaborate with.
Zahn is inspired by some of the initiatives Finck has implemented in her classroom, such as speaking predominantly in French in French 2, which is generally regarded as a beginner-level class, and says Finck is "really consistent about it, which is very difficult to do because it's really easy to go back into English and she's very devoted." 
"She's not only open to new ideas, but she's also very creative and innovative herself," Zahn said. "One of the things that always impresses me about her is how energetic she is in her classroom and how you can tell that she really loves what she's doing. She's inspirational in that way, and she's also not afraid to take risks and try new things, especially when it comes to teaching. And she always holds her students' best interests at heart, so she's caring but she also has really high standards. She has a lot of characteristics that I have in myself, but I feel like she's just the person I wish I could be someday."
Senior Aditi Sadwelkar, who wrote a recommendation letter for Finck, has had Finck as a teacher for three years now — French 2 her sophomore year, French 4 her junior year and AP French this year — and says that Finck consistently goes above and beyond to expand her own teaching strategies and help her students. For instance, one of Sadwelkar's first interactions with Finck occurred during her freshman year after telling Finck she had recently moved from India and had been learning French there as well.
"[Finck] was super interested in seeing how French was taught in other countries," Sadwelkar said. "She asked me to bring some of my old books to class, so I did and we spent some time after class looking at them, and it just goes to show that she really loves teaching her students and is always looking for ways to broaden her horizons."
Similarly, Finck says that throughout her 12 years of teaching at MVHS, she's constantly looking for ways to make the learning more authentic and go beyond just textbooks — she hopes to push her students to do independent research and be intellectually curious.
"I set up students to learn interesting things so that they can remember [the content] better," Finck said. "I have the students explore movies that are actually in the cinema in France right now and act as though they're selecting a movie. Through some connections I've had in France I've been able to have the students have pen pals, sometimes students of somebody I knew but now I've branched into teachers I don't know. I try my best to get them real world connections beyond the textbook, beyond the classroom. Over the years, there were some French exhibits in San Francisco museums so I was able to have them do some trips to SF, once with [Art teacher Brian] Chow, to see an exhibit."
Zahn admires Finck's persistence when it comes to offering real world engagement to her students, citing her consistency when it comes to bringing in relevant cultural and political topics.
"If something's happening in France, you know she's going to be sharing it with the students and they're going to be learning about it on the spot while people in a Francophone country are also learning about it," Zahn said. "It just impresses me how she stays on top of all the current events, and still manages to teach her class in a really consistent way, which I feel like I could learn from her a little bit on that."
Sadwelkar agrees, and cites the research projects as one of her favorite parts of the class. She says that in class, Finck encourages them to look beyond France and explore the entire Francophone world, such as places like Canada, Quebec and African countries like Morocco and the Caribbean.
Most recently, Sadwelkar researched the education system in Morocco, and was particularly impressed after discovering that in Morocco, most people can speak four to five different languages by the time they've graduated college. 
Finck says she loves that she can share her excitement about French language and culture with students and be met with equal enthusiasm.
"I like French, I like the language, I like the mechanics of using another language to communicate," Finck said. "And I really enjoy working with teenagers who have enough maturity and intellectual development to deal with hard things. I enjoy watching them discover things, and sharing my excitement about things that I find interesting with them and saying 'I had this fun experience in France or somewhere around the world' and I hope they have it too."
In terms of the CLTA Outstanding Teacher Award, Zahn and Sadwelkar both explain that they admire Finck's dedication and were really happy when she won. Zahn says that she has "dedicated her life to this career and if anybody deserves an award, it's her."
"It's really nice to see someone who actually put in all the work and heart and effort and then was rewarded for that," Zahn said. "I consider her my friend as well as my colleague — you can't get any better than that. I think even if in the future we retire, I'm hoping that we still get to hangout with each other. It's always nice when the person you work with is someone who you feel close to."