BTS's album 'BE' stands as the group's most human gem
The release of BTS's new self-produced album depicts life in quarantine nostalgically
On Nov. 19, record-setting Korean pop boy group BTS released its first entirely self-produced album, titled "BE" — a musical narrative of the humdrum, longing and monotony of life in quarantine. 
According to Big Hit Entertainment, BTS's company and label, "BE" is an abbreviation of the most "BTS-esque" music ever produced from the band. Unlike in previous albums where the line distributions, creative assembly, concept visuals and song production were curated by the BigHit staff, the creation of "BE" offered BTS free rein as artists — not just idols. From the album cover design to music video directing, "BE" stands as BTS's handcrafted fruits of labor and the group's most realistic, deep-seated work to date. 
"BE's" musical charm — its nostalgic lyricism and mellow undertones — paints BTS not as international superstars, Billboard Music Award artists or four-time Daesang recipients, but more as ordinary people.
"Life Goes On"
The title track of "BE," "Life Goes On," narrates yearning for past memories, confronting change and feeling directionless in the midst of the COVID-19 pandemic. "Life Goes On" delivers a down-to-earth, human facet of BTS, a deviation from their glitz and glamour.   
The song's lyrics make recurrent references to "Spring Day," the title track of BTS's "You Never Walk Alone" album from 2017. "Spring Day" was written as an ode to missing a loved one or a close friend, effectively framing the current quarantine situation. The lyric "spring didn't know to wait" in "Life Goes On" parallels "passing by the edge of the cold winter until the days of spring" in "Spring Day." The spring and winter allusions in both "Life Goes On" and "Spring Day" hint at the seasons flickering by as the months blaze away. This lyrical touch is especially moving, and adds intimacy to the song, making "Life Goes On" an introspective yet light listen. 
While "Spring Day" details finding comfort in spring after a long winter, "Life Goes On" recounts how there is no spring or winter — only lost time. This connection to Spring Day is a thought-provoking stylistic detail and also precisely connects to the pandemic-induced warped sense of time.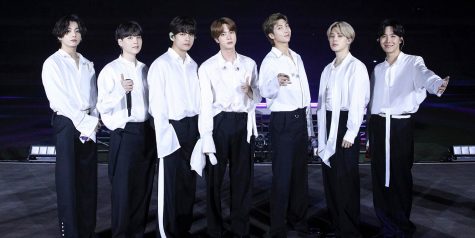 "Life Goes On" is backed with a restful acoustic instrumental and gentle humming, establishing a cozy and homebody effect. This emotion is reflective in the music video's visuals — pajamas, road trips and watching a movie. Listening to such a wistful track is heavily reminiscent of BTS's 2014-2016 work, when its sound was anchored around sentimental concepts like the butterfly effect ("Butterfly"), burning youth ("Run") and sweet love songs ("Coffee"). In a way, this return to BTS's older signature brand is refreshing, especially since the group didn't establish a definite trademark after its well-deserved climb to fame. Noisier recent releases of "DNA" and "IDOL" strayed away from the original BTS quality, which made me feel personally distant from the band. 
The production and dream-like quality of "Life Goes On" seems to present itself as musings on quarantine voiced in a stream of consciousness, as expressed through members Jungkook and Jimin's harmonization. The verses, choruses and bridge melt into one sound and seem to effortlessly blend without dramatic instrumental switches. This lack of immediate song structure reflects the helplessness of everyday routines and a floating state of mind, as moments in time mesh together in quarantine. 
For this reason, "Life Goes On" is not especially memorable, which is both a downside and an intentional asset. While the message and emotions are delivered beautifully, the song leaves the listener reminiscing the bliss of pre-quarantine memories over remembering the song's actual rhythm and beat. However, this may imply that BTS wants fans to takeaway the emotions associated with the song rather than the song itself — transcending conventional music boundaries. 
Ultimately, this style of production leaves a bittersweet and empty aftertaste, which is slightly underwhelming for BTS given its discography. Nonetheless, "Life Goes On" still fondly feels like the BTS before fame, which is the song's best quirk. 
"Blue and Grey" 
"Blue and Grey" was originally a part of the album lineup for member V's debut mixtape as an entirely English song, but was placed in "BE" due to its similarities with the rest of the album's theme. In livestreams, BTS members have always expressed their sorrow regarding canceled tours and concerts, as well as not performing in front of cheering fans. "Blue and Grey" emphasizes the toll that COVID-19 took on the boy group, making this track depressing yet relatable. 
One of the most alarming features of this song is the indications towards loneliness through lyrics like "I just want to be happier" and "please don't leave me alone, it hurts too much." BTS's entire brand preaches persevering through hardship and emphasizes loving yourself. Seeing the "dark side" of the people who have passionately dedicated their careers to gifting hope to others is incredibly heartbreaking and simultaneously powerful. 
"Blue and Grey" resembles a ballad with its slow verses and member Jin's touching falsettos. This style may be difficult to listen to at times, and may not suit the average K-pop listener's upbeat tastes, but this song unquestionably humanizes BTS. 
"Telepathy"
"Telepathy" is a retro track expressing BTS's love and humble appreciation for its ARMY fanbase, and how ARMY as an entity is "the most special person" to BTS. Laced with synthesizers, casual adlibs and funky sound effects, "Telepathy" is a fun and cheerful song that juxtaposes "Blue and Grey." 
"Telepathy" is a mixed bag because of its heavy autotune on the rap verses and the chorus, which may resonate as jarring to some and entertaining to others. However, this song is still one to play on repeat because of its uplifting and sunny groove. Although BTS could've tailored "BE" as an entirely sentimental and lonely album, the addition of "Telepathy" helps "BE" encapsulate BTS: loving, compassionate and thankful people. 
"Stay"
"Stay" is a subunit song in "BE" sung by members Jungkook, Jin and RM — an interesting combination of airy voices, honeyed vocals and dynamic rap respectively. This track expresses how BTS will always "stay" with fans, even amid the physical distance caused by the pandemic. 
BTS doesn't typically do Western electronic pop-dance music genres, with the exception of "Euphoria," so "Stay" conspicuously stuck out to demonstrate BTS's experimentation. Although "Stay" is heartwarming to listen to, the song's composition and general delivery is disappointing. "Stay," like most EDM songs in K-pop, has an empty mainstream instrumental chorus, which does not add to the song's overall complexity. 
The K-pop industry, as of 2019 and 2020, has been oversaturated with cookie-cutter EDM songs and predictable beat drops, which "Stay" echoes. The rap and vocals of "Stay" complement each other seamlessly, but the creative production behind the track is decent at best. 
Closing Thoughts
"BE" is not as vulnerable as the "Map of the Soul: 7" album or as inspiring as the esteemed "Love Yourself" trilogy. Although "BE" is free-flowing and dreamy to listen to, the album does not leave an innovative impression in the realm of BTS's discography, but rather a much needed source of comfort. 
As BTS's first self-produced album, "BE" feels incredibly human and authentic. Infused with nostalgia, despair and appreciation, the dreamy tracks on "BE" offer a glimpse into BTS's daily ponderings during the pandemic, bringing feelings of solace and companionship.