Intersport friendships
MVHS athletes continue forming friendships between teams during a challenging socially distanced time
For the Field Hockey team, large crowds cheering them on as they play has become a rare occurrence. The stands are often empty and celebration cheers typically only come from team members. But once a season, the Boys Water Polo team streaks across the field either during the halftime of a game or a practice. In return, the Field Hockey team cheers for water polo before a randomly chosen game of the season.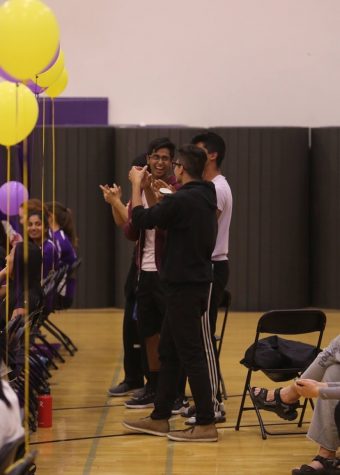 "It's one of those things that we look forward to, just like [how] we look forward to senior night and the last game of the season," senior and field hockey player Prisha Khatwani said. "We look forward to cheering on Water Polo and Water Polo cheering us on. It's more of a fun surprise every year, because we don't know the day that [Water Polo's] going to do it, and we barely know the day that we're going to do it. So it's something to look forward to and something that makes practice more exciting."
Khatwani points out that while the Field Hockey team maintains close friendships with other teams, such as Girls Tennis due to their shared locker room, their friendship with Boys Water Polo is special in that this tradition has lasted throughout Khatwani's four years on the Field Hockey team. Because of this, the two teams can rely on each other to bring some added excitement before games once a season.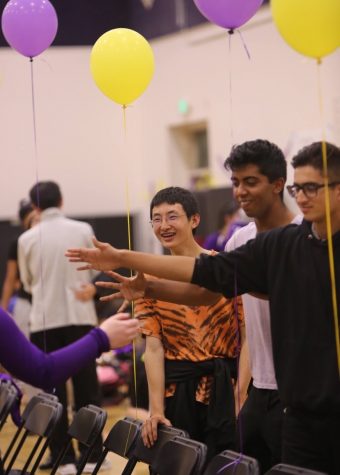 Although Khatwani hasn't noticed a significant change in her team's performance when the Boys Water Polo team runs across the field, she notices a boost in their energy and effort. Similarly, senior and Girls Volleyball player Sammi Dunn has noticed an increase in intensity when the Boys Volleyball and Girls Volleyball teams come to cheer each other on during their games.
"There might be a little bit of wanting to show off, but a lot of times, it's just the energy that [Boys Volleyball] brings [and] wanting to play better to show your stuff to your counterparts," Dunn said. "Whenever they're [at] our game, sometimes we play better, because we're fired up — sometimes the need to show ourselves can make us too anxious but our competition does improve our play."
On an individual level, Dunn has known many of the members of Boys Volleyball since middle school because of club volleyball and her friendships with them have extended to outside of school. Not only did the two teams watch each other's games but they also played together during lunches, refereed each other's games and, most recently in the pandemic, attended Zoom workouts together. 
The Boys Volleyball team invited them to join their Zoom workouts with its trainer. Dunn acknowledges that while there are minor differences in the play of the Girls and Boys Volleyball, they still can learn from each other.
"Watching Boys Volleyball is a really helpful thing for [the] Girls [team], because they play at such a high intensity and high speed and everything they do is very explosive; whereas girls, we tend to be a little bit more calculated," Dunn said. "You can definitely see it in our offense, where [the] boys always [have] a lot of power but [the] girls tend to be more sneaky. Also, [with] technique and placement, [for] the boys when [the game is] going so fast, they have to be in the right spot to set up their defense in order to get their digs or their passes. So getting to see where they're lining up based on where the block is is really helpful for us."
Rather than comparing wins and performance in games, the teams' competition is shared on a more individual basis. Dunn says that these points of competition, like "who can hit harder," are all very supportive. 
Similarly, the Boys Basketball team has friendly competitions with the Girls Basketball team, such as short shooting challenges. Sophomore and Boys Basketball player Philip Chiu notes that the two teams have a close relationship that is full of jokes while both still understand the lightheartedness of their teasing.
"Once [we] go back into the gym [after our game], some of us will stay there [for] just a few minutes to watch the girls game and we'll be cheering on the sideline for them," Chiu said. "They'll do the same for us; if our game is right after their game, they'll come watch us for a little bit. Then, we just cheer [for] each other on the sideline and make jokes with each other … If we miss a shot, we'll just jokingly tease each other."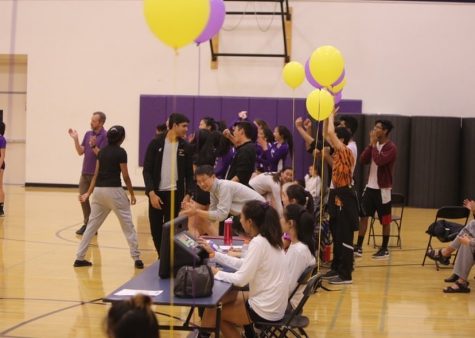 Chiu notes that these jokes uplift the mood and morale of the Boys Basketball team and often help specific team members' performances. A running joke within the team last year was about a player who performed better when the Girls Basketball team came to cheer the team on.
"He would always do a lot better when there were any of the girls watching," Chiu said. "One time, we were going on an away game, and so were the Girls JV team; we played right after them. [During our game], one of them came to the sideline and started cheering his name. After that, he made three 3-pointers in a row. So from that day after, whenever there was a girls' game, and then a boys' game right after, we would beg that girl to continue yelling his name. It was kind of like a joke that we had throughout the season."
Because Chiu has seen the positive effects of these intersport friendships, he hopes that the two teams can collaborate more in the future by inviting guest coaches to work with both teams. Dunn shares a similar sentiment, as she sees "more room for connection at the JV level." She also wants to play against the Boys Volleyball team more often for both teams to spot areas of improvement.
Dunn also sees room for improvement in collaboration and communication between all teams in the MVHS sports community. She hopes that this can be implemented with more events like Matador Madness (a inter-sporting competition between all the MVHS sports teams) and organizations like the Student Athletic Senate, to encourage more people to join the athletic community at MVHS, boost athlete morale and increase school pride.
"MVHS, as a whole, doesn't have a really integrated sports program — we're kind of separated by our sports and then by our genders effectively," Dunn said. "[We] had Matador Madness last year, and I thought that had a lot of potential for being really fun [and] engaging, even for people who don't play sports. Any time when the sports teams are coming together and drawing in non-sports people [is] fun. At MVHS, there's not a huge emphasis on athletics, but I think [in] sports, there's a lot of opportunity for people, not just [for] entertainment, but [also in] learning discipline and other skills that can translate to life."
About the Contributor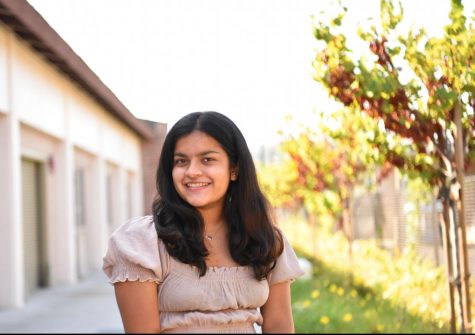 Jayanti Jha, Co-editor-in-chief
Jayanti is currently a senior and a co-editor-in-chief for El Estoque. She plays field hockey on the MVHS Varsity team as a forward. In her free time, she loves to rewatch "Dance Moms," try new foods and play the only song she knows by heart on the guitar: the theme song for "The Office."