A throwback to childhood trends
Students reminisce on nostalgic toys and trends from their childhood from the past two decades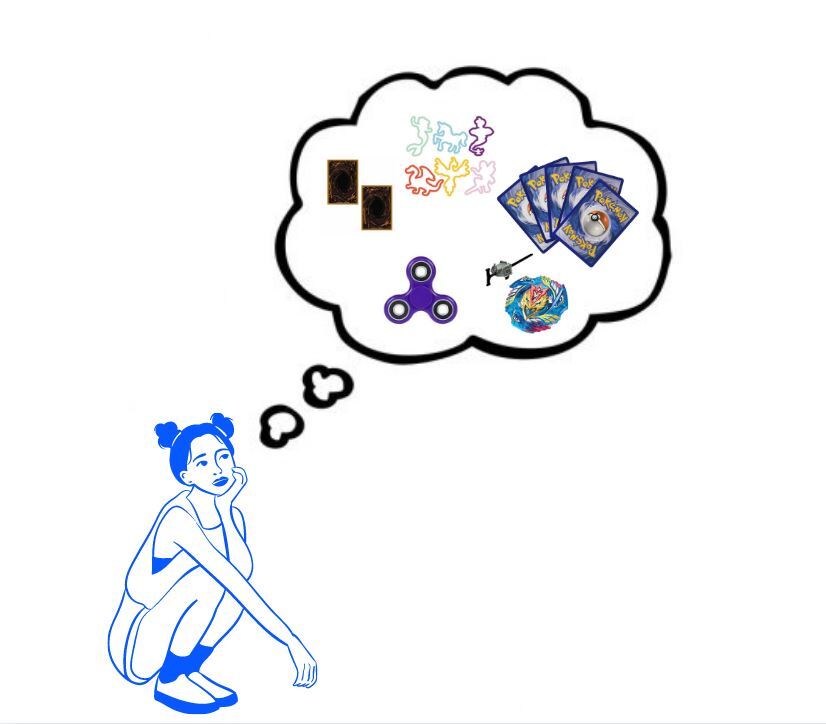 When Silly Bandz — colorful, differently shaped rubber bands — became popular in elementary school, senior Alice Zhou started a Silly Bandz collection with her friend group. Through careful strategizing, collecting and trading, she and her friends were able to obtain holiday and limited editions Silly Bandz. Zhou recalls one strategy she formulated to do so.
"The most common [Silly Band] was the bracelet version, but I [knew] there were also ring versions," Zhou said. "I remember I saw the ring version in the store, and I was like, 'Oh, I need to have those,' and I bought it. I remember I would convince people that the ring versions were more valuable than the bracelet version, even though they were cheaper because they were smaller. Then I would trade one ring for five of the regular bracelet Silly Bandz."
Junior Mahati Varanasi also immersed herself in similar trends throughout elementary and middle school, including Rainbow Loom, Beyblade, fidget spinners and slime. She believes these toys became popular because they were small and portable and enjoyable to play with and trade.
On the other hand, Senior Sammy Banerjee, who has been playing with trading cards such as Pokémon and Yu-Gi-Oh with his friends since third grade, attributes the popularity of these cards to their marketing. According to The Verge, Pokémon eventually expanded into a cultural phenomenon, creating a multitude of products to satisfy its ever-expanding international fanbase.
"There's so much that was going on with Pokémon," Banerjee said. "Because they had the show. They had the trading cards. They had the video games on the [Nintendo] 3DS … and then [middle and] high school [had] Pokémon GO. They were coming at [Pokémon] in so many different ways." 
Banerjee himself was influenced by his friends to start engaging with Yu-Gi-Oh cards. As the owner of some rare and powerful cards like Blue-Eyes White Dragon, Banerjee has recently started playing the game with his friends rather than solely building his collection. Zhou says that a similar peer influence took place during her childhood as well, when Silly Bandz became a "status symbol."
"I feel a few people wearing [Silly Bandz] to school inspired other people to get them too," Zhou said. "I remember seeing people with sleeves of Silly Bandz — they would just go all the way up their arms. And I guess looking at that, other people just thought it was cool, and so following their lead, they would just buy more and more."
Varanasi believes that the interest in some childhood trends among peers declined because they tended to be cheap "gag gifts" and not something that had much utilitary value. Likewise, Zhou believes that trends are "continuously changing," pointing out that other trends may have lost popularity because people took a lot of time and effort to make, such as friendship bracelets.
"I know maybe not so much [for] Silly Bandz and Pokémon cards — you just buy those — but [for] a lot of these bracelets, you actually have to take the time to make them," Zhou said. "Or actually people go out and buy store-bought ones, but then they get called out for it, so still, I feel like people lose interest after having to make so many."
Banerjee agrees that the time commitment can lead to a trend's ultimate downfall, since he believes he lost interest in Yu-Gi-Oh due to his extracurriculars. However, he and his close friends still play Yu-Gi-Oh and might even look into other card games, such as Magic the Gathering, which he believes supports a bigger community than Yu-Gi-Oh and Pokémon.
While Varanasi still plays with Beyblades, she has left some toys behind such as Silly Bandz and Rainbow Loom. She says that she still has a Rainbow Loom kit under her couch and uses the individual rubber bands as hair ties, as well as keeping them for sentimental value.
"
For me, I think [it's] just important that I keep all my toys from when I was little. I think because there's a lot of memories associated with all of them, and even if there are some that I don't play with anymore, it is nice to look back and look at yourself at that time period."
— Mahati Varanasi
"For me, I think [it's] just important that I keep all my toys from when I was little," Varanasi said. "I think because there's a lot of memories associated with all of them, and even if there are some that I don't play with anymore, it is nice to look back and look at yourself at that time period."
For Zhou, while she views Silly Bandz and other trends with some nostalgia, she wouldn't really mind if her friend group's collection got thrown out, as she doesn't uphold them with much sentimental value. However, friendship bracelets is one trend that she has participated in throughout her life.
"[Making friendship bracelets] is actually [something] I found fun," Zhou said. "And when I went to summer camp, it was a great experience because me and the friend group I made there … made friendship bracelets for each other. [The camp] was in Philadelphia, so now, even when we're back home and all across the U.S., it's a way we remember each other, and we still keep in touch."
About the Writers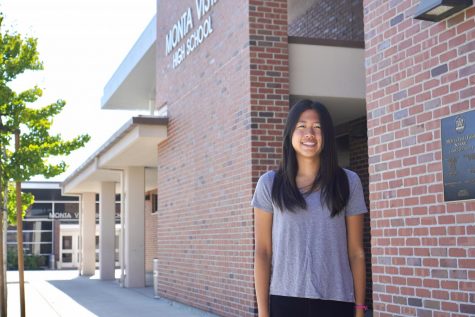 Sophia Chen, Copy Editor
Sophia Chen
is currently a junior and a copy editor on El Estoque. She enjoys swimming and playing basketball. In her free time, she watches YouTube, Netflix and other TV shows. She also writes occasionally.
Suraj Gangaram, Staff Writer
Suraj is currently a senior and staff writer for El Estoque. He is team captain of his local community robotics team, the Popcorn Penguins (#6238) and a varsity member of the MVHS Track & Field team. In his free time, he enjoys tracking the stock market, building just about anything he can get his hands on, and going mountain driving.