Transitioning from a hands-on to hands-off classroom proves challenging
Students and teachers explain the adjustment to learning over Zoom
Bad internet connections. Audio difficulties. Noisy backgrounds. The technical issues that come with Zoom create a less than optimal environment for junior Daniel Lee's band class to practice. According to Lee, hands-on classes require collaboration, and without the interaction of in-person instruction, the class is not the same.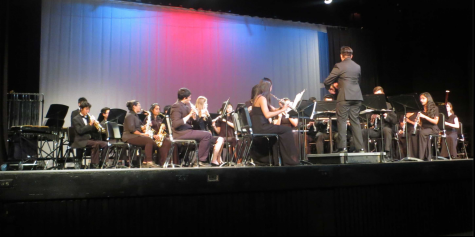 "It's honestly become hard to play music [in band] because people have varying Wi Fi, and that affects performance." Lee said. "I would definitely prefer class in-person, because it's simply too hard to try and essentially participate in band, because of zoom problems and other issues."
Ceramics and Photography teacher Jodi Johnson is working on improving her classes to attempt to bring them close to the standards set by physical, in person learning by providing art materials for her students to utilize at home.
"I created sculpture kits for all of the students that have all of the basic tools that they're going to need to use," Johnson said. "I cut everybody their own clay and I made them all workstations … We actually just got our hands on a clay yesterday, but really the curriculum is going to stay the same."
Although Johnson has provided the necessary tools for class assignments, she believes learning from peers and picking up on their ideas on projects, like sculptures, to improve is a critical part of her art class that  Zoom does not offer. Additionally, some of the facilities for Johnson's photography class that would be available with in-person learning aren't available right now, which has forced her to adjust her curriculum.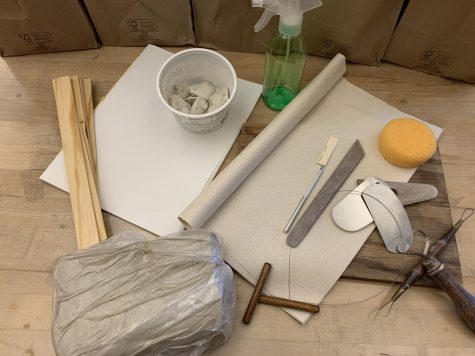 "In Photography at this moment, we don't have access to the dark rooms so we don't have access also to our film cameras," Johnson said. "We're starting the year out trying to look at more of the composition of the photograph and how to take a really good photograph, rather than some of the technical processes in taking a photograph." 
Freshman Ben Everitt agrees with Lee that online classes are not as effective as they would've been in person. However, he finds that they have improved since last year. He sees evidence of this in his PE class, as he now exercises for the whole period, whereas at the end of the last school year, weekly physical activity was recorded on logs during quarantine and he was only in class for 10 minutes. Despite this, he still would rather be doing on campus learning. 
I think in person [learning is] probably a little better because it's more interactive," Everitt said.  "You can also talk with your friends instead of just sitting in silence and exercising."
Johnson aims to capture the old working environment in her Zoom sessions. But Zoom is not the perfect solution for an online education as she is still experimenting with finding the best method to teach her class in distanced learning.
"It's a little harder to teach, so I have a very elaborate setup," Johnson said. "[I use] a document camera at an interesting angle so the students can see what I'm working on and then I'm using Zoom as a way to check in. Normally I'd walk around the classroom and interact with the students on a table by table, individual basis there. Now, I'm just having to do that over Zoom and it's a little more challenging because I can't touch everyone's clay — I have to try and really use my words to verbally explain what's happening and how they should fix their problems."
"
I have to try and really use my words to verbally explain what's happening and how they should fix their problems."
— Jodi Johnson
When in-person instruction resumes, Johnson says she will have no regrets leaving distanced learning behind. She says that being able to interact with students in person is a critical part of learning, and that experience can't be replicated on Zoom.
"I definitely chat with all the students as they're coming in and try and learn a little bit more about them every day, so I'm trying to keep it really engaging and active and provide that social aspect of school," Johnson said. "There's a lot of challenges [with interacting with them] but you know it's just trying to work through all of the little kinks as we go."