Football coach Cody Owens takes position as Athletic Director at Homestead HS
Owens will no longer coach MVHS football as he takes on his new role
In an email to MVHS staff, Principal Ben Clausnitzer announced that MVHS Varsity Football Offensive Coordinator Cody Owens has been selected to be the new Athletic Director at Homestead HS. Owens will teach World Core at MVHS for two periods before transitioning to his role as Athletic Director at HHS for the remainder of the day. 
According to Owens, the transition was not anticipated. Upon receiving an update from a colleague regarding a new opening for Athletic Director, Owens debated whether he should apply or not. While he knew that applying for the position would be a good long-term career move, he struggled with the thought of having to give up coaching football at MVHS. 
"I thought if I got it, I would take it," Owens said. "But then I also felt really emotional about not being able to coach because next year, I think we would have a phenomenal year — all the pieces are falling into place. We have a lot of talented kids on the roster and they've been in the same system under the same staff for the last three years going into four years. Next year, I think Monta Vista will have a very good year and I wanted to be a part of that."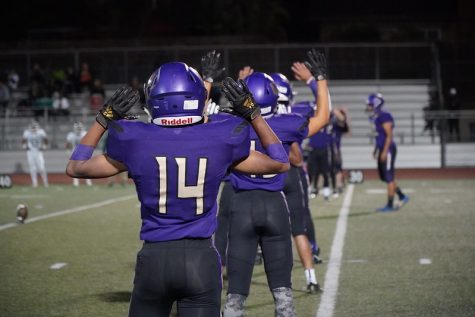 Senior Tarun Sarang has a special bond with Owens, having had him as a coach for his entire high school football career. He first met Owens the summer before his freshman year during summer practices, as Owens was previously the head coach for the JV football team. During his sophomore year, Sarang and Owens were both transferred to the Varsity team, with Owens becoming the Offensive Coordinator. 
When Sarang first heard news of Owens' transition to HHS, he was surprised. Although he was a little disappointed knowing that Owens would no longer be a football coach at MVHS, he was ultimately excited for Owens. 
"When Coach Cody first came to Monta Vista, he student-taught for Mr. Bonacorsi, who is our Athletic Director, so I think it's just kind of fitting, honestly, that he would get that promotion," Sarang said. "It sucks that he's not [going to] be able to coach next year because honestly, the next year's team is missing out on one of the best coaches there is. But it's a good step up for him — Homestead doesn't really know what they've gotten."
Sarang explains that Owens was successful as an Offensive Coordinator. The offense that he put together was "simple but really effective" and helped the MVHS team average the second highest points scored per game in MVHS history during the 2018-19 season. According to Sarang, this is due to Owens' dedication to improving the team. 
"Even though he makes jokes and roasts people on our team, he puts an enormous amount of time into the work he does for the team," Sarang said. "He constantly watches film — he's up until 2 a.m. Saturday mornings after games. Then he'll be at school at 8 a.m. to open up the classroom so he can break it all down for us. At lunch every day, he watches film for us. He's breaking it down, showing us what we need to be looking at, going over plays and making sure that everyone really knows what to do on the field."
Junior Henry Hodgkins was able to get to know Owens when he was pulled up to the Varsity team in the middle of his sophomore year. Hodgkins, who considered Owens to be more than "just a coach" and rather a "mentor and someone he could look up to," was initially sad upon hearing the news because next year is his senior year, and the last year he will play football for MVHS. However, he believes that Owens made the best decision for himself and that his legacy will continue on. 
"Yeah, we're missing our Offensive Coordinator," Hodgkins said. "But he's developed a system and a culture that we want to continue on. So even if he's not our coach, we still want to carry on his legacy and still be focused and dedicated on just everything that he's put into the program. We want him to be able to see our success in our last year."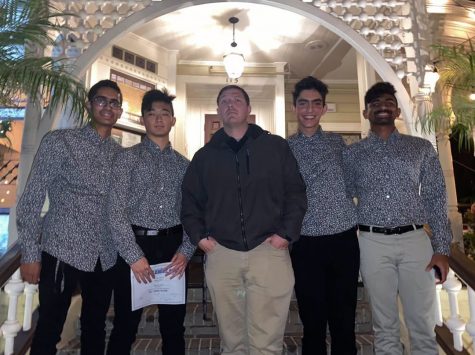 On April 28, Owens held a ZOOM conference with the football team to deliver the news. He explains that it was hard to confirm it face-to-face with his team, especially because of the relationships he has built with the players by teaching American Studies and coaching football. 
"Football's a very unique sport," Owens said. "It's much different than other sports because of the amount of camaraderie that comes along with it. It's the ultimate team sport. You end up spending so much time together to prep — there are very few sports where you end up developing that camaraderie of a team like football."
Sarang recalls one of his favorite memories from his time with MVHS football. During his sophomore year an unexpected series of events unraveled after one of the players forgot to bring the ball back from the ball bag by the water tanks. 
"One of the juniors who was injured was walking down to the trainer's room, so he picked up the ball," Sarang said. "He's this big lineman, Anthony Cruz. He just chucked the ball as far as he could towards where we were and Coach Cody had his back turned to like all this. I kind of saw it in slow motion happening but that ball just sailed all the way over and just smacked him directly in the head. And the funniest part is I'm looking him right in the face and his sunglasses just get knocked to the side of his face and his hat falls off."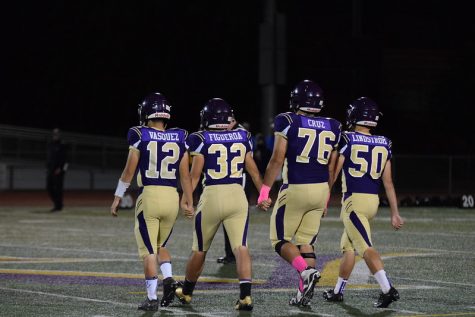 While he will no longer be with the MVHS football players in person, Owens carries these types of memories he made with the team with him. Aside from having the players hang out in his room to joke around and talk, Owens was able to witness many incredible achievements, from the team beating Gunn HS, who was favored to be league champions, to watching individual players develop their skills on the field. 
"A lot of [my favorite memories] are accomplishments by the kids and you feel like you're kind of a part of that accomplishment, because you coached them, you saw them grow for years," Owens said. "You end up spending a lot of time together because some of the kids I would teach in American Studies, two hours a day, and then I'd see them at practice two hours a day and then when football season ended, I'd see them in weight training or in the weight room because I did that too, for an hour or two a day. So you get to know the kids fairly well and you build really strong bonds with a lot of the kids, which makes it a great experience."