'3.15.20' review: Exploring Childish Gambino's last album
Childish Gambino delivers somewhat dull final studio album

Rap and R&B artist Childish Gambino, the alter ego of actor Donald Glover, released his long-awaited final album "3.15.20"–– ironically on March 22, 2020 –– after linking the project on his website for a limited time the week before.
My introduction to Glover began through the comedy show "Community" which I used to watch after coming home from elementary school. In middle school, my friends introduced me to the album "Because the Internet" by Childish Gambino on a walk home from school, which is when I connected the dots between his acting and musical career. Just as I had fallen in love with his acting ability years ago on Monday afternoons after school, I was in awe with his music career and I did a full dive into his discography, becoming a fan for life. 
Seven years after discovering his music, it's hard to comprehend that this might be the last project I'll ever hear from him –– Glover announced that "3.15.20" would be his final album. His previous two projects –– single "This is America," which won four Grammys in 2018, and EP "Summer Pack," which contained two songs that amounted to over 200 million views on YouTube –– were amazing, and made me overwhelmingly nervous about what to expect from this final album. 
At first glance, the album feels unfinished — only two songs have words in its titles while the rest are time stamps. After listening to the first track "0.00," however, it was apparent that this style would provide a completely new experience for listeners.
Each of Glover's albums has its distinct sound and "3.15.20" is no different, providing an out of world experience with its spacey electronic production through samples of galactic sounds. The song "Time" featuring pop artist Ariana Grande stands out the most with its video game-esque laser beam sound. 
However, even though the style is unique, changing quite a bit in each song, most of the records are a little longer than they need to be. Nowadays, most rap and R&B songs are at most three to four minutes, but in this album half of the songs are longer than five minutes. Two of those songs, "Time" and "12.38" are only easier to listen to because of the artists featured –– Grande, 21 Savage, Ink and Kadhja Bonet. Even though the long run times were probably used to accommodate for the instrumentals, they felt unnecessary.
Individually, the only standout songs are "Time" and "12.38," but the overall experience of listening to the entire 57 minutes is still worth it because of the seamless transitions from each song to the next. For example, the songs "42.26," which is a retitled 2018 song by Gambino called "Summertime Magic," and "47.48" give two interpretations of the same production. The two songs do not sound similar –– "42.26" uses guitars, much like those heard in Spanish music, and the other is much like his other pop tracks, yet they go together. 
Lyrically, the album also lacks a lot of substance — most songs simply used the same formula of a meaningless few lines repeated over and over again in its chorus. Gambino, who has shown his tremendous vocal range on songs like "Sober" and "Redbone" in the past, used a manipulation on his voice like creating a muffled or electronic sound, which felt redundant. However, the dry lyrics could have been used to highlight the stellar production since the listener is likely focused more on the production during every song.
This seamless transition between songs makes it seem as though the time stamps as song titles had a purpose. Gambino might be implying that we are supposed to listen to it all at once and the timestamps are there to just let us know where we are in the album. 
However, as a long-time fan of Gambino and Glover, the album still leaves a somewhat bitter taste, especially when compared his past releases, which were superbly successful, and the fact that this might be his last studio album. If there are any takeaways from this album, it is that Gambino ended his musical career in the way he wanted to by creating a unique sound and providing an entertaining experience for the listener. 
About the Contributor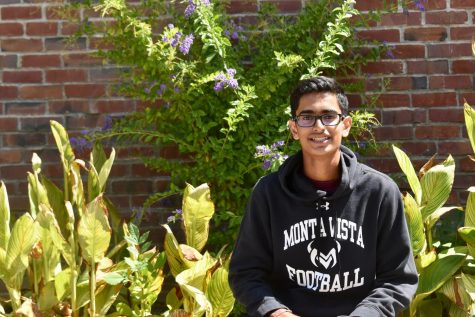 Anish Vasudevan, Co-editor-in-chief
Anish Vasudevan is currently a senior and co-editor-in-chief for El Estoque. He is a wide receiver and cornerback for the MVHS football team and enjoys playing recreational basketball with his friends. In his free time he watches ESPN and dreams of being a sports journalist someday.