Science Olympiad officers' humble beginnings
Leaders reflect on why they joined the club and their favorite memories
It is a break in the competition, and senior and president Alice Cheng is playing plate-minton with her friends. It's their version of makeshift badminton, using paper plates leftover from lunch to hit empty water bottles back and forth. They crack some science jokes as they wait for their next event in the competition to start.
The team aspect is one of Cheng's favorite memories with Science Olympiad, as every event is done either in partners or trios and each event factors into the cumulative team score at a competition.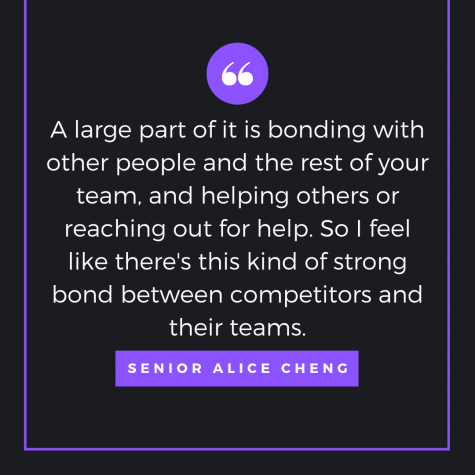 "[Science Olympiad] basically forces you to interact with a bunch of other people, rather than just staying at home and practicing problems," Cheng said. "It does involve some practice, but a large part of it is bonding with other people and the rest of your team, and helping others or reaching out for help. So I feel like there's this kind of strong bond between competitors and their teams.
Cheng joined Science Olympiad in middle school, first influenced by her mom who encouraged her to join. She then found that she particularly enjoyed the team-oriented structure and collaboration of every event. Senior and Vice President of Internal Operations Audrey Cui also entered the club in middle school after seeing a promotional flyer. Many of her friends were also interested, so they all decided to join.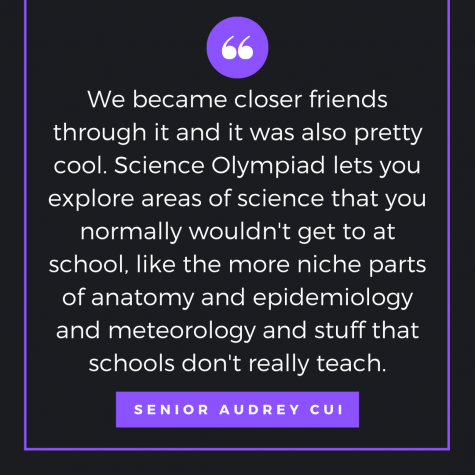 "I remember hearing rumors in sixth grade that, 'Oh, [Science Olympiad] is super hard and time consuming,' so I was like 'Nah,' but then seventh grade, we were like, 'Yo, let's just try it,'" Cui said. "We stuck to it because we became closer friends through it and it was also pretty cool. Science Olympiad lets you explore areas of science that you normally wouldn't get to at school, like the more niche parts of anatomy and epidemiology and meteorology and stuff that schools don't really teach."
Senior and Vice President of Engineering Events Prasanna Srinivas also enjoys learning about topics that go deeper than what is covered in school, and especially likes the opportunities for hands-on work that Science Olympiad offers. The competition is divided into 23 events, all of which can include testing a device the competitors built beforehand, a written test or both.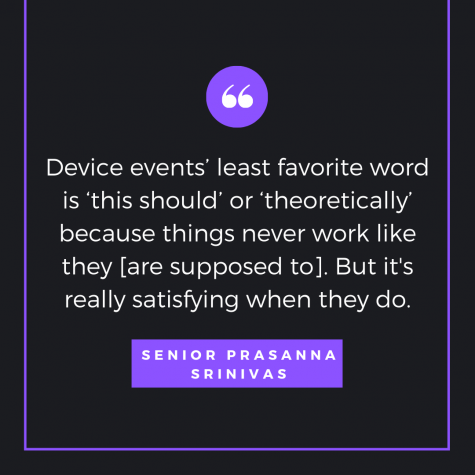 "I really liked the idea that I could take what I learned in physics class or in chem class and actually use it," Srinivas said. "And it helped me sort of reinforce what I learned in class but also have fun."
Building devices can be very challenging, according to Srinivas, but he enjoys working through the obstacles. The device Srinivas liked building the most was a miniature hovercraft, which he found to be the most frustrating to create, but also the most fascinating.  
"Device events' least favorite word is 'this should' or 'theoretically' because things never work like they [are supposed to]," Srinivas said. "But it's really satisfying when they do."