Unhomely Fandoms
Senior Sean Fell
When he was younger, senior Sean Fell would participate in heated Madden and NBA 2K video —game battles with his older brother. His brother, a fan of the Bay Area teams, never let Fell choose the same team as him, forcing Fell to find football and basketball fandoms from other areas.
Fell chose based on the aesthetics of the various mascots for teams in the NFL. Since Fell's favorite animal was an eagle at the time, he chose the Philadelphia Eagles as his favorite football team, a team he still supports today. While his football team was random, he based his NBA team support around a player his dad admired: Carmelo Anthony of the Denver Nuggets.
According to Fell, the hardest part about being a fan of two teams outside of the Bay Area is the isolation; and explains that the only time he is able to share his passions with other people is when he gets recognition while wearing a jersey on vacation.
"The only difficult part is that people here can talk about their team and support together while I have to find the few others that might support a similar team as me which is rare," Fell said. "I also can't watch a game with my friends that often since I'm not a Niners fan or a Warriors fan."
Even though Fell has to defend his support for teams often, he explains that the way he was able to form his opinions about teams through video games is something only specific to his generation of sports fans.  
"Video games and technology have added this new edge where you don't have to be a fan of the team that's right next to you, especially for younger people," Fell said. "Most people end up growing up a fan of the local team, but then they'll move to the East Coast maybe and [not be able to] support them over there. It's cool how you can just find a favorite team that isn't in your area, but eventually you might live near them and you can be a fan of them there. I see more people recently have fans of random teams, and it is a very interesting balance."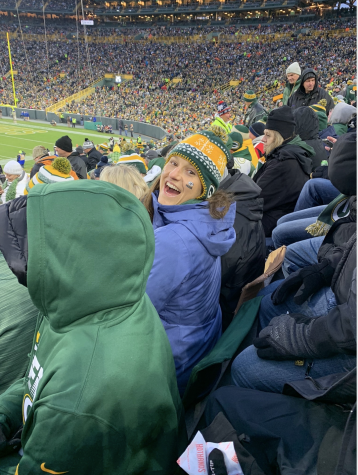 Teacher Jenna Smith
Growing up, science teacher Jenna Smith's father, originally from Brooklyn, then later a Los Angeles resident went from supporting the Brooklyn Dodgers to the LA Dodgers and Rams until their family moved to the Bay Area. Smith decided that she wasn't happy with the quick changes in her family and she decided to start scouting on her own for a team their family could support.  
Smith immediately gravitated to the San Francisco 49ers, but after the team unfairly released an injured player during free agency, Smith decided not to support a team that would cut a player because they were unable to play at that moment. Another team that caught Smith's eye at the time was the Green Bay Packers, which is a team she along with her family still supports today. 
"I discovered the Packers and was like, 'Wow, they're having fun,' Smith said. "And I was watching them play and I was like the team is way more exciting. I just fell in love with players and then watched the fans and said, 'These fans are awesome, they're good, they're nice people.'"
Smith explains that she also enjoyed that the team was owned by the city residents instead of a wealthy business or family like other teams. Along with that, Smith admits that she supports other teams where she can find a positive environment that allows her to gain a sense of respect for that team.
"I get it, it's cool that people support the teams from the areas they're from," Smith said. "But any sport for me, I've always supported the team that I respect and appreciate the way they play and the mentality about it."
According to Smith, even though she lives so far from Green Bay she is able to support her team through events they have in the Bay Area. She explains that she was able to go above and beyond for her love for the ream, by going to Lambeau Field, the Packers stadium.
"One thing that's awesome about being a Packers fan is you'll just walk and you'll hear somebody say 'Go pack go,'" Smith said. "It's like a family."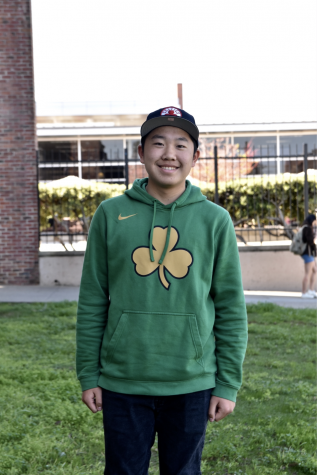 Freshman Leonardo Sze:
In a family of Los Angeles Lakers fans and a school of Golden State Warriors fans, freshman Leonardo Sze stands out. Sze is a fan of the NBA's Boston Celtics, a team he first started to support as a long-winded joke to mess with his family, knowing Celtics and Lakers were rivals.
"I slowly started to actually become a genuine Celtics fan when one of my favorite players, Gordon Hayward, joined the team in 2018 and that made me like them even more," Sze said.
According to Sze, supporting an out of area team can be challenging as it means being part of the minority at games. Sze explains one experience watching a Lakers game at the Warriors arena with his family.
"There's definitely a lot of tension between the fans especially since the Lakers get LeBron and they're expected to win," Sze said. "But the Bay Area is relaxed and there really isn't a lot of hate towards fans that support different teams from different arenas."
Sze explains that unlike fans of the Golden State Warriors, he has not witnessed his favorite team win an NBA championship since he only started supporting shortly after the Celtics NBA title in 2010. He says that he is still waiting for his team to get over the hump and reach the NBA finals. 
"In past years they've made to the Eastern Conference finals three times in a row and most times they lost to Lebron James, which is kind of frustrating," Sze said. "For the young core of the team I think they've had a lot of good playoff experience and I think within a few years the team has a pretty good shot of making the finals and potentially winning."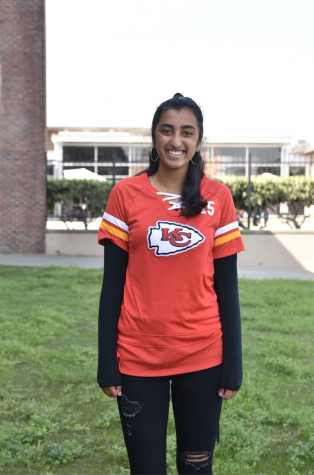 Sophomore Keshita Upadhyay
Growing up, sophomore Keshita Updadhyay didn't consider herself a dedicated fan to any specific team, but rather a specific player — quarterback for the Kansas City Chiefs, Patrick Mahomes. There are a few reasons why Upadhyay admires Mahomes, his character being one of them. 
"Patrick Mahomes is someone that I can look up to a lot just because of his overall personality," Upadhyay said. "He's hard working, he's talented and he's got charisma too."
The other reason Upadhyay supports Mahomes is because of luck. Upadhyay says the year he started playing was a really good year for her, and she now credits Mahomes as her "lucky charm." 
Supporting a team that isn't from this area causes Upadhyay to get questionable looks or assumptions that she's from Missouri. However these comments or glances don't bother Upadhyay.
"It's just part of being a fan, I don't mind telling people why I like who I like or why I follow who I follow," Upadhyay said.
When it comes to supporting a team focusing on an athlete's story and looking at more than just the game is Upadhyay's way of admiring the sport. 
"I generally tend to get impressed by the story or work ethic of a certain player, and that's what makes the game fun for me to watch," Upadhyay said. "I guess a lot of it is just the respect I have for the player than the game."