Xenophobia in the music industry
Entertainment award shows discriminate against non-English speaking artists
They broke Taylor Swift's record for the most viewed YouTube video in 24 hours. They're the first group since The Beatles to have three Billboard No. 1's within one year. They've garnered the most Twitter engagement ever recorded on the platform, exceeding Harry Styles' record. In 2019 alone, Korean-pop group BTS broke multiple records, trumping Western artists after breaking into the American music market. However, despite their glaring success, award shows are xenophobic towards BTS. 
In 2019, the VMAs made a new category just for K-pop, dubbing the award "Best K-pop," after BTS starting smashing sales records and broke into the American music industry. Despite their album, "Map of the Soul: Persona," becoming one of the top selling albums both in the U.S. and worldwide last year, the VMAs excluded BTS — and all other K-pop artists — from main awards such as "Best Pop" and "Artist of the Year" through the creation of the new K-pop category.
Making a separate category for K-pop furthers the notion that K-pop bands shouldn't be taken seriously, and that non-Western artists are not at the same level as "mainstream" pop. 5 Seconds of Summer was nominated for "Best Pop" even though they're an Australian boy band — there seems to be a clear division between English-speakers and foreign language speakers.
To some, this may not seem like a big deal. Using the counter-argument that East Asians are "finally being represented" isn't addressing the fundamentally xenophobic reality in America. Sure, we're finally seeing Asian faces on the big screen and in the music scene, and it may look like award shows are starting to acknowledge their undeniable presence in America today, but in reality, the "representation" award shows are giving non-white artists is a backhanded reward; they are placing them in a box and othering them even though they're just as capable as Western artists nominated for main awards. Award show xenophobia extends to Latino artists as well, where they are sometimes put into separate labels like "Best Latin Pop." 
"Taki Taki," a Spanish and English track by popular artists French DJ, Selena Gomez, Cardi B and Ozuna, released in 2018, debuted at number 27 on the Billboard Hot 100, eventually reaching number 11. It also remained at  the top of the Spotify Global 50 chart for multiple weeks, demonstrating its international impact. However, it was only nominated for "Top Latin Song" and "Top Dance/Electronic Song" despite its worldwide success.
Some may argue that award shows in other countries exclude Western artists by creating "international" categories, but this disregards one main difference between American award shows and foreign award shows. In other countries, such as Korea, award shows are held solely to celebrate Korean entertainers, whereas many American award shows are touted for being all-inclusive and diverse.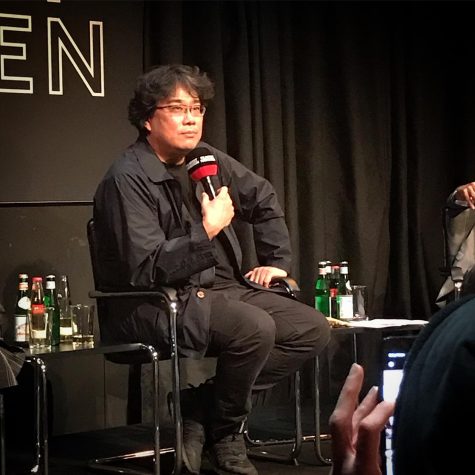 Award shows have started showing some signs of change after the Korean film "Parasite" took the world by storm last year. The movie has racked up countless awards and nominations, including six nominations at the Oscars, including one for "Best Picture." The film also made history as the first foreign film to take home the Screen Actors Guild Award for Outstanding Performance by a Cast in a Motion Picture. 
However, at the Golden Globes, the film was only able to take home the "Best Foreign Film" award because, according to the Hollywood Reporter, it "did not qualify for the 'Best Picture' honor, since the Hollywood Foreign Press Association stipulates contenders feature 'more than 50% English dialogue' in the film and 'Parasite' is fully in Korean." To this day, many awards shows in America stand by the "separate but equal" philosophy, but they are taking steps — albeit baby steps. BTS' popularity worldwide paved the way for other K-pop artists to be recognized in the West, allowing more non-Korean folk to accept and listen to non-English lyrics without prejudice. "Parasite" director Bong Joon Ho said through his translator at the Golden Globes, "Once you overcome the 1-inch-tall barrier of subtitles, you will be introduced to so many more amazing films." Music, film and other aspects of the entertainment industry is meant to be enjoyed by all, no matter where it originated from. As a country that prides itself for diversity, having English as the barometer in award shows is misleading and unfair.