Dessert Detectives: K's Crepes and Cafe
Reviewing popular menu items based on quality and taste
Twice a month, El Estoque's dessert detectives take on a new case at a bakery or café, trying to decipher the quality and cost of its most popular items. Continuing the alphabetical trend, we went to K's Crepes and Cafe, a family-owned cafe in Sunnyvale. K's Crepes and Cafe specializes in crepes but also offers a variety of breakfast, sandwiches, salads and soups. The cafe is sports-themed, and all the menu items are named after popular soccer, football, baseball, hockey, football and basketball teams.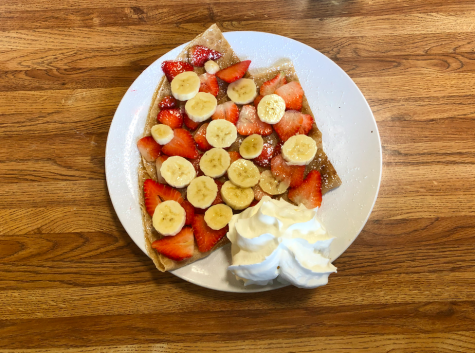 LA Galaxy: $8.95 
6/10
Plain crepe with fresh strawberries, banana and whipped cream on the side.
The crepe itself was well cooked and thin throughout. Although the crepes paired well with the fresh fruits, the crepe itself was slightly bland. The whipped cream complemented the fruits and crepe well but became too sweet after a few bites. Additionally, the moisture from the fruits caused the crepe to become soggy. Overall, the crepe was well-made but risked being either too bland alone or too sweet with whipped cream, making it hard to finish the entire plate.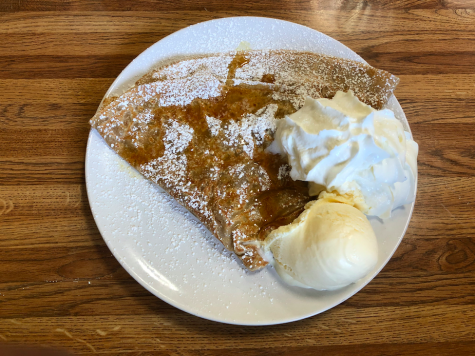 Chicago Fire: $9.75 
7/10
Crepe filled with sweet caramelized apples and topped with rum sauce, whipped cream and a scoop of vanilla ice cream.
The Chicago Fire is the perfect dish for those craving something sweet. The warm caramelized apples slowly melted the vanilla ice cream, creating an extremely soft and sweet combination. Because the dish contained several sugary toppings — ice cream, whipped cream and rum sauce — this crepe also risked being too sweet by overpowering the apples. Furthermore, the vanilla ice cream and whipped cream had conflicting tastes; the ice cream had a classic vanilla flavor while the whipped cream tasted relatively artificial. Because of this combination, we found the taste odd and not that enjoyable.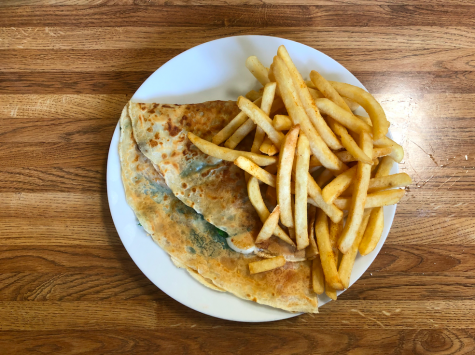 Arsenal: $10.95 
9.5/10
A savory crepe filled with mozzarella cheese, spinach, onions, tomatoes and mushrooms sauteed with cream and a side of french fries. 
This Arsenal savory crepe was extremely tasty and the ingredients complemented each other well. The saltiness from the cheese combined with the creaminess of the sauteed mushrooms to create a perfect balance. The cheese, which was evenly spread out on the crepe, was not too strong or too bland, and enhanced the relatively tasteless spinach. Although the fries were not seasoned evenly, the seasoning — a classic cajun spice blend — added the perfect amount of flavor and texture to the Arsenal crepe. 
Overall:
7.5/10
$$/$$$
Overall, K's Crepes and Cafe is a cozy shop with excellent, speedy service and simple yet aesthetic interior decorations. The sports themed menu is fun for guests of all ages, but the food is relatively expensive, especially for the average portion size, making it less of a place for regular visits and more of a once-in-a-while treat for most students. The store has a humble exterior and can be hard to spot from the plaza, but the large windows, spacious layout and floral decorations on each table make it extremely inviting. The items on the menu can cater to people with various taste preferences — sweet and savory — but the menu does not make it extremely clear what taste to expect from each crepe. Although K' Crepes and Cafe is slightly far from Cupertino, it is definitely worth trying at least once.
About the Contributors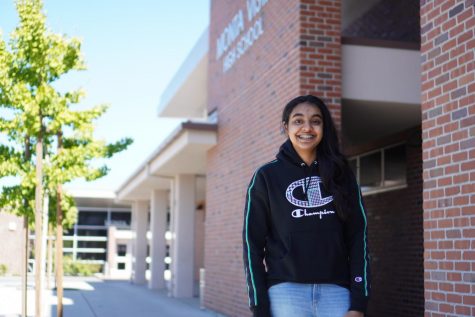 Iman Malik, Features and Graphics Editor
Senior Iman Malik is a features and graphics editor for El Estoque. In her spare time, Iman enjoys playing cards with her brother, watching Bollywood movies and re-reading Rick Riordan books. View her journalism portfolio at malikiman.weebly.com.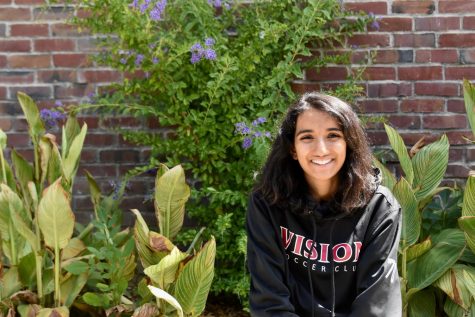 Stuti Upadhyay, Managing Editor
Stuti Upadhyay is currently a senior and a Managing editor for El Estoque. Stuti enjoys playing soccer, hanging out with her friends and family, reading books, watching movies, and doing anything outdoors.