Girls Basketball: Team narrowly defeats Santa Clara HS
The Matadors win by four points at the Women in Sports celebration game
In honor of National Girls and Women in Sports Day, the girls varsity basketball team held its game against Santa Clara HS to celebrate females in sports. 
With a slow start to the game, the Matadors had ended the first quarter by a three point margin of 4-1 from junior Eshani Patel's layup off a pass.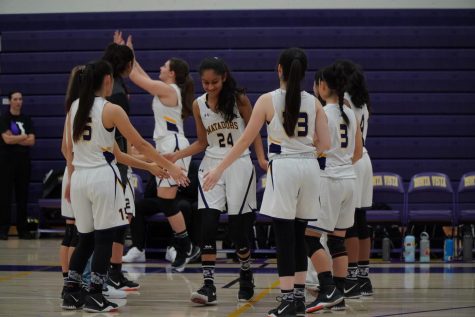 Throughout the second quarter, there were constant fastbreaks up and down the court from both teams alongside many successful shot attempts for the Matadors — this resulted in MVHS gaining an immense lead against SCHS. A pass from junior Kelli Kosakura to junior Katerina Baxter turned into an MVHS lead with the score at 6-1. Heading into halftime, MVHS held a 14-4 lead.
Halftime opened with a performance by the MV dance team, as well as the annual half court shot challenge. After two people failed to make the shot on two attempts, a sixth grader sinked the basket on his first try, marking the first time a shot has been made since 2017.
Athletic Director Nick Bonacorsi mentions that providing incentives like the first 100 people get t-shirts that say "Nevertheless She Persisted" and the half court challenge creates a larger audience to help honor the special day. 
"This is a chance for us as a school to celebrate all of our athletes," Bonacorsi said. "Focused more specifically … on female athletes obviously, and we try to incorporate the opposing team a little bit too."
"
This is a chance for us as a school to celebrate all of our athletes"
— Nick Bonacorsi
During the third quarter, SCHS started closing the gap and although both teams kept scoring, SCHS was able to catch up because of mistakes made by MVHS such as travels and late rebounds. Ending with a clear drop of intensity, the third quarter closed with MVHS leading 25-20.
The fourth quarter was filled with multiple turnovers. In the initial stages of the quarter, MVHS struggled to make open shots, giving SCHS the opportunity to catch up resulting in a score of 26-25 with four minutes left in the game. However, in the last four minutes, MVHS was able to create scoring opportunities and outscore SCHS ending the game 39-35.
After both teams debriefed, SCHS and MVHS lined up to take a picture in their new shirts that represented and honored National Girls and Women in Sports Day. For Patel, having the team highlighted is important because of the crowd attention is gathers.
"Basketball means a lot to me and I'm really glad that we have an event like this to celebrate girls in sports and really bring all this attention to us," Patel said. "We appreciate the school, our team and the crowd."