The Right Move: history teacher David Hartford's love for board games
Exploring David Hartford's journey getting exposed to and growing to love board games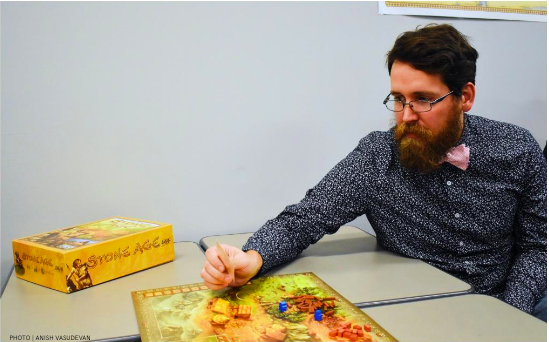 Social science teacher David Hartford has lived in four countries: England, America, Japan and Columbia. Although the culture and norms of each country differ, Hartford explains that one thing in particular helped him bridge those differences and connect with people — board games. 
Hartford first began playing board games 10 years ago with his college roommate and his girlfriend (now fiance). Hartford describes that time as the "Golden Age of board games," marked by a huge increase in popularity of board games in the United States.
Although he only started seriously playing board games in college, games have been an important part of Hartford's life since his childhood. As a high schooler, Hartford was extremely interested in Magic of Gathering, a card game centered around wizard battles, and eventually became good enough to play competitively in worldwide competitions.
Hartford no longer plays card games, but his love for board games has blossomed. He currently owns a collection of over 300 board games, lovingly known as "the shrine" to his friends.
Once or twice a week, Hartford hosts or attends game nights with his friends. At around 6 p.m., friends typically begin trickling into the house and chatting. After catching up and eating dinner, they choose a game and begin playing, often staying up until one or two in the morning. According to Hartford, the types of games they play differs based on the group of friends coming over — for example, his friends who are teachers typically play more social games, such as Cards Against Humanity, while his friends in the tech industry often opt for more analytical, strategic games. Whatever it may be, Hartford believes these nights offer a great way to socialize. 
"Everybody has really busy lives," Hartford said. "So knowing that we have this set day where we're all going to get together and hang out and talk, that's kind of been an anchor for us, especially when we have busy weeks or busy months."
Although Hartford does not typically play with teachers from MVHS, he did play board games with several MVHS teachers during a teacher collaboration period. English teacher Randy Holaday was one of the teachers who joined the gaming group.
"We played a Victorian game that I'd never played before," Holaday said. "It was super fun — I was interacting with teachers I hadn't really before, so it was a good way of connecting with them."
Beyond the social aspect, Hartford claims playing board games can be a good way to relax and take a break from the many responsibilities teachers have.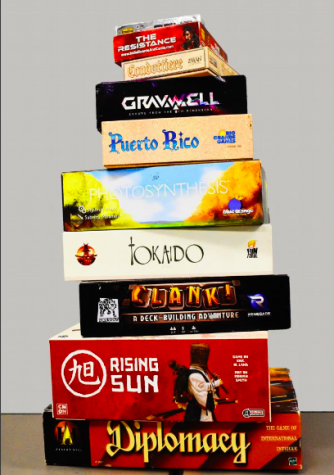 "We always have things going on in our lives that can be overwhelming," Hartford said. "Just like students with various homework assignments or preparing for tests, teachers have grading and lesson planning …  I've always been a fan of doing puzzles and that mental activity and stimulus. For me, that's a good release … It's just kind of been a way to make sure that I take downtime for myself."
Hartford explains that he has always been a relatively competitive person, and his competitive nature often surfaces when playing board games. According to Hartford, competing against someone can help you bond with that person and form a special kind of relationship. Because of this, although Hartford says his end goal is always having fun, he also enjoys the thinking and logic that comes with board games. 
"[I'm always] trying to map out the puzzle," Hartford said. "What is the most efficient move?  What is the best possible play in this situation? Most board games, there are so many possible options, that it's almost impossible in the short amount of time that you have to actually pick the perfect move. So it's about this constantly striving for perfection. And for me, that's something that I've always enjoyed."
Given Hartford's passion for gaming, he has tried to introduce board games into his classroom. However, both Hartford and Holaday agree that incorporating gaming into a class can be difficult. Not only does the game have to be educational, but it also has to be fun and time-efficient. Nonetheless, both teachers have attempted to incorporate board games when possible. 
Junior and AP U.S. History student Neo Nishino has played some of the board games that Hartford has brought into class, and he appreciates the effort to make learning more interactive and enjoyable.
"Just coming from the fact that he loves playing games, he does incorporate that sort of atmosphere into our classroom and that helps a lot," Nishino said. "[For example], the timeline game helps to memorize dates, and you can play with other people and memorize stuff with friends, which is really fun, too."
Hartford highly recommends that high schoolers play board games because it helps with logical thought and strategizing as well as contributes to healthy social interactions. 
"No matter what game you're playing, you have different people that are playing for different reasons and different goal," Hartford said. "Win or lose, at the end of the game, at least for our group it's always about that face to face interaction with individuals. That's what you're growing from."