Class of 2021 hosts their first cram session
The junior class holds an after school study session for the junior class
On Dec. 3, students from the class of 2021 gathered in the student union after school to work and study with about 100 of their peers. The class officers organized the study session and invited several teachers — English teachers Vanessa Nava and Randy Holaday, history teacher David Hartford and biology teacher Kenneth Gan —  to answer questions and review concepts. 
Junior and class president Sarah Tan started planning this event three weeks ago after she ran the idea through class officers. Once the officers agreed upon Tan's proposal, they started reaching out to teachers to see if they would be available to attend the session.
"We created the event because we saw [that] a lot of people in our grade were really stressed about finals, so we thought [that] having a study session with teachers would be helpful," Tan said. "In the past, we've had a movie night; however the turnout for that wasn't very high, so we wanted an event that we knew people would more likely come to."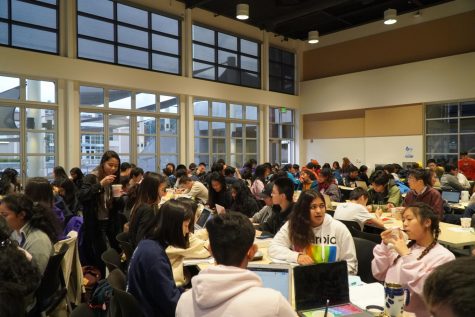 English teachers and class of 2021 advisors Randy Holaday and Jessica Kaufman were present to help host this event. 
"I am pretty excited for [the juniors] because they've tried to do stuff after school a lot," Holaday said. "They've never gotten it organized ahead of time and they did this time. I think it's a good way of creating class spirit [outside of school]."
The 2021 class officers had been wanting to put on an event that would bring students together, so they thought of ideas that would have actual interest for MVHS students, using inspiration from previous years.
"Last year the 2019 class office had a similar event, but it was geared towards writing college essays, so we took that concept but just changed it to something for juniors," Tan said. "Whenever we plan events, we think about if we would attend them even if we weren't in class office — this was one that we would."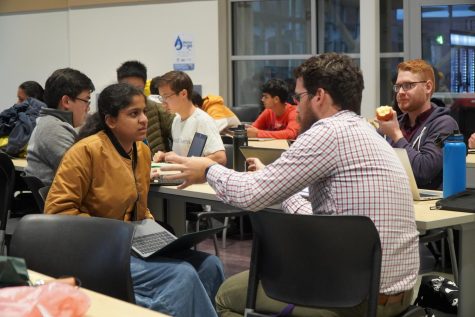 The class officers provided food and drinks such as soda and Cup Noodles to help entice students into coming. Junior Melannie Ooi was excited about this new event, and saw reason for why events like this brought a higher number of students than past events like movie nights.
"I think it just goes back to the MVHS mindset where this study session would benefit them academically compared to a movie night where you have to pay to hangout and some people would rather use that time to study, " Ooi said. 
Although the class of 2021 events have struggled with low turnout in the past, this event brought in around 100 students. 
"We were honestly surprised by the turnout of this first event," Tan said. "We even ran out of all of our food. We definitely want to have more events like this in the future and it's giving us some good insight into what works."