Girls Volleyball: MVHS fails to break losing streak in consecutive league games
MVHS falls to Homestead HS 3-0
The MVHS girls varsity volleyball team looked to turn around continuous league game losses in order to claim their first league win of the season. Their opponents, Homestead HS, looked to improve their 17-16 record after winning their previous two games to claim their fourth league win of the season. 
Senior and setter Jiani Tian saw this game as an opportunity to redeem themselves after earlier losses in the league season.
"Last time we played Homestead we came pretty close [to winning against them] and yesterday at practice [coach Anderson] actually told us that we really want to get a league win," Tian said. "So [momentum] for senior night is really high carrying into the night so we had hoped that we would win."
After falling behind 3-0 early in the first set, MVHS was able to score their first point after a hit by senior Anusha Potheini, eventually climb back and evening up the score at 6-6. With this momentum, MVHS jumped out to a 12-11 lead before lagging behind, ultimately losing to HHS in the first set with  a final score of 25-22.
Junior and outside hitter Yolanna Lu admitted that even though HHS is an overall strong team, the Matadors were ultimately able to compete with them throughout the first set.
"I feel like our first two [sets], we actually kept up with them," Lu said. "We were right there at the very end, near the 25 points. I feel like we did a really good job with our defense […] but I feel like we had a hard time finishing because we kept up with them for the entire game, and then [our momentum] just fell apart at the very end."
Despite falling behind in the first set, the Matadors played well enough to claim an early lead and keep the lead for a majority of the next set. Head coach Colin Anderson explained that the mentality of his servers plays a crucial role in making fewer service errors.
"Serving is tricky because you're in absolute control," Anderson said. "And so it [depends on] where your focus [is], what are you looking at, what are you thinking about [and] are you making the play happen.  Sometimes [in] the heat of the game, you're trying to do too much, and that's when the service errors happen."
While the Matadors' long serving runs led to their initial success in the second set, they got stuck in receiving serves and failed to side out quickly before the lead ballooned, losing that set 25-21. Anderson explains that errors were a contribution to the loss, but not critical to the result.
"You're going to have errors [and] mistakes are going to happen," Anderson said. "…It's just trying to minimize [the] errors, but we had a couple. At the end, we made a lot of really good plays, and HHS just made a few more good plays."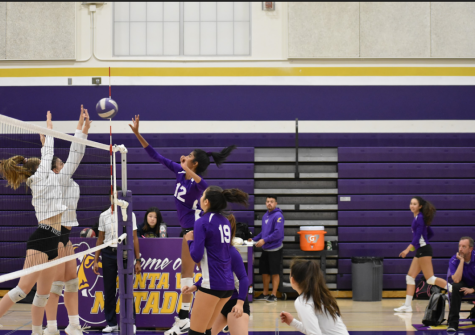 MVHS would come back yet again thanks in part to running different sets, confusing blockers and defenders. Anderson says the use of the additional set as useful.
"I think we got some good plays out of it," Anderson said. "It's nice because the other team who was surprised. When we run it, we run it well. Unfortunately, especially the end of the second match, the other team is really keyed into it and shut that down."
MVHS was not able to overcome the deficit and thus and thus fell in the second set 25-21 falling down two sets to none. Despite the loss, Anderson liked the production of his pin hitters.
"Especially the first two [sets], we had a lot of good kills," Anderson said. "We [had]some good swings, and we got the ball out to [HHS]. We had trouble staying outside and our hitters kept wanting to cheat and block the middle. But once they started really staying out[side to block the correct hitters], [they did a] better job [offensively], I think that made a difference."
HHS continued dominating in the third set recording early leads and following them through. Tian saw different factors related to fatigue as an issue.
"Our serve-receive was kind of lacking and our momentum kind of slowed down [in the third set]," Tian said. "Overall, the energy dropped which caused us to lose the set. I think [we need to] definitely [work on] serve-receive[s]. Getting that first ball up is super important to get the rest of the play going."
Anderson explains that the third set was an outlier in an overall good performance. He attributes this to the lower energy level MVHS exhibited, and were unable to close the lead.
With a final 3-0 loss, MVHS fell for the tenth consecutive time in league play. With the season coming to a close, Lu still sees room for improvement in things like communication and offense.
"Just for offense, [we need to work on] placing the ball, because [HHS's] defense is very scrappy," Lu said. "If we were more clever in where we put the ball in the court, instead of hitting the ball as hard as we can and strategically placing it, I think we could have definitely had more success at winning and finishing the game."