Pre-college college expenses
Students outline various expenses their parents spend to better their college applications
Adriane Heinz, enrollment manager at Cupertino Flex College Prep, estimates the average family in Cupertino pays as much as $20,000 per child for tutoring, SAT preparation and other academic services. These services are part of a nationally growing market for academic tutoring, as the industry grows at 7.6% yearly according to Zion Market Research.
"In this area, families tend to spend a lot in order to prepare for college admissions," Heinz said. "It can range depending on what students need. There are definitely fees for test prep, homework tutoring [and] schoolwork tutoring."
Heinz works as an enrollment manager at Flex College Prep, a company based in Cupertino working to help students prepare for the college admissions process. As part of her job, she frequently talks with students to guide them through the college application timeline. 
"All of [the fees for services students use] tends to add up, [and] it could be up to a year of university fee," Heinz said. "For a year of college counseling, the price can range from five to ten thousand dollars per year."
According to Heinz, parents have their child's best interests in mind when paying for college counseling and other academic support, like tutoring. However, she says that often times these two services are not enough to help a student get into the college of their choice. Academic counselor Angela Lopez, who helps high school students apply to college and aids De Anza students in transferring to a university, explains that other factors play a bigger role in the college admissions process. 
One important factor she has noted in student applications is AP test credit. 
"In order for students to have a speedy transfer, a lot of the students that I see come in with AP test credit," Lopez said. "They also have taken college courses in the summer before they graduate, so they are coming into college with college credit already."
AP tests can be expensive for high school students and their families. MVHS offers AP tests for a cost of $115 per test, and most students take many tests in their junior and senior years. AP tests are unreasonably expensive, according to Senior Krish Agarwal, but are worth their cost because these tests can help students save thousands of dollars in college by allowing them to not take certain classes.
In addition, Heinz believes students' parents' background is part of why college admissions are such a stressful process. At Monta Vista, 79% of students are of Asian, and many of these students' parents are first-generation immigrants, meaning they did not go to college in the United States. 
"Most of the families we work with, the parents tend to be immigrants or their parents didn't go to college for their undergrad here," Heinz said. "So they don't know what the process is like for undergraduate admissions here. [College applications are] very expensive, but a lot of the parents aren't aware of all that goes into it. Once they find out, then they tend to stress students about it."
When parents lack information about the college admission process, companies often use this opportunity to charge higher prices, subsequently creating an expensive academic counseling industry, according to Heinz. She continues to discuss examples of stress factors for students, as stress also drives up counseling prices.
"Normally I see 9th through 11th [grade students] really coming in because they are stressed about test prep," Heinz said. "They tend to sometimes not have knowledge about the exams. Since there are so many exams for college admissions, families tend to stress out about what tests they need to do, when to do it, how much prep they need to do."
Heinz also states part of the reason behind this stress is Cupertino's reputation of having high-achieving students. She adds that some of this pressure comes from students' peers and the schools they attended. .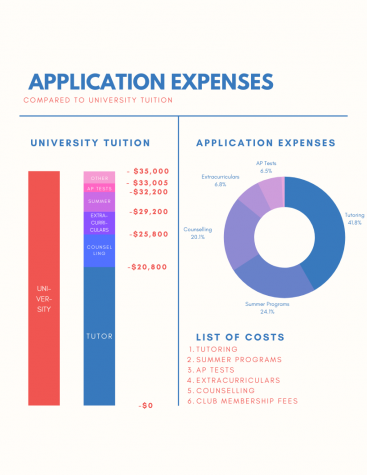 Agarwal talks about common conceptions about how his peers and society view college. These conceptions build stress for students, and contribute to the rising counselling prices, as Heinz mentioned. 
"Everybody says that if you get into a good college, you'll have a good job, your future will be secure," Agarwal said. "I just think getting into a good college, a reputable college, boosts your chances for… [having a good education] and that's what people look for these days." Agarwal said.
The conception Agarwal explains, his peers' comparison between college acceptance and a secure future, highlights the causation of application related stress, according to Agarwal.
In addition to AP test credit and a high GPA, Lopez explains another aspect colleges look at when students apply to their university. When helping students draft their applications, she paints students as community members rather than academic students.
"Universities are really looking for not only how the student will contribute to the campus, but what kind of community member they will be," Lopez said. "So in the UC application or in private school applications, we will emphasize what type of community members they've been on campus and that's where you and the activities and awards come into [your application]."
Part of painting this picture of an involved community member is participating in expensive extracurricular activities. Agarwal attended a DECA conference, costing as much as $425 per conference. 
In order to prevent stress from making students susceptible to increased counseling expenses, Lopez explains how she talks students through it. Lopez also works as a De Anza College counselor free of charge to students and provides guidance to whoever comes to her office. 
"It is easy to get overwhelmed with stress and internalize that stress, but to be able to help students navigate that and to just let them know [they'll] get to where they need to be eventually, [is always nice]," Lopez said.