Secondary School Reports: Tips from the Counselors
Counselors share their most valuable advice on how to handle the stress of the SSR process
In August, as the new school year rolls around, the rising senior class is confronted with a barrage of deadlines, one for each college application. 
Students must face a barrage of deadlines before the barrage of deadlines — asking teachers for letters of recommendation, having to complete registration for standardized tests and filling out the multitude of Secondary School Reports (SSR's) forms. This collection of forms must be submitted to each student's assigned counselor or administrator a minimum of a month before each application deadline. 
An SSR form serves to provide counselors and administrators with a deeper insight into a student's high school career, making it easier for them to write a more personal letter of recommendation for that student. An SSR can be purchased on the student store and includes a teacher input form, an optional parent questionnaire, an SSR request form and a senior questionnaire, along with the student's transcript, mid-year report and evaluation. The MVHS registrar sends the entire SSR to the respective school on behalf of the student.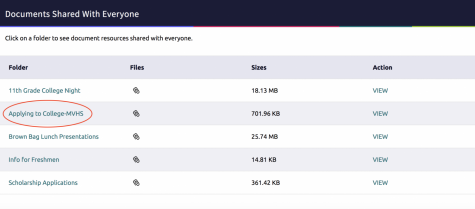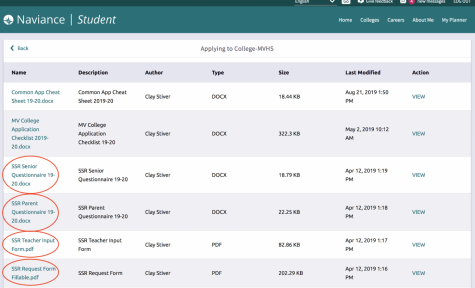 Guidance counselor Monique Balentine, who is in charge of students with last names A-Gou, explains that one thing that she advises all students to do is to ask for help. 
"Just ask questions," Balentine said. "We usually do an SSR brown bag lunch at the end of junior year. We definitely do [a brown bag lunch] senior year at the beginning. And then we have Q&A sessions and a follow up SSR presentation." 
Along with asking questions, both Balentine and guidance counselor with last names She-Z, Clay Stiver, state that staying organized is a crucial part of the SSR process and the overall college applications procedure. 
"I would say talk to your teachers early," Stiver said. "Like in the second semester of junior year. That way, at least you know ahead of time if [something doesn't] work out, you can have backup options when it comes to your senior year."
Balentine also recommends starting in junior year. She advises students to always be aware of early deadlines and manage their time correctly in order to meet them.
"In the summer of junior year, decide if you're going to apply early or not," Balentine said. "That is because this year, schools started on November 19, and the first deadline was Sept. 5. So making that decision over the summer is really helpful because you come into school with the mindset of, 'Okay, I need to get this done.'"
Guidance counselor Syliva Lam,  who is in charge of students with last names M-Sha, also stresses the importance of using the resources provided by the school. Balentine agrees with this advice, mentioning the multitude of the SSR resources available in Naviance. 
"We have [a] presentation in Naviance, it has all the screenshots to everything that you could ever need, so it really is a step by step of how to do the process," Balentine said.
Overall, the counselors explain that despite the fact that SSR's can be a stressful undertaking, it is important to look at them as what they are — a means to allow a college to receive the most accurate representation of a student as possible. Lam encourages students to try to overcome the stress by using friends as support.
"[Students are] all very smart, articulate and bright, and I've been doing this job for so long that I know that wherever you guys end up, whichever pathway you take, you guys are all going to have a great future," Lam said. "So just really try to lean on each other throughout the process. And find some fun in it."