FUHSD projections predict lower enrollment in coming years
MVHS population of 2019-20 is smaller than previous years
Over the last decade, MVHS enrollment has been on a downward trend. The 2019-20 population of 2,216 students is 52 less than the previous school year. According to the latest FUHSD Enrollment Forecast Projection report, it is predicted that MVHS will have 39 fewer students next year and 149 fewer students two years from now. This is an issue across four of the five FUHSD sites, excluding Fremont High School. In 2023, approximate projections show that FHS will gain 100 students, while Lynbrook High School and Cupertino High School will have 200 fewer students and MVHS will have 400 fewer students.
The primary reason for declining enrollment is record low birth rates throughout the Bay Area, and more specifically in Santa Clara County, as cited by MVHS Principal Ben Clausnitzer. Clausnitzer says that there are a variety of other reasons as well, including low-density housing (meaning this area was designed for a low number of residential homes), the cost of housing and lack of space to build additional housing in areas around MVHS.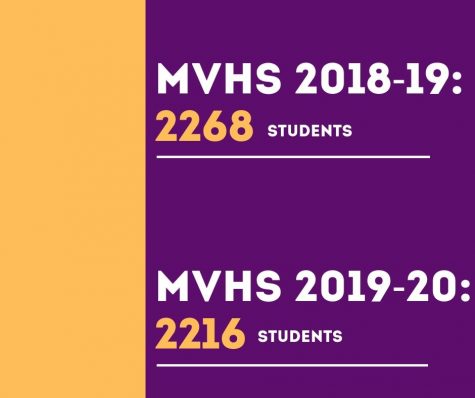 FUHSD works with a detailed demographer to help administration plan with enrollment projections in mind. The projections do not predict too far into the future in order to maintain accuracy. Currently, the demographer has projected that MVHS will have approximately 1,860 students in 2023, a drop of 356 over the course of the next four years. 
This enrollment decrease impacts students and staff, in that fewer courses will be offered. For instance, this year there are 22 sections of ninth grade Literature and Writing as opposed to 24 sections last year. Clausnitzer says that eventually, this may mean that there might not be enough sections for all the current teachers to remain on site. However, since FUHSD is committed to keeping all their teachers full time within the district, those lower in seniority will likely be offered positions at other sites rather than resorting to layoffs. 
Clausnitzer says that going forward, student, parent and staff collaboration will be crucial. This collaboration will need to create innovative solutions that will maintain a quality high school experience for all students. 
"We still want to have a comprehensive education," Clausnitzer said. "But we also have budgets that we need to think about."
According to Superintendent Polly Bove, the FUHSD administration is committed to continuing to offer a comprehensive high school experience. If a high school were to fall into a range where enrollment is around 1,700 students or below, this will become more challenging. 
"We have a pretty good idea of how small you can get before you start losing sections and programs," Bove said. "That number is right around 1,700 students and first of all, [MVHS] has a long way to go and there's nothing on the books that says it's going to get that low."