Silver linings of the Notre Dame fire
Combatting our society's aversion of silver linings
In Victor Hugo's "The Hunchback of Notre Dame," the famous French cathedral is described as one that gazes at people "with only tranquility and benevolence."
To Parisians, Notre Dame is more than merely a cathedral — it represents a brimming well of pride and nationalism. Yet with the recent tragedy on April 15, when the cathedral was engulfed by flames, it seems as though these previously uplifting connotations came crashing down with the cathedral spire. In the hands of social media, this singular tragedy manifested into a million others as people mourned its loss or expressed anger at the overflow of donations going towards its restoration.
In the weeks following this event, this burnt edifice has been subject to an abundance of cynical convictions. This reaction isn't surprising, though.
It is human nature to confront tragedy with dismay — with sympathy, empathy, even anger.
Yet it is also important to recognize that not every tragedy is shrouded with gloom. Notre Dame's destruction can be viewed in a positive light as well. Instead of being portrayed as losing the pinnacle of French architecture, it is important to acknowledge that surprisingly little of the cathedral is from when it was first built in the 12th Century. The walls, spires, woodwork and religious art of the cathedral — the physical structure — is not the source of French pride, but rather its artful symbolism of Paris is the reason for the affection they feel.
In Japanese culture, for instance, it is tradition to destroy and rebuild the Ise shrine in Mie Prefecture, an important cultural building, every 20 years. This tradition has been ongoing for the last 1,300 years; the restoration process is supposed to symbolize that this shrine is eternal. A similar lens can be taken for Notre Dame, because this tragedy might resemble a blessing in disguise. When rebuilt, it will no doubt bring forth a sense of solidarity among the French people and draw in a slew of new visitors. Especially for Parisians, whose city has seen a spike in terrorist attacks as well as violent protests during recent years, perhaps this will bring forth a sense of peace and restoration, while simultaneously dissipating some of the negativity that has been spurred by the fire.
Not unlike Notre Dame, MVHS is no stranger to manifestations of negativity. Although it is an overstatement to call student stress a tragedy, our tendency to foster negativity shares an uncanny resemblance with the reactions to the Notre Dame tragedy. Especially at this stressful time of year, with AP testing and finals being in full swing, students find much to complain about. We are unable to grasp the notion of positivity because we often neglect our privilege.
AP testing and finals are stressful, but we are lucky to receive an education and opportunities that allow us to delve deeply into subject areas we care about. In contrast to the state average of 62%, 97% of MVHS students pass one or more AP exams throughout high school.
It doesn't necessarily have to take the destruction of a monument for us to find positivity — it can be found in simple things. It can be pre-calculus teacher Sushma Bana passing out bouncy balls in all of her classes to remind her students that they can and will bounce back. It can be full, instead of half-hearted, engagement in the District Wellness Week that MVHS recently hosted. And it can be awareness of one's mental and physical well-being because as hard it may be to believe, people are more important than 5s on AP tests.
When we begin to engage in activities that promote silver linings on campus, it can be easier to find them.
The burning down of Notre Dame was a tragedy. Dealing with stress is not a tragedy, but it does hold weight. Tragedies are commonplace, and it is easy to get wrapped up in negative thoughts, feelings and actions, but that does nothing but manifest despair and worsen the situation. Our society's neglect of silver linings has left us in a place where combating negativity has come to a standstill, yet Notre Dame's hidden blessing in disguise serves as a simple lesson — to see the bright side of tragedies and the promise of hope for the future.
About the Contributor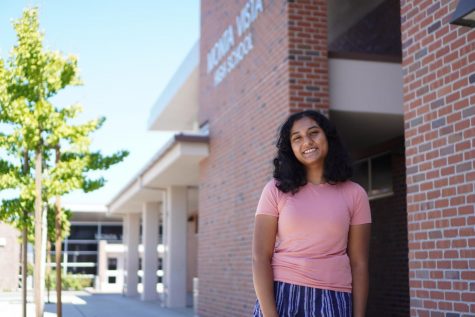 Oishee Misra, Editor-in-chief
Oishee is currently a senior and the co-editor-in-chief for El Estoque. She's an artist, and the walls of her room are plastered with artwork. She loves listening to music and obsessively creates Spotify playlists and plays the piano. She's also a total foodie (although her cooking attempts are usually disastrous). She loves reading the Opinion section of New York Times, and hopes to live in New York City and be an NYT columnist someday.