New rides of MVHS
Three cars, three drivers, three stories
Sushma Bana
Fuel efficient and capable of gliding down the road as if in an ideal frictionless situation.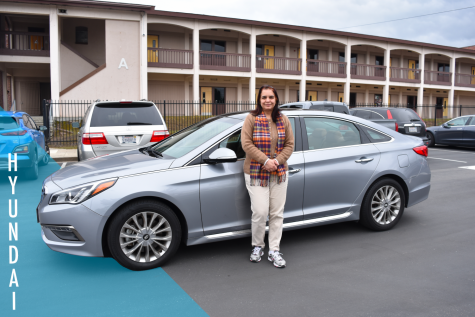 As a math and physics teacher, this is Sushma Bana's description of her dream car. However, when her 19-year-old Honda Accord broke down before she expected it to, and repairs cost more than the car was worth, she was forced to buy a new car: a Hyundai Sonata, which she picked for its practicality.
"I got all kinds of recommendations, you know, go for the electric, go for the Prius, [the] Tesla," Bana said. "And I'm like, 'What are you talking about? I'm a poor teacher, how can I afford a Tesla?' There is a difference between need and want, so to have that balance, because yeah, you want a Tesla, sure, why not, but do you need it?"
Doing the math, Bana calculated what would be most cost-efficient for her 20-mile daily commute. Although electric or hybrid cars would save money on gas, they are more expensive upfront, and for her commute, Bana ultimately decided on a regular car.
"I think my decision was not impulsive," Bana said. "I took almost five weeks to decide it. It was not like, oh, you go there and the car salesman sells you [a car] and then you just sign on the dotted line, [like] 'Here you go!' And so I'm not an impulsive buyer. A lot thought went into the decision. But I think I made a good decision."
However, she still misses the simplicity of her Accord and knowing all the functionalities of the buttons, as the features of the Hyundai are still unfamiliar. Even so, she does enjoy having heated seats and a heated steering wheel, along with improved speakers and the smoothness of the ride.
"It has a moonroof and a sunroof, which is kind of cool," Bana said. "You just open it up and you can see the sky while driving like, 'Awesome!' So I like that feature that it has, and I'm looking forward to using it more during the summer."
Ben Recktenwald
As he drove to work on the morning of Feb. 4, U.S. Government teacher Ben Recktenwald's Mini Cooper, Stig, ceased to be.
He had hit the accelerator, attempting to pass another car. The flashing of the engine temperature light, a burning smell — and Recktenwald found himself in panic mode as the car coasted along. Luckily, he had just enough momentum to pull off to a near exit and park somewhere safe.
Three days later, Recktenwald left a Palo Alto car dealership with Mr. Bean, a gunmetal Prius named after the popular British sitcom character. With Stig, who was named after an anonymous racecar driver in the British television show "Top Gear," Recktenwald had raced up and down the hills of the Santa Cruz Mountains, but that tradition has stuttered to a halt with the arrival of Mr. Bean.
"No, I can't tear around corners in a Prius," Recktenwald said. "It's like trying to go jogging in bedroom slippers. It just doesn't work."
Mr. Bean may not be the friskiest, but Mr. Bean does shine in his own practical, economically efficient manner: he boasts affordability and a great mileage. Last summer, Recktenwald bought a house in Hayward, dramatically increasing his commute to school. Gas once every two to three weeks rose to once every week, and Stig's mileage of 30 mpg pales in comparison to Mr. Bean's 50 mpg.
But Recktenwald still hasn't warmed up to Mr. Bean just yet.
"It's a Prius," Recktenwald said. "It's an appliance. It's an automotive version of the dishwasher. It's boring to drive, the stereo 'eh,' you hit the accelerator [and] it goes, 'Whaaat?'"
Whenever Recktenwald "floors it" on the highway, he must relent, knowing Mr. Bean will "get there eventually." Stig is under a new owner: Recktenwald sold him to a mechanic at the car dealership for $300.
"Now I'm driving Mr. Bean," Recktenwald said. "And it feels like it."
Samer Awad
If there's one thing junior Samer Awad dislikes about his car, it's that he has to pull out his key every time to open the car door.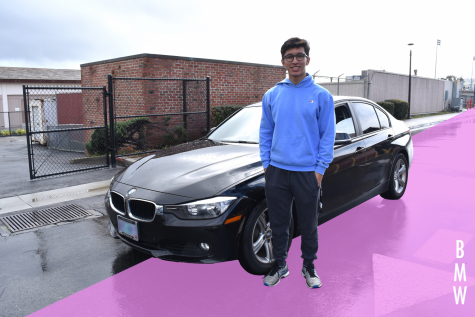 "That's really it," Awad said. "I can't complain at all."
Awad received his license three weeks ago, although he and his father spent two to three months searching for a car. With both of his parents driving to work in their own cars, they decided that he should have a car of his own so he could drive his little brother, too.
Prioritizing a clean engine, reliability and safety, they settled on a used BMW 2014 328i.
"Even though Japanese reliability is inherently better, German engineering — you can't get more solid than that," Awad said. "And it's very safe, and I've been used to driving in [the] three and five series [of BMW], so there's something that's just more comfortable to me."
While they settled on the BMW for its practicality, Awad mentioned several other perks: it is fun to drive and he thinks it also looks stealthy. However, when he leaves for college, the car will no longer be with him.
"It's [also] for my brother [to drive] after I graduate because when I go to college I'm not going to need a car for the first year of college," Awad said. "[I'll] just Uber everywhere."