Gift giving games
Putting a fun twist on gift exchanges during the holiday season
His number was called and he went up to the pile of wrapped presents. They were all different sizes ranging from envelopes to big boxes. All eyes were on him as he tried to decide which present to choose.
Each year, junior Kelvin Lee's family holds a White Elephant party, in which they invite friends and family to participate in the gift exchange. The party always has a theme around which the movies, food and presents are centered. For example, Lee's favorite gift from the party is a customized toilet paper roll with President Donald Trump's face on it, as their party's theme in this past year was a "presidential" holiday party. He thought the gift was interesting and funny, but admitted that he had no use for it.
The holiday season is often defined by traditions — many families keep to their own customs, such as decorating their houses, counting down the days with an advent calendar or making traditional Christmas dinners. The tradition of giving gifts on Christmas day has been long established, but some prefer to add entertaining twists with gift giving games, such as Secret Santa or White Elephant exchanges.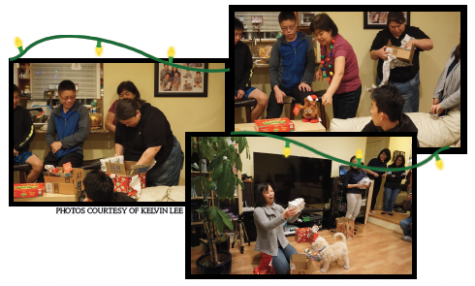 Ever since English teacher David Clarke became the head of the English department in 2011, the department has been holding an annual Secret Santa gift exchange. According to English teacher Vanessa Otto, the tradition began when Clarke had all the teachers sign up for different committees within the department, one of which was a social team.
"[The social team] involves social events like holiday potlucks and having cards circulate throughout the department for donations and signatures whenever someone's getting married or having a baby and kind of the social aspect of being part of a [professional learning community]," Otto said.
Otto credits Terry Anderson, another teacher who moved away in 2016, with implementing the gift exchange as a part of the social team's efforts. Since Anderson's departure, Otto has taken up organizing the gift exchange. Every year before Thanksgiving break, she sends out an email with a form to write down a wish list for those who want to participate. Then, the teachers leave small gifts in each other's classrooms throughout the month of December, ending in a holiday potluck where they listen to holiday music, eat food and exchange gifts to reveal the Secret Santas.
Otto's favorite gift from the exchange was a small figurine of Charles Dickens that Clarke gave her last year, although she also likes the two posters of Elizabeth and Darcy from "Pride and Prejudice" with quotes from the book that hangs on the wall of her classroom, given to her by English teacher Randal Holaday.
"I definitely think it adds to the camaraderie of the department, especially during a stressful time like finals week or we're up in our ears with essays," Otto said. "It's nice to check in with each other and have a good time and be thoughtful about our individual interests and show that in our gift-giving."
Like the English department, the El Valedor Yearbook staff also holds its own version of Secret Santa, a gift exchange they call "Incognito Amigo." According to editor-in-chief and senior Vanessa Lau, the staff uses an online Secret Santa generator called drawnames.com, where they are able to record their wish lists and assign out "Incognito Amigos." Lau says one of the nice aspects about using such a website is that you can see what other people have put on their wishlist.
"I feel like you get to know people a lot based on what they want," Lau said. "You get to see what people like and their personalities are reflected in what they want."
However, Lee likes White Elephant compared to a Secret Santa exchange because of the sense of uncertainty and luck surrounding the gift you receive. You can steal or trade gifts, and the order in which people choose gifts is based on what number they happen to draw.
"It's really fun because you just don't know what you're going to get and if you do get something you want, you don't know if it's going to get taken or anything like that," Lee said. "There's just a really fun thrill to it."
Regardless of this slight sense of competitiveness, the party is ultimately a way for Lee and his family to enjoy the holidays with other families.
"Every year we invite at least one family different," Lee said, "It's really just something we do to hang out and get together with friends that we don't see that often."
Like Lee, Lau also emphasizes the way these gift giving games allows the Yearbook staff to come together and get to know each other more. The tradition allows staff members to interact in a way that may not be possible during class, when they're busy working on pages.
"Basically this forces people to get to know each other," Lau said. "It brings people together."