City of Cupertino holds 2018 tree lighting ceremony
Community members come together to kick off the holiday season with the annual tradition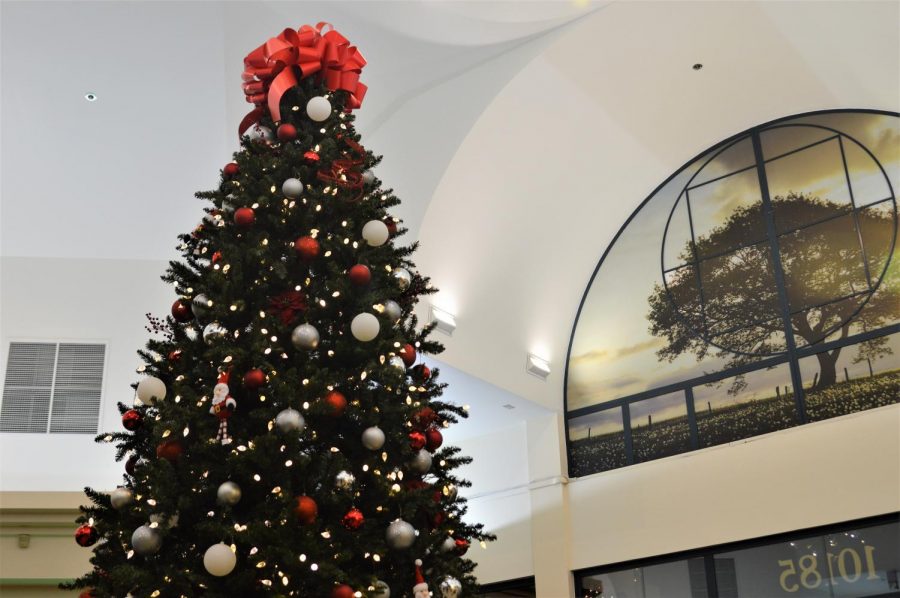 On Friday, Nov. 30, the City of Cupertino held the 2018 tree lighting ceremony at the Quinlan Community Center. At 6 p.m., the a cappella group Business Casual, national champions of the 2018 Harmony Sweepstakes, began their performance. As community members started to gather around the unlit Christmas tree, Business Casual sang holiday carols such as "Have Yourself a Merry Little Christmas" and "Jingle Bell Rock."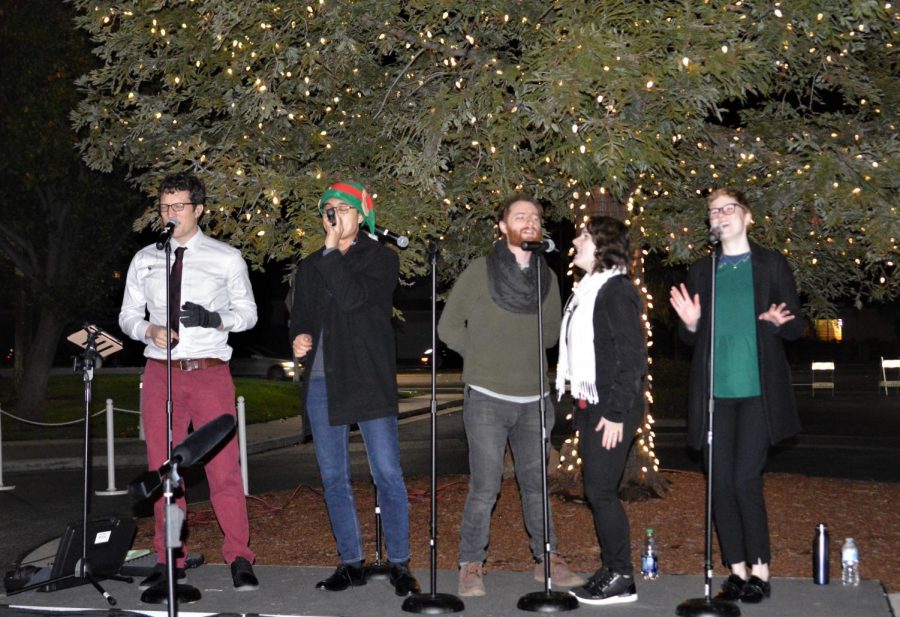 After, Christine Hanel, assistant director of recreation and community services, welcomed community members to the annual ceremony and thanked guest attendees, including Business Casual, the Lawson MS choir and digital artist Jeremy Sutton. Hanel handed it off to Jeff Milkes, director of recreation and community services, who recognized efforts from the city trees division and the facilities and grounds division of the public works team for making the event possible.
"This event really marks the kickoff for the city of the holiday season," Milkes said in his speech. "I am so, so pleased to see this great turnout tonight to show that once again, Cupertino is a truly connected community."
Cupertino councilmember Steven Scharf echoed this sentiment, emphasizing unity between members of the community, regardless of differences in faith and cultural practices.
"Celebrations like these offer us a time for reflection and perspective over the next few weeks as we celebrate the holidays of different cultures and religions," Scharf said in his speech. "We share the ideals that we have to reach out to each other, forgive each other and care for each other and not just a few weeks each year. This crosses religious lines, whether you're Christian, Jewish, Muslim, Hindu, Buddhist, [another] religion or even a non-believer."
Handel then received a call from Santa Claus, who'd landed in the hills and announced that he'd be visiting the children of Cupertino. With its bright red lights flashing, a fire truck then pulled into the Quinlan Center with Santa Claus in tow, waving from the open window, and the audience cheered to welcome Santa's arrival. With the help of Santa, Handel led a countdown to light the holiday tree.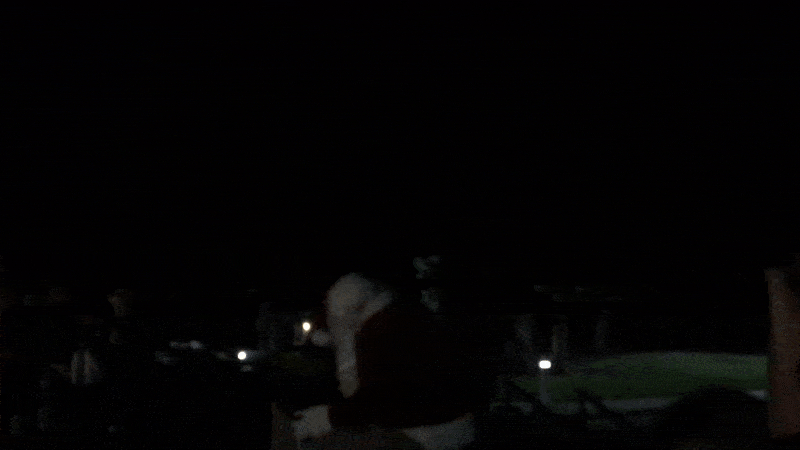 After the ceremony, the doors of the Quinlan Center opened and community members made their way inside. There were two donation cans by the doors, as each attendee was encouraged to bring canned goods to donate to the West Valley Community Services. Inside, the Cupertino Historical Society and Museum greeted attendees, passing out candy canes. In the lobby, the community center also provided refreshments, such as hot chocolate and cookies.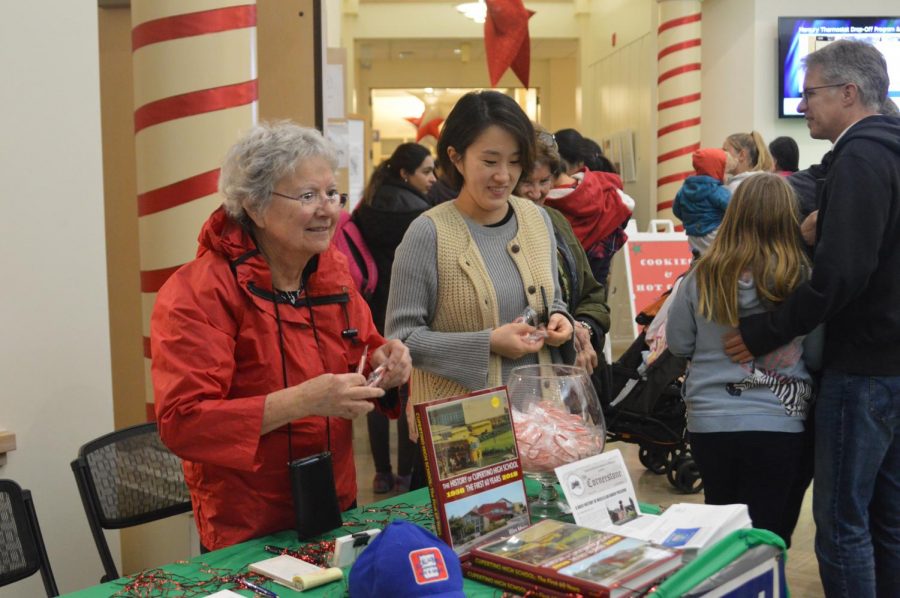 On the patio, community members had a chance to take pictures with Santa Claus, though each family was given a maximum of two poses.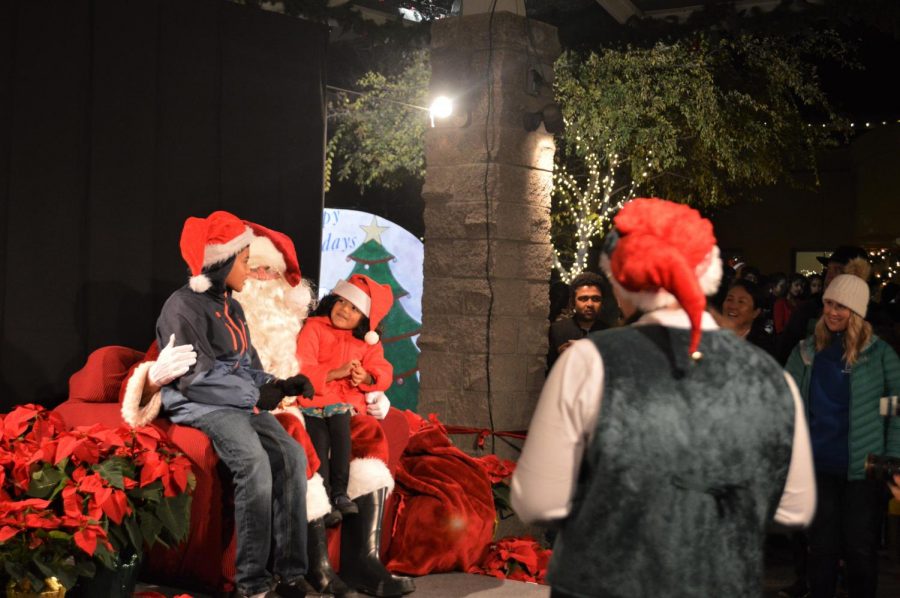 The Lawson Lightning choir from Lawson MS, directed by choir teacher Maritza Spieller, also performed outside. For LMS eighth grader Victoria Duran, this was her third year in choir and second time performing at the annual tree lighting ceremony.
"It felt really good and very cool because I get to show all the music that we've been preparing for the tree lighting ceremony and for Santa," Duran said. "[My favorite part] is getting to sing in front of everyone in an open space."
For Cupertino councilmember Liang Chao, the Lawson Lightning choir was one of her favorite parts of the event, along with Santa Claus arriving in the fire truck. Chao also wished that she'd known about the annual tradition when her children were younger, especially when seeing the reactions of other kids who'd attended and the importance of the event for the community.
"For the kids, they'll be able to think about dreams for themselves, thinking about Santa or presents, just some kind of wish that they can have for their future," Chao said. "It's really the beginning of the holiday season and the season where people are giving gifts to each other, thanking each other for what they do."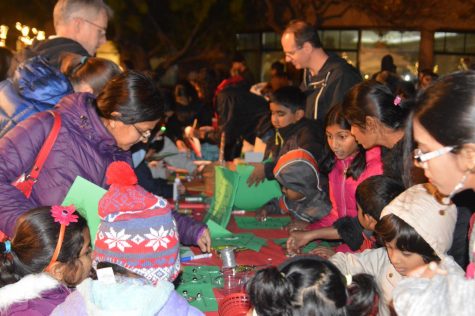 Out on the grassy field, the Cupertino Historical Society and Museum set up craft tables for children to make Christmas cards and other DIY projects while waiting to meet Santa Claus. Employee Hamza Jabbar worked the craft booth, assisting children with their projects and watching them interact with each other.
"Kids that don't even know each other are asking other kids if they need help or anything like that," Jabbar said. "I just thought it was so sweet. You don't really see that every day, so I just thought it was nice how the kids are being so sweet to each other when they're working on the crafts."
Normally a lifeguard at Blackberry Farm, this was Jabbar's first time attending the tree lighting ceremony, and the event's large turnout came as a surprise.
"[My favorite part is] seeing all the people," Jabbar said. "I did not think this many people would come to an event like this. I was just shocked by the turnout. It's really awesome."
This was the first year in which the Cupertino Historical Society and Museum held these craft activities at the tree lighting ceremony, though the museum has been at the Quinlan Center since the building opened in 1991 and typically hold an open house for attendees to explore their exhibit.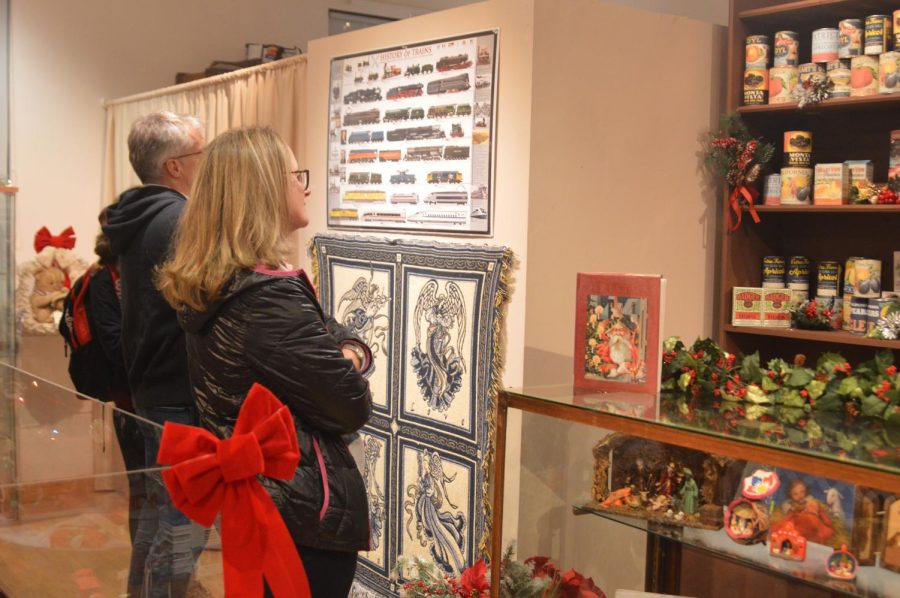 "We have long had a close relationship with the city, and speaking with members of parks and [recreation] and the events staff, we learned that this event was taking place, and we've participated in years past," the Cupertino Historical Society and Museum director Jennifer Furlong said. "This year, we've expanded our participation and worked with the city, having craft projects for children outside."
Furlong started working in Cupertino and for the museum in September. As a first-time attendee, Furlong noted the excitement of the event, particularly when fake snow began falling outside.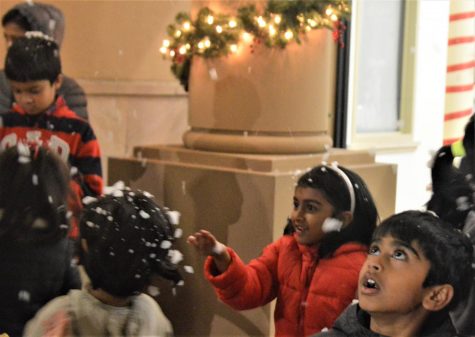 "I was standing in here speaking with some members of the public about upcoming exhibits and programming," Furlong said. "And I looked and I could see out of the back windows — you know, the windows that are overlooking Memorial Park — that there was snow coming down, and it just sort of took the whole of it to the next level for me. It was so exciting."
With her observations in the open house, Furlong also found another aspect of the event surprising: the number and diversity of attendees.
"My staff that volunteers and board members told me this was a super popular event but I've been really overwhelmed by how many people have been here," Furlong said. "Just people from all walks of life — young, old, everyone in between, and it really is lovely to see the community together like this."
About the Writer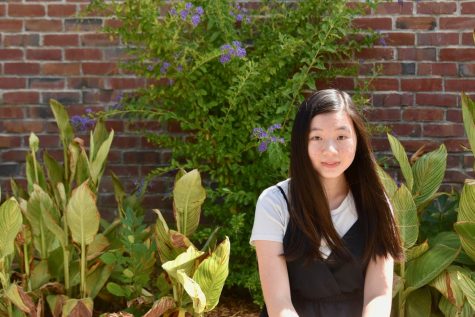 Charlotte Chui, Arts & Entertainment Editor
Charlotte Chui is a senior, as well as a print arts & entertainment editor for El Estoque. She previously served as a multimedia copy editor, and this is her third year on staff.