Reinforcing feminism in MVHS
Girls' Empowerment Project discusses gender equality at first meeting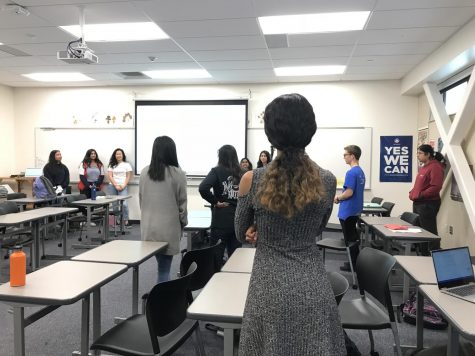 "Do you think that feminism is important at MVHS?"
The students look around at each other, shuffling their feet, contemplating the question. Then, almost like one body of people, they all move to the left side of the room. They all stand in firm agreement. Feminism is essential at MVHS and that is Girls' Empowerment Project's mission: to promote gender equality both on campus and in the wider community.
On Monday, Oct. 29, GEP held its first meeting in room B106. The officers started the meeting by introducing themselves and briefing the new members on campaigns and events that GEP will participate in this year to further the cause of feminism at MVHS.
"I'm looking forward to helping people understand what being a feminist is and what this club is about," junior and treasurer Sayalee Mylavarapu said. "The definition of feminism has gotten so screwed up along the way and people think we're feminazis, people who want women to be more important than men, but we just want equality."
Senior and event coordinator Advika Verma explains that the majority of the events that GEP will be participating in and raising funds for this year are inspired by media feminism campaigns currently raging across the country, such as the #MeToo movement. To support sexual assault victims, GEP will be donating clothes to victims so when they're sent home from the hospital, they don't have to wear hospital clothes which serve as a reminder of their trauma and lost dignity.
"We're trying to figure out how to bring the issues that the MV community cares about and turn that into actionable change that we can enact in the community," Verma said. "I'm excited for the sexual assault survivors clothing drive because I think that's an issue that matters a lot to me and the community right now."
Another large-scale event GEP will be participating in this year is the annual Women's March in San Jose. Verma explains that the Women's March is one of the most impactful events GEP is involved in, and that to her, marching alongside thousands of women is an overwhelmingly empowering and emotional experience.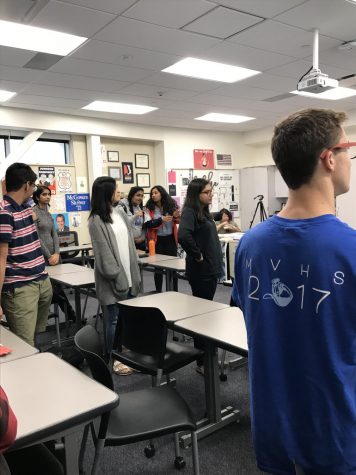 "We're trying to organize activism in a way that is successful to the MVHS community," Verma said. "I am definitely excited for the Women's March because I think that's always a big show of support and you always feel really supported. It's just a great experience to anyone who hasn't been in a protest or march before."
Senior and treasurer Karishma Chari explains that GEP is using a point system this year where members will earn points for attending events and meetings. The points system was implemented to encourage more member participation, as the officers noticed general inactivity last year.
"We're going to have more events than we've had had in previous years," Chari said. "We [were] pretty inactive our first year as a club, so this year, now that we have more experience under our belt, we can really kick start it."
Mylavarapu explains that like last year, she didn't see the turnout she had hoped to see at the first meeting. However, she thinks the officers should diligently promote GEP's future meetings and events as she believes that feminism is essential to continue the fight for rights that women are still denied.
"Our main goal is to firstly get the understanding out of what feminism is and to help women feel empowered and good about themselves," Mylavarapu said. "I believe that, in a sense, we're moving backwards with everything that's happening [in the world]. Even though women have rights, a lot of people aren't supportive of women using those rights [and we need to change that.]"
About the Writers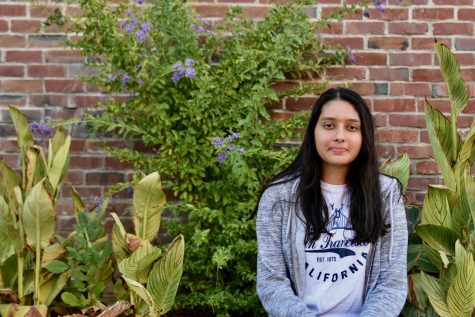 Swara Tewari, Managing Editor
Swara Tewari is a managing editor for El Estoque and a senior at MVHS. This is her third year on staff. She really enjoys reporting on issues plaguing the MVHS community and telling the overlooked stories on campus. Besides writing for El Estoque, she likes to read and spend time with friends and family.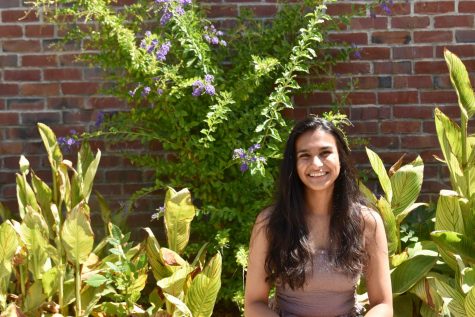 Rucha Soman, Sports Editor
Rucha is currently a senior and a sports editor. In her free time she likes to dance and binge watch TV.