Localizing Red Cross
President of Red Cross discusses her journey with the club and goals for the year
Senior and Red Cross president Anusikha Halder looks around in amazement. She stands in the crowded streets of downtown San Jose for the annual Veteran's Day parade, her bright Red Cross shirt a bold pop of color. The crowd surges forward as one body and Halder is swept down the street, marching alongside Veterans. The crowd's jubilant energy pulses through her, but she also feels the solemnity of the event; this is as much a celebration of survival and rebirth as it is a memorial for those who didn't survive war. One thing is for sure: Halder has never felt so powerful in her entire life —and she owes this experience to Red Cross.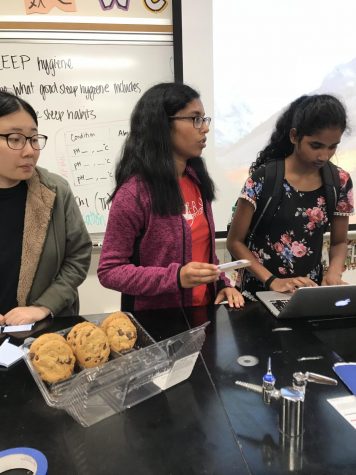 "[The Veteran's Day parade] is a really great way of showing the community, 'This is what we do, this is how we show our support for the troops,'" Halder said.
As club president, Halder wants to implement many improvements to the club. She explains that in the MVHS community, Red Cross is primarily known for its international aid projects and not the smaller but equally important contributions to local communities. One of Halder's major goals is to localize Red Cross. She hopes to accomplish this by organizing local blood drives at MVHS rather than only the blood drives Red Cross conducts at the Stanford Health Care Hospital.
"I think a lot of people know about our international reach as Red Cross but they may not be aware of the impact we have on local communities," Halder said. "[For example], there's something called Sound Alarm where we help install smoke alarms [in the community] for free. I think that's the service that a lot of people in our community don't know about."
While Halder wants to focus on organizing and promoting local Red Cross events, she also believes that continuing larger-scale projects is crucial, as she wants the club members to get exposure to the important, national-level work Red Cross does. For example, the Fisher House dinner is one of the less-localized projects that Halder hopes to sustain where Red Cross members cook dinner for veterans and their families.
Halder explains that since she is so passionate about Red Cross, she has always had a vision for the club, which was why she aspired to take on the role of president.
"I knew I wanted to be president from the very beginning because I felt that I had the dedication and the initiative to make things change not only for our members but for our community in general," Halder said. "I have lots of ideas about how I want to make that happen. Being president was always such a huge goal for me because I wanted to do so much with club."
One event besides the Veteran's Day parade where Halder recognized the true scope of Red Cross was when MVHS Red Cross responded to flooding in San Jose schools in 2017. Halder explains that she and the other members collected money and supplies for those affected by the flooding and even helped create a safety shelter with warm blankets for the victims.
"We gave them food and shelter," Halder said. "It made me realize how much good we can do. We help with fires, smoke alarms, veterans. All of those little moments where you have people thank you and you realize that you've done so much, and that not only have you given to the community, but the community is able to recognize what you've done."
Halder explains that these emotional experiences, where she is able to directly see the positive impact her volunteering can make in people's lives has changed her as a person. She attributes her confidence, proactiveness and empathy skills to Red Cross.
"I think in eighth grade, I was shy, I didn't know how to get my voice heard and I didn't know how to take action," Halder said. "Now, I'm definitely better about doing those things and I think that anyone who joins Red Cross will learn those skills."