An unforgettable experience: Learning the Japanese culture
Former Toyokawa and Cupertino student exchange participants reflect on their experience
The smiles. The signs. The excited atmosphere. These were the most noticeable elements that were etched into Cupertino students' first impression on their trip to Japan. The Toyokawa and Cupertino student exchange that takes place annually for eighth graders serves as a program for Japanese and American students to meet with each other and learn more about different cultures.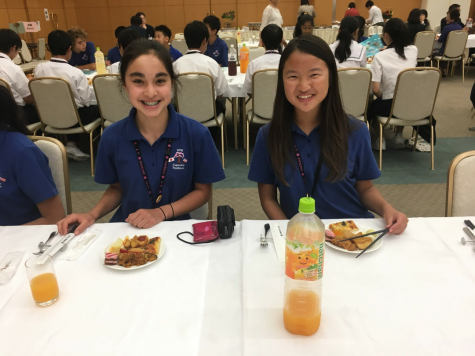 According to the City of Cupertino website, the sister city relationship between the Japanese city, Toyokawa, and Cupertino started in 1978 when delegates from the two different countries established a formal agreement. Since then, the student exchange program continued annually where a group of students from Cupertino travel to Toyokawa and experience the Japanese lifestyle. In September, the same students from Japan come to Cupertino and experience the American lifestyle.
When students from Cupertino visit Toyokawa, they are able to go to a local middle school and spend two days with their Japanese hosts. For students like freshman Sylvia Li, participating in the student exchange allowed her to interact with international students on a personal level.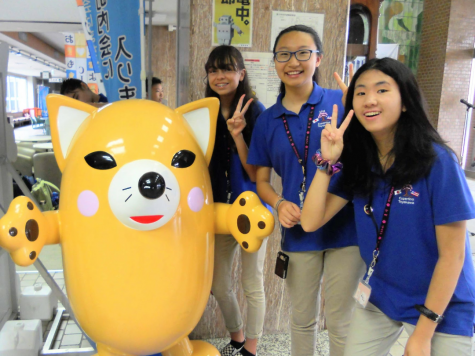 "I was able to make a friend even though we didn't speak the same language," Li said. "It was very nice because she was learning English, and she wrote me letters and it [was] really cute."
President of Cupertino-Toyokawa Sister Cities Incorporated Alysa Sakkas, who has been involved with the program since her then middle schooler son participated 10 years ago, says that this language barrier, along with differences in culture, is quickly broken when both residents of Toyokawa and Cupertino visit each other and become immersed in the culture. Additionally, Sakkas says becoming closer to people of a completely different culture shows a common human desire to grow close to and understand other people.
"When they hang out with each other, they just see how [alike] they really are," Sakkas said. "They have fun together, they enjoy the places that we take them, we enjoy the places they take us. That suggests the similarity of human beings and wanting to make that person-to-person contact and establish a relationship."
In addition to visiting traditional Japanese middle schools, Cupertino students are able to tour popular sites and see the famous cherry blossoms trees. According to freshman Lance Tong, the eagerness, passion and kindness that the Toyokawa exchange students expressed upon the Cupertino students' arrival in Japan contributed greatly in making the program extraordinary.
"I think the most memorable things [were] probably just getting to see our host for the first time [and] the joy … brought to their faces," Tong said. "When we drove up in that bus. They were smiling ear to ear, and I think that was really cool."
For Tong, being warmly welcomed in a foreign country was not only stress-relieving, but it also revealed the sincerity that the Japanese students hold in the sister city relationship. Their kind welcome allowed Tong to feel valued and showed him that both students from Cupertino and Toyokawa take the exchange program seriously, aiming to educate one another about their respective cultures.
While Tong's most memorable experience about the exchange program was the warm welcome that the Japanese host families displayed, freshman Elizabeth Lee's was quite different.
According to Lee, the flight that was supposed to take her directly to Toyokawa was delayed and because of this, the previously planned touring was changed. Instead of spending an entire day on touring, the Cupertino students were only able to tour a smaller part of Toyokawa.
"Our whole plan got warped," Lee said. "So we had to stay in a hotel for a night, which we're not supposed to do. And then we wake up [at] 1 a.m. trying to find out where we're going."
The Toyokawa host families held a farewell party for the Cupertino students in which the students showed presentations that they put together throughout their trip. In the short amount of time they shared with their Japanese host families, they formed close bonds that made parting difficult and bittersweet, as was the case for Li.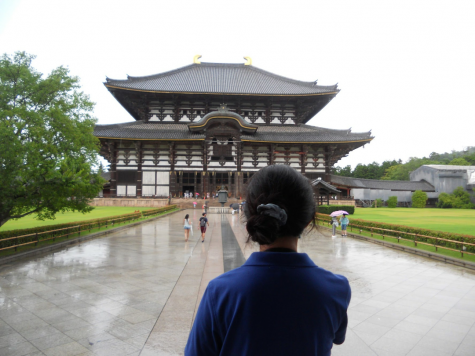 "There's a lot of people there who were really sad to see us go and it was really touching that we made so many connections even though we were only there for about 10 days," Li said. "The mother of the delegate who is hosting me and my partner was crying and I was sad, [but] it was really sweet."
Sakkas says that the bonds that have formed between Cupertino and Toyokawa students are often lifelong. According to Sakkas, there have been instances of exchange program partners attending each other's weddings, a testament to the longevity and value of the program itself.
"I think the only regret I see from people is just that they wish [they could stay] longer [in Toyokawa]," Sakkas said. "They're always very shocked at how close they can become in such a short amount of time."