Evolution of the Welcome Back Dance
O
n Aug. 25, MVHS held its annual Welcome Back Dance, celebrating the start of the school year after the first week of classes. From air hockey tables to cotton candy machines, the dance allowed students to come together, socialize and have fun. However, the dance wasn't always this welcoming in past years.
Junior and leadership member Sonia Singh remembers her freshman year when she was initially intimidated by the dance. Because of the negative connotations of the previous term, "frape," (a mix of the words "freshman" and "rape") that students used to describe the dance, Singh was confused as to what to expect.
"Some people didn't realize, like me, that it was just a joke and it was just the way that they referenced freshmen as kind of the culture," Singh said. "Some people didn't realize that and were legitimately afraid and that's not okay, nobody should be afraid on their own school campus."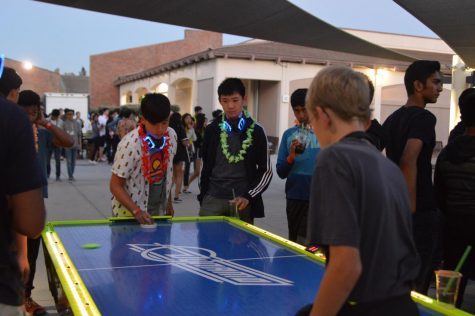 However, these past few years, administration and leadership have been trying to get rid of the negative connotation that the dance used to have, by increasing the use of the term "Welcome Back Dance" and adding more activities for students to do, allowing students to feel safer at the dance.
"The leadership teachers have talked to us about what has happened in the past and how they are continuously trying to make it so that it's a regular dance, so that there's no sort of 'frape' connotation to it anymore," Singh said.
Junior Giovanni Vurro acknowledges that their efforts have not gone unnoticed. Vurro was also nervous walking into the dance his freshman year because he heard the dance being referred to as "frape."
"I remember freshman year a lot of people referred to it as 'frape' but I started hearing that term a lot less last year and almost never this year so it's kind of good to see that comment has left the connotation," Vurro said.
In addition to the increased use of the term "Welcome Back Dance,"administration has been working on trying to enforce rules at the dance. Senior Jessica Ji recalls the dance her sophomore year, when administration interrupted the to tell students to dance "face to face with a little bit of space."
"After that dance, there [were] a lot of things we needed to work on like rules and how we presented them to the student body," Ji said.
This year, Singh feels that administration was able to make their rules clear and understandable.
"[We made] sure that admin, who are there to keep things safe, are not pulling people or kicking people out of the dance—what they did [my] freshman year—but are respectfully telling people that you can't do this and making sure the rules are clear," Singh said. "I know my freshman year they were definitely unclear and a lot of people got into some trouble and they weren't sure why."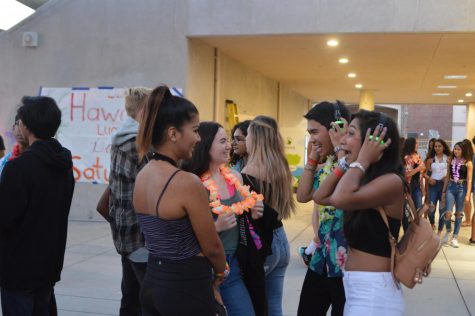 There were also many additions made to the Welcome Back Dance in recent years, such as the silent DJ, where students can listen to different songs through headphones, and food, like cotton candy and pizza. Assistant principal and MVHS alumna Janice Chen never experienced these things when she was in high school. Chen explains that because there are so many options and activities to do now at school dances, more students are encouraged to attend.
"If you're not a dancer, you can go play basketball or you could do the air hockey or [play] the Wii," Chen said. "There definitely seemed to be a lot of other options for students who might not be just interested in dancing to take part in instead."
Overall, Chen considers the dance a success in welcoming students back to school.
"I think it definitely [did] welcome students back to school," Chen said. "I really liked the theme this year cause it kinda goes hand in hand, Aloha and welcoming people, making them feel included. [It] doesn't matter what group you belong to or what you're interested in, we have something for everyone. I think it set a nice tone for the start of the school year."