Alleviated Hopes: how three girls reached the national Technovation stage
Technovation club's 'Team FemStem' qualifies for the World Pitch
The trio of girls marched up in unison to the center stage, accompanied by the sounds of their heels clicking and hearts racing. A few months ago, they barely knew each other's names. But now, they made their way to the platform, united and ready to pitch their business to hundreds of audience members at the Technovation World Pitch event.
"In a way I almost didn't [recognize them,]" Technovation club advisor Debbie Frazier said. "They seemed more sure of themselves. They had practiced so much and done so much.  I think they were just so proud of themselves."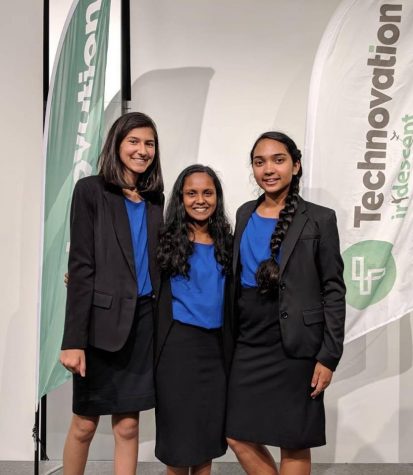 Sophomores Ria Doshi, Esha Ramkumar and Harini Arumugam are part of MVHS's Technovation club, a club that promotes females in STEM by hosting a worldwide app-building contest. Together, the three formed Team FemStem with the goal of creating an application-based business. Eventually, they created Alleviate— an app that helps those with autism improve their social relationships.
"We see [the special education students] every day at school and we really wanted to create a project that would give them a voice and help them overcome the challenges they faced in their daily lives," Doshi said. "We talked to the director of care education, met with some of the special ed kids and we got inspired."
Inspired by both the resilience and courage of these individuals, the team got to work. However, halfway through the season, after realizing that their current application idea was not unique in comparison to other autism applications on the market, the girls decided to restructure their original idea. They went to work once again, sacrificing brunches, lunches and weekends to make their vision a reality.
According to them, modifying their app was not a decision they regret. Their final app was unique and served as a tool to help people with autism— an aspect that they were previously missing.
In order to build their ideal product, Team FemStem went full circle and tested their app on the people who inspired them to begin with- MVHS's autistic community.
"One of my favorite things about the project is that they were actually testing on real students and working with the teachers, trying to get feedback and trying to improve their product," Frazier said. "They were reaching out to autism organizations trying to understand what they needed, what they already had, trying to make something unique and really useful."
Reaching out to this community allowed the girls to see the positive impact their app had. Not only that, the app's positive reception assuaged the members' concerns, motivating them further.
"It felt like they had a really good time and they were very supportive of the app," Ramkumar said. "It was a very impactful moment because you work on something for so long and then suddenly you see the impact— it's so nice."
Their efforts eventually lead them to qualify for the Technovation World Pitch, the international finals of the Technovation competition, located in San Francisco. Teams from all around the globe are chosen for the opportunity to win money to invest into their business.
"The days leading up to the pitch, I was really nervous and so were my teammates, but on the actual pitch day it was really fun to see so many people coming to watch us," Arumugam said. "It was fun talking to the judges. It was fun presenting to everyone. It was a really honorable experience."
While the pitching session took place in one evening, the event lasted throughout the week. The girls toured companies such as Google and NASA and received the opportunity to connect with other qualifying teams from all over the world.
"We got to meet all these girls from countries such as Jamaica," Ramkumar said. "Actually, this girl gave me this bracelet from Nigeria. It's her tribe bracelet."
According to Arumugam, the World Pitch served as a thrilling opportunity to make new friends and form connections. After a positive experience with the Technovation season and the World Pitch, Team FemStem plans to continue working on their app and release it to the public by the end of August.
While advising the club during the season, Frazier observed the growth of Team FemStem, and attended the World Pitch celebration to support them.
"It was fun to see the diversity— they're all striving towards the same ultimate goal, to design a business and pitch it,." Frazier said. "I really feel that it's not a competition between teams at Monta Vista, or even worldwide, it's just 'lets all do the best we can all do.' And that's really beautiful to see."
About the Writers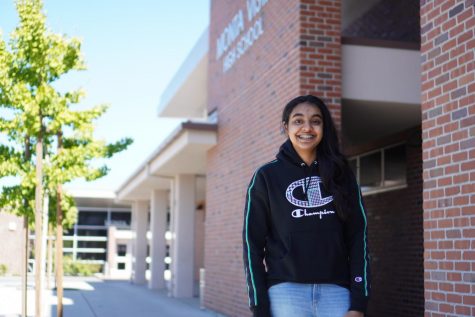 Iman Malik, Features and Graphics Editor
Senior Iman Malik is a features and graphics editor for El Estoque. In her spare time, Iman enjoys playing cards with her brother, watching Bollywood movies and re-reading Rick Riordan books. View her journalism portfolio at malikiman.weebly.com.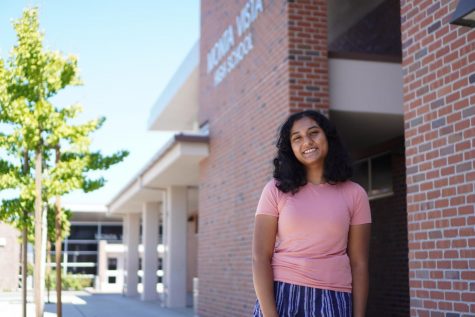 Oishee Misra, Editor-in-chief
Oishee is currently a senior and the co-editor-in-chief for El Estoque. She's an artist, and the walls of her room are plastered with artwork. She loves listening to music and obsessively creates Spotify playlists and plays the piano. She's also a total foodie (although her cooking attempts are usually disastrous). She loves reading the Opinion section of New York Times, and hopes to live in New York City and be an NYT columnist someday.