Banding together
French Honor Society (FHS) president and senior Anika Ramachandran stood in the rally court at MVHS's Culture Night. The walls were decked in the colors of various nations and the aromas of different international cuisines mingled in the air, from French croissants to Chinese noodle soup. Students were clustered around tables, playing cultural games and blasting foreign music. Ramachandran proudly surveyed the festivities, content with her final project as the president of FHS.
Ramachandran is ending her term as FHS' president, as Culture Night was the last major event she coordinated. Now that her term is over, Ramachandran reflects on her successes as the president, especially with broadening FHS and expanding its horizons. She thinks her biggest accomplishment as president was ensuring that meetings were frequent.
"Every month, we had one meeting and we also had a whole bunch of other events going on," Ramachandran said. "There were so many opportunities for members to come."
However, Ramachandran admits that the member turnout at the events wasn't very high and she hopes that next year's officer team will focus on reaching out to new French students and get them involved in FHS. She believes that this can be accomplished through regular announcements about club meetings in French classes. Ramachandran hopes that the future FHS officers next year will make spreading awareness about FHS events a priority.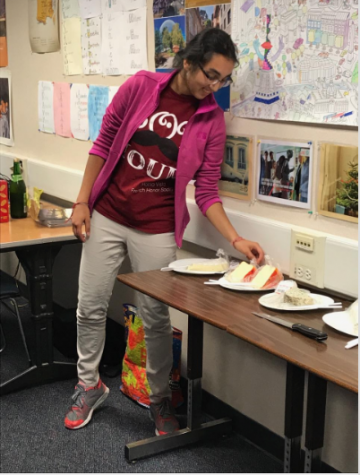 Ramachandran explains that sustaining high member counts has always been an issue for FHS. She attributes this to MVHS students' heavy focus on STEM-related fields.
"I wish it had been possible for more member participation," Ramachandran said. "I think this is the problem that many clubs have every year. MVHS students are just so diverse that everyone wants to do everything and there just isn't enough time so things start taking priorities. Especially in a STEM-based school."
Ramachandran explains that learning the French language and culture has made her a more culturally aware and well-rounded person. She is more aware of global issues and more knowledgeable about foreign customs and traditions.

"[FHS] increased the amount I would get out of my French experience at MVHS," Ramachandran said. "I just feel like learning French gives you a broader cultural awareness, makes you more aware of what's going on in the world. It just makes you a greater global citizen in general."
Ramachandran explains that the French department is very small at MVHS and is often overshadowed by the Spanish department. But, she is proud of the fact that French students were able to band together and unite.
"The French department at our school is super small," Ramachandran said. "So the fact that we grouped together and had more interest in the club. Simply the fact that there were more events and the officers had the motivation to put it all together, I think that just showed how committed they are to it."