Girls soccer: Matadors fall to the Milpitas Trojans
O
n Feb. 9, the MVHS girls soccer team, who was looking to solidify its spot in the CCS playoffs, hosted the Milpitas HS Trojans. The Trojans came into the matchup looking to rebound from two straight losses.
The first few minutes of the game turned into a scoring rally, with both teams driving the ball down the field with ease. Amanda Dellandre of MHS drove down the field early and scored on a long shot, putting the Trojans up 1-0. Almost immediately, the Matadors responded with a goal of their own from forward Nanda Nyak. After this, it became a defensive battle with neither team consistently advancing the ball deep into the opponent's territory. A late goal sent the Trojans into halftime with a 2-1 lead.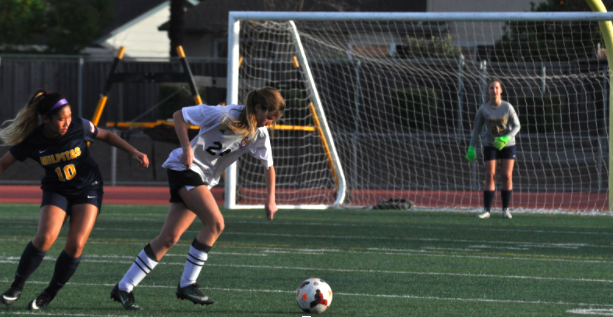 The second half was similar to the first, with both teams struggling to march down the field. Despite maintaining possession of the ball, the Matadors were unable to capitalize on their opportunities, which led to another Trojans goal, making the score 3-1. The Trojans closed out the game in the final minutes with one last goal with a 4-1 win.
Read the quotes below to hear the players' thoughts on their loss against MHS.
"We definitely didn't play our best," sophomore Erika Haskell said. "We played much better against other, much more difficult teams. We were just off."
"We beat them last time we played them, 2-0, so we might have thought of them to be a little easier, but we still came out with a lot of intensity" sophomore Jaimie Chan said.