Not another number: Students who freely volunteer for their community
MVHS student volunteers talk about why they want to help their community
Throughout high school, volunteering often has a reputation for being just another activity to impress colleges. However for many people, acquiring hours is the main goal.
For some students like sophomore Jack Tian, volunteering is more than just a number. He currently volunteers through the California Scholarship Federation Club and Key Club at MVHS. When he was younger, he also volunteered at the Cupertino Library.
"I just want to pay back to the community by helping them out," Tian said. "Also, it's just a great way to be out in the world and expand my views of the world — to be outside of this little bubble in Cupertino."
Similarly, sophomore Ted Chai thinks that after being raised in Cupertino for the majority of his life, going out to volunteer allows him to see the different struggles that others go through everyday.
"Being able to do something that isn't always in your self interest, I think is a really valuable experience for me," Chai said. "That's what encouraged me to start volunteering and [get] out of my own bubble."
According to Tian, some of his friends volunteer simply to increase their chances of being accepted into colleges, as they believe it will boost their chances of getting accepted. He believes this defeats the purpose of volunteering.
"To be completely honest, I know a lot of people who do it just for the service hours, but as a byproduct of that, it also brings additional experience of stuff that just doesn't have to do with academics," Chai said. "Like real world knowledge that you actually need once you get out of [MVHS]."
Senior Srinidhi Balaraman agrees with the fact that volunteering can help people become more aware of things happening in an area. Balaraman has been volunteering for over seven years, currently in a convalescent, or nursing home.
"It was never for college," Balaraman said. "I grew up as part of an organization [in which] we usually volunteer and help other people in the community. We help out underprivileged or underrepresented communities, whether it's by singing to seniors or volunteering at homework tutoring sessions or creating care packages and passing them out to the homeless in San Jose."
Tian feels that those volunteering just for college not only waste effort and time, but also serve little purpose in benefiting the community.
"I don't really care about hours, it's just about the work that I put in," Tian said. "It sometimes might be annoying, sometimes it might be hard, but overall I feel good in the end that I provided some service back to my community that I live in."
About the Writer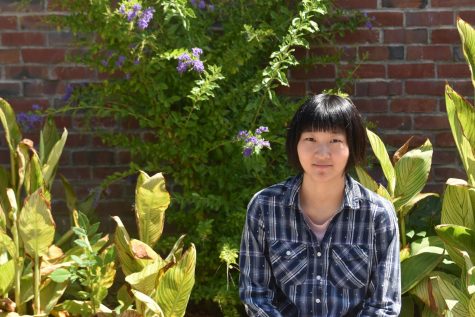 Claire Yang, Graphics editor
Claire Yang is currently a senior at MVHS and a graphics editor for print.