Bhangra club becomes official
As the seventh period bell rings on Friday, exhausted students rejoice. The weekend has finally arrived, and they head home to catch up on sleep or binge-watch the latest episodes of their favorite shows. But 15 minutes after the end of the school day, the slab of concrete between the cafeteria and the rally court is still bustling with students — 21 of them to be exact. These students are a part of MVHS Bhangra.
Every Friday after school, members meet for two hours practicing Bhangra, a dance style that combines Punjabi folk traditions with Western pop music. The dancers start with some Bhangra conditioning, which usually includes tap, squats and jumps. Immediately after, the students jump right into their routine, with the captains teaching the choreography they had created ahead of time.
According to Pillai, personality and team dynamic play a big role in determining the success of the dance team. During the selection process at the beginning of the year, the captains were not only looking for good dancers but also students who helped one another and expressed good sportsmanship. Freshman Krish Kumar acknowledges that Bhangra is very much like a sport in some ways.
"It requires a lot of team effort and you just need to get the techniques," Kumar said.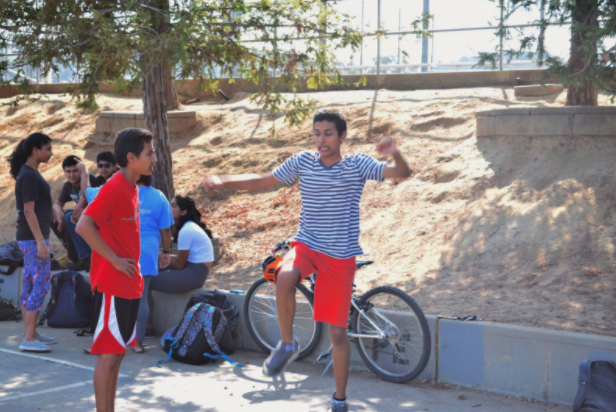 Freshmen Krish and Kanishka Kumar run through new choreography. The team split into smaller groups during practice.
The club is also a lot bigger than it was in previous years, as almost half of the members are seniors. According to Pillai, the captains recruited more newcomers so the team would be left with experienced dancers and a strong foundation after the current seniors' graduation at the end of this school year.
As a newly officiated club, Bhangra is hoping to become more involved on campus. Senior Mansi Reddy, who has been a part of Bhangra since her sophomore year, when it wasn't an official club, is looking forward to her last Spotlite at the end of this year as well as hopefully performing at other MVHS events.
"I think we have more freedom as a club, so we get the opportunity to perform at more events that MVHS students attend," Reddy said.
Pillai echoed this sentiment as well.
"A big plus about [being a club] is that we get to perform at one of the rallies and that's always really big and really exciting," Pillai said. "It'll be really nice to be able to perform at something as hyped as that."
For the remainder of the semester, the Bhangra team will continue practicing their routine in preparation for their upcoming performance, Irvington HS Dil Se, in January.