Sending blessings: Celebrities raise money after recent natural disasters
"Are you ready / for your blessings?"
Chancelor Bennett — professionally known as Chance the Rapper — livestreamed his concert at the Hollywood Bowl in Los Angeles on Wednesday, Oct. 4. Why? Because he is a great person who decided to raise funds for the victims of Hurricane Maria.
When I was watching at around 10:15 p.m., there were more than 10,000 people watching with me. At the time of publication, Chance has been able to raise more than 40,000 dollars, according to his Facebook.
In my opinion, that is an immensely impressive deed. It is refreshing to see that there is still a semblance of humanity coming from other celebrities while the president's Twitter includes tweets about how "nasty" Mayor Carmen Cruz of Puerto Rico is.
Chance isn't the only celebrity who is using his fame to help in Puerto Rico. There are many others working to provide relief.
Athletes have been instrumental lately in recovery from natural disaster. Outfielder for the Los Angeles Dodgers Enrique Hernandez set up a YouCaring page to help those directly affected by Hurricane Maria. Similarly, defensive end for the Houston Texans Justin James "JJ" Watt organized a YouCaring page for Houston after Hurricane Harvey.
Other artists have spoken about it, and some Latin stars, including Luis Fonsi, Nicky Jam, Gloria Estefan and Emilio Estefan, have gone to Puerto Rico to assist the relief effort.
Musicians make money off royalties such as merchandise and concert tickets. For Chance to livestream his concert was incredibly selfless. And it clearly was seen and approved by the multitudes of fans who donated. People didn't just tune in to watch; they donated to the cause. A lot.
Recently, I've heard a lot of things about how late night comedians are speaking up about politics and sharing their opinions. Some people complain about it, but if our politics are so devastatingly comedic, what else is there to do?
On Wednesday, Sept. 27, Nick Kroll, involved in "Big Mouth," a new Netflix show about the struggles of adolescent life, issued a challenge to his fellow celebrities on "The Late Show with Stephen Colbert." Kroll encouraged other celebrities to post pictures from their adolescence with the hashtag #PuberMe. Colbert said that for each post he saw, he would make sure the proceeds from his Ben and Jerry's ice cream flavor would go to Puerto Rico. The proceeds from Colbert's ice cream go to the AmeriCone Dream Fund, and he said that he would donate from his fund to Puerto Rico. This has provided me lots of amusement; it is nice to know that celebs also had an awkward phase. Conveniently, it's also a good reason to purchase ice cream.
And of course, I am writing this, which means it would not be complete without mentioning another one of my favorite artists: Lin-Manuel Miranda, who recently announced that he was working on a song, "a love letter to Puerto Rico," to raise money for relief efforts. Miranda has also been outspoken about the government's lack of involvement and his disgust as a result.
You're going straight to hell, @realDonaldTrump.
No long lines for you.
Someone will say, "Right this way, sir."
They'll clear a path. https://t.co/xXfJH0KJmw

— Lin-Manuel Miranda (@Lin_Manuel) September 30, 2017
Miranda planned to drop the song, titled "Almost like Praying" on Oct. 6 at 12:01 a.m., but it dropped a little early. It can now be heard on Spotify. Three minutes and twenty seconds of a beautiful mix of Spanish and English. He mentions 78 Puerto Rican towns in the lyrics because according to his interview with NPR, the towns are what unite Puerto Ricans, and that sense of unity is important, especially for a fundraising song. The proceeds of it will go to hispanicfederation.org.
Miranda has been vocal about his Puerto Rican heritage, and I had extremely high expectations for this song. He tweeted some teaser videos (and they sounded amazing, as expected), and there are so many celebrities involved. He posted a list of the 22 artists working on it, including Gina Rodriguez, Jennifer Lopez and Alex Lacamoire.
Everyone on the track pic.twitter.com/oCKcWUax5R

— Lin-Manuel Miranda (@Lin_Manuel) October 6, 2017
Also, it turns out that the #Puberme challenge ended tonight, and naturally, Lin-Manuel Miranda was on "The Late Show" with Stephen Colbert. He brought up the donation from 999,000 dollars to one million dollars. Celebrities are powerful people.
TONIGHT: Every good finale has a surprise celebrity guest, and every good #PuertoRicoRelief challenge has a @Lin_Manuel. So… pic.twitter.com/DxIeGo2Ufq

— The Late Show (@colbertlateshow) October 6, 2017
Something my dad always likes to remind me is that we aren't required to like celebrities as individuals, even if we appreciate their work. But I think that whether or not people like Chance's work — they should like it, but that is besides the point — they have to see him as a genuinely compassionate human. Some people may think that all he did was livestream his concert, but he was able to raise thousands of dollars. There is no way to describe what he has done other than amazing. It is worth mentioning that he has also handed out money to improve education in Chicago. What a great person.
Last year, Miranda released a song with Lopez to benefit the victims of the Pulse shooting. He is obviously another compassionate soul. I have been anticipating this song since he hinted at it, and I loved it. I can't wait to see the support that will be provided to Puerto Rico as a result.
"Are you ready / for your miracle?"
Puerto Rico has been ready for a while. It has been 15 days since the landfall of Maria. Our government is lagging, but it looks like these celebrities are going to be the ones to provide the people of Puerto Rico with their miracle.
About the Writer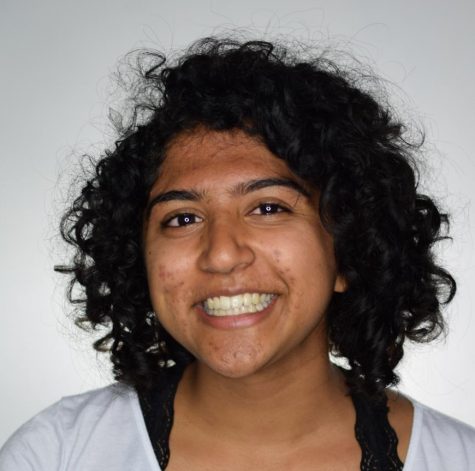 Anjini Venugopal, Staff Writer
Anjini Venugopal is currently a senior and previously served as beats editor for El Estoque. She is quite fond of music and coffee. When she isn't reporting, she's likely to be found sitting with a book.