Patent no longer pending: MVHS student reflects on making a product
Junior Tiffany Chen talks about creating a product and the patent process behind it.
Moving back to the U.S. after a couple years in Beijing apartments proved to junior Tiffany Chen that the problem is universal: sinks are clogged everywhere. As she and her father, Robert Chen, tried to constantly clean out their sinks, they invented the Lightnin Fast Sink Unclogger. Her experience in research and curiosity to invent something from a young age drove her to develop a product that would fix this problem and help out the global community.
Tiffany and her father tried out different household products like coat hangers and chopsticks as potential prototypes.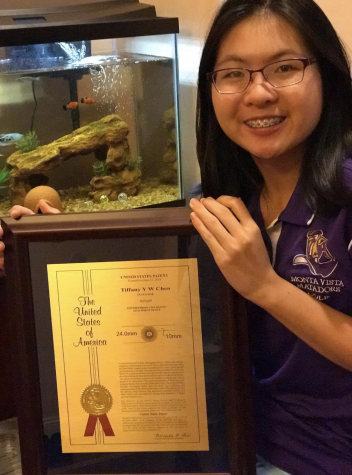 "In the end, we found this brass bristle that actually seemed to collect the hair really well and it's a non-chemical solution which is really good for the environment and for your sink because you don't want your sink to be corroded." Tiffany said.
With these supplies, the father-daughter duo got to work. They started talking to people that could help them. They brainstormed with each other deciding how to turn their idea into a product. After coming up with a drill, they went to patent lawyers for a better understanding of the process and to check that no product like this exists and   to physically make the product, they talked to manufacturers to look at materials and costs."
After receiving the patent a year after filing, Tiffany and her father reflect on the experience and have learned so much from it such as contacting people and using different materials. Because writing the patent took so long and patents can sometimes take more than three years to come through, they were happy and satisfied at the end of it all.
"It was a great feeling of accomplishment because only about 50 percent of all patents submitted [get] approved by US Patent Office," said Robert "The creative process takes months and months of trial and errors. Then there's the extremely high cost that the patent lawyer charges for the patent application."
As this process was going on at home, Tiffany took Principles of Business in ninth grade with business teacher Carl Schmidt and is currently in DECA at school. She used some of the techniques and strategies such as supply and demand and deal bargains which were taught to her in these classes. To take a step further in advertising, the product has been marketed on their website as well as Amazon, which together sold around 950 products.
Tiffany encourages others to try developing something they are passionate about, which her business teacher fully supports.
"If students have a passion, they should pursue that and make a change where they're most comfortable." said Schmidt.
Schmidt was overjoyed to hear that one of his students had a patent under her belt because the process of a patent isn't exactly a walk in the park. He wants the business classes to be an environment where students can test ideas and fail and potentially follow Tiffany's footsteps.
"They can learn from their failure," Schmidt said. "If they fail, they can fail fast and cheaply and move on to the next idea."
Schmidt's want to create a experiment friendly environment goes hand in hand in Tiffany's encouragement for other students to venture product development.
"I thought it was really cool to be able to invent something and have it patented" Tiffany said. "I really encourage other people to try it too."
About the Writer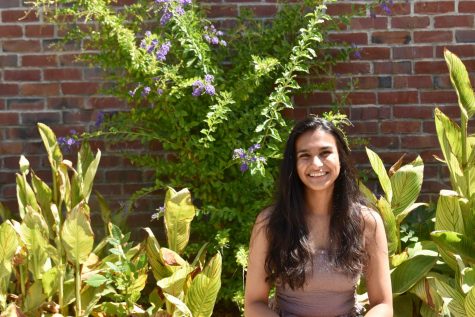 Rucha Soman, Sports Editor
Rucha is currently a senior and a sports editor. In her free time she likes to dance and binge watch TV.