Marching Band's show-stopping debut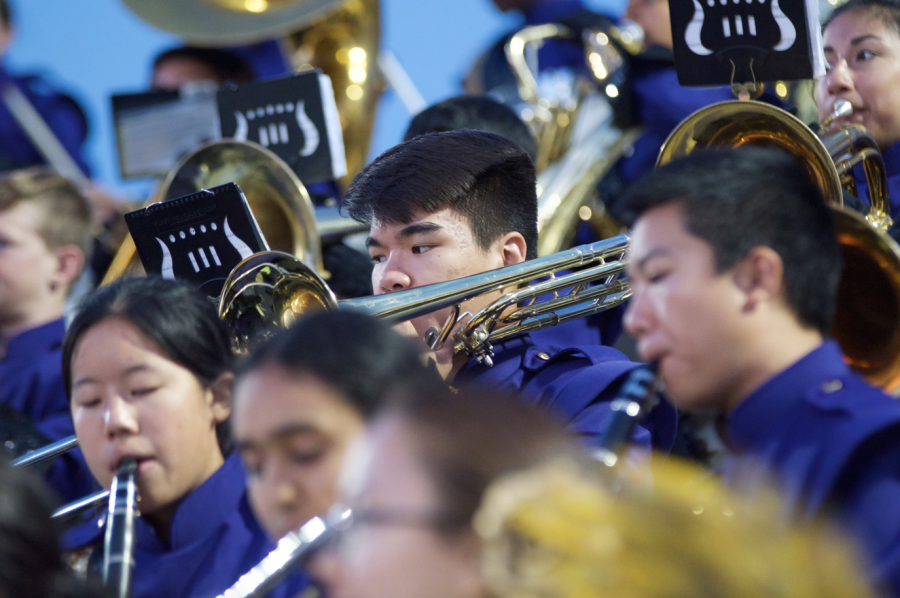 Sara Entezarmahdi
September 13, 2017
As the first month of the school year comes to a close, there is one group in particular that has recently made their anticipated debut: the Marching Band. MVHS' Marching Band landed a spot at the first football home game for their first performance of the year after a seven-year hiatus.
Director of the Instrumental Music Department Ricky Alegria had since teased the idea of returning the Marching Band to MVHS to both the administration and the band students until it was finally implemented last spring.
"Marching band provides a really unique experience to my music students," Alegria said. "In a concert band setting, my interaction with the kids is much different than it is when we're on the marching band field."
As opposed to a concert band, a marching band takes on the task of simultaneously playing their instruments and following choreography as well as performing alongside Color Guard in the fall. The transition from one setting to the other was not an easy task for some students. Junior and high brass leader Mahima Kumar acknowledges the difficulty of being a part of the marching band's comeback.
"[As a part of the] leadership team, it was a really hard process because usually when you join something like Marching Band you have people who know what they're doing that are your leadership team," Kumar said. "You have people who've done it, who've experienced it. None of us … knew what it was like to run a marching band. So we had to learn really fast — we're still learning."
Training was no easy task, either. The training process for Marching Band began over the summer with a week long training process from July 31 to Aug. 5. The training lasted nine hours each day and consisted of learning all marching band basics. During the school year, Marching Band also rehearsed (and will continue to do so) two to three times a week outside of the school day.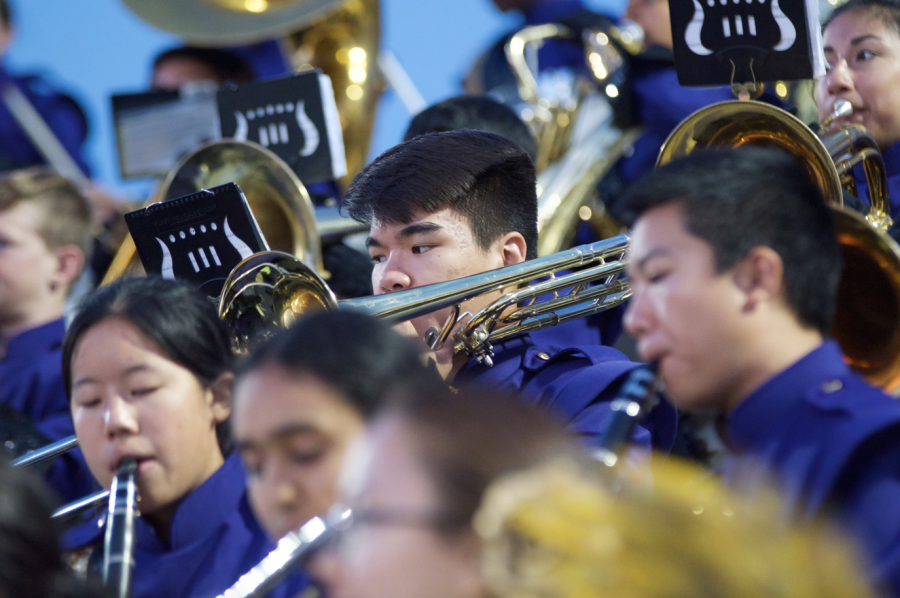 Although a chunk of their learning was simply adjusting to the ways of marching and studying the basics, the goals of the band revolved around their debut show at the first home football game.
That debut occurred last Friday, on Sept. 8, when MVHS held their first football home game against Andrew Hill HS. As the varsity football team played the first half of the game, the Marching Band sat on the bleachers in their uniforms, instruments in hand, nervously but excitedly waiting for their turn on the field.
"Right before we were about to go onto the field, I know in my area of the line, at least, people were getting really nervous," Kumar said. "Cause I mean, to us it's just like a football game, but [Mr. Alegria] kept reminding us about the importance of this, that this is the first time in like seven years [that marching band is performing]."
With the completion of their performance, after witnessing the loud, approving cheers from the crowds, Marching Band has successfully begun their string of great performances. Senior and woodwind section leader Hasini Shyamsundar described how she felt during her first performance.
"[There was] obviously a lot more pressure [than during rehearsals]," Shyamsundar said, "but the fact that everyone was cheering for us, it kind of kills the nerves a little bit because you really get to feed off their energy."
Looking past the support they have received, the marching band members are already recognizing their flaws and are setting goals to improve themselves. Junior and low brass leader Chetan Mokkapati has started reflecting on the performance.
"There were a few things that I wish went better," Mokkapati said, "but at the end of [the performance], I heard the crowd cheering for us, and I was just like, 'You know what, this is great, and we're gonna get better… all we can do is get better from now.'"

With the marching band having completed their first performance in seven years, the members are all looking forward to how they will grow as a program throughout the year, well aware of the impact they are having on MVHS' history as a whole. Junior Mahima Kumar describes her thoughts on the long-term effect her actions themselves will have on Monta Vista's Marching Band.
"The main thing is that we're really excited to be part of something like this," Kumar said. "Knowing that 10, 20 years down the line, the marching band that's going to be here will be started by all of us is pretty amazing."
Marching band's newfound sense of dedication and passion has fostered a familial bond between the members.
"I kind of saw [Mr. Alegria's] passion for it and I guess it rubbed off on me," Mokkapati said. "One of the things that kind of tipped me over towards marching band is cause I saw how cool it was. Other schools are really good and put on really good performances, and I know kids from other marching bands from other schools who say they have so much fun… I wanted to be part of that."
MVHS' Marching Band has improved significantly from their novice days in the matter of one month — they've transitioned from a regular school band that put on performances while sitting in chairs, to a marching band that represents MVHS at football games. With several more football games and other opportunities to exhibit their skills, Marching Band, without a doubt, has so much more to showcase to MVHS.