A look back: Most valuable athletes of the 2017 Rustbuster Invitational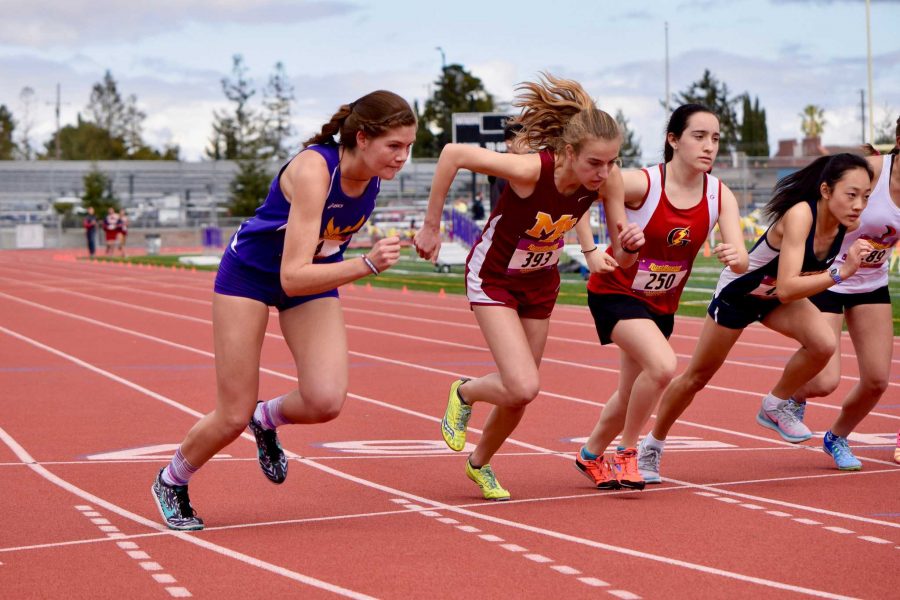 Om Khandekar
March 22, 2017
Nearing the end of the varsity girls 800m race, senior Kelly Bishop was virtually alone on the track. As she crossed the finish line, three seconds passed before the second place competitor finished the race. Yet Bishop's winning time of 2:22.61 was four seconds slower than her personal best. Even after winning with a 100m lead, she didn't intend to set a personal record at the first invitational of the season.
"I didn't run a PR by any means and I wasn't even close," Bishop said. "But today was a tactical race. [The second place competitor] went out fast, but I stayed composed, I passed her and I won."
MVHS held its first ever invitational on Saturday, March 4. As the varsity boys placed sixth and varsity girls placed first, junior Eliot Lubomirsky and senior Kelly Bishop took over their respective races to be the El Estoque athletes of the match.
"No one really expects you to go as fast as you did last season," Lubomirsky said. "They expect you to get back into it. I was kinda nervous, but I ended up doing pretty well."
Despite not running a personal best, Lubomirsky still took first in the varsity boys 400m race with a 52.70 second time. As the invitational was the MVHS track and field program's first meet of the season, many of the athletes, including Bishop and Lubomirsky, look forward to later in the season to start improving their times from last season's results.
"I ran a good race but the times were not there, that's the part I'm kind of upset about," Bishop said. "I had at least a little bit of an expectation of where I should be at the beginning of the season, regardless of whether I'm racing against someone or not."
Lubomirsky and Bishop both also anchored the varsity boys and varsity girls 4x400m relays, respectively. All four relay teams, both JV and varsity teams, won the relay event for MVHS.
Despite a successful beginning to the season, the team hopes to improve their times for the later meets in the season, according to Lubomirsky.
"I think we did pretty well, a lot of people were [happy with their results]," Lubomirsky said. "And there's obviously some people who are like 'I could have done better.' So that's just the thing coming this early in the season. Honestly, for the four hundred I didn't run that great of a race. My splits were then 21 and then 31, which are pretty bad, but they are close together. It's just stuff to work on in practice."
RESULTS
Girls High Jump:
Jessica Ji, grade:10, 3rd, height: 4-11
Anita Narkhede: 7th, grade 11, height 4-04
Boys 110m Hurdles:
Richard Dowd: grade 11, 11th, time: 19.22
Boys Shot Put:
Steven Ataee: grade:11, 2nd, distance: 38
Anthony Cruz: grade:10, 8th, distance: 31-04
Daniel Vyshetsky: grade:11, 9th, distance: 25-10
Girls triple Jump:
Cynthia Gong: grade:10, 3rd, distance: 31-04
Jessica Ji: grade:10, 4th, distance: 30-10
Girls Discus:
Annabel (Liding) Li: grade:11, 6th, distance: 63-01
Neelufar Raja: grade:12, 10th, distance: 36-03
Girls Long Jump:
Cynthia Gong: grade:10, 4th, distance: 13-07
Samitha Tarra: grade:11, 10th, distance: 11-07
Girls 100m Hurdles:
Jessica Ji: grade:10, 5th, time: 18.56
Sabrina Hung: grade:11, 11th, time: 20.19
Cheryl Chui: grade: 11, 15th, time: 22.27
Boys 4X100 Relay:
MVHS: 5th, time 48.14
Boys 1600m
Jeffrey Xu: grade:11, 7th, time: 4:45.66
Scott Gregory: grade:12, 8th, time: 4:48.08
Atharva Dixit: grade:11, 28th, time: 5:33.42
Ethan Lin: grade:11, 29th, time:5:41.09
Boys 100m
Chi-min Chiang: grade:11, 11th, time: 12.14
Owen Malone: grade:11, 14th, time: 12.31
Huan Jiun Ju: grade:11, 21st, time: 12.84
Andrew Chin: grade:11, 22nd, time:
Wesley Tsai: grade:12, 24th, time: 13.87
Boys 400m
Eliot Lubomirsky: grade: 11, 1st, time: 52.70
Matthew Gong: grade: 11, 11th, time: 1:00.72
Akshey Nama: grade: 12, 16th, time: 1:03.70
Girls 300m Hurdles
Sabrina Hung: grade:11, 6th, time: 56.20
Girls Shot Put
Annabel (Liding) Li: grade: 11, 2nd, distance: 27-05
Neelufar Raja: grade:12, 10th, distance: 14-11
Boys Long Jump:
Akshey Nama: grade:12, 12th, distance: 12-08
Boys 300m Hurdles:
Angelo Nguyen: grade:12, 14th, time: 52.40
Girls 4X100 relay
MVHS: 3rd, time: 52.74
Girls 1600m
Salma Sheriff: grade:12, 4th, time: 5:48.51
Bhavna Sud: grade:11, 17th, time: 7:00.98
Girls 100m
Evelyn How: grade:10, 4th, time: 13.06
Kaitlyn Zou: grade:10, 7th, time: 14.14
Anella Jennei Palacpac: grade:12, 8th, time: 14.18
Lillian Wu: grade:12, 15th, time: 15.12
Anjini Venugopal: grade:11, 16th, time: 15.12
Girls 400m
Alisha Gao: grade: 10, 1st, time: 1:05.01
Reema Apte: grade:10, 2nd, time: 1:
Devin Pereira: grade: 11, 4th, time: 1:10.06
Estelle Yoo: grade: 11, 6th, time: 1:11.26
Girls 800m
Kelly Bishop: grade:12, 1st, time 2:22.61
Girls Sprint Medley Relay
MVHS: 4th, time: 2:11.55
Boys 800m
Andrew Ma: grade:12, 2nd, time: 2:05.58
Justin Lin: grade:11, 6th, time: 2:09.16
Jeffrey Xu: grade:11, 9th, time: 2:11.12
Girls 4X100m relay
MVHS: 1st, time: 4:22.37
Girls 3200m
Parvathi Meyyappan: grade: 12, 1st, time: 12:20.22
Boys 3200m
Bennett Zhang: grade:12, 2nd, time: 10:10.08
Derek Lee: grade:11, 8th, time: 11:03.71
Rahul Uppuluri: grade: 12, 18th, time: 12:34.43
Boys 4X400 relay
MVHS:1st, time: 3:35.80
Boys Discus
Steven Ataee: grade: 11, 9th, distance: 90-00
Anthony Cruz: grade:10, 12th, distance: 69-08
Daniel Vyshetsky: grade:11, 13th, distance: 62-08
Additional Reporting by Shayon Moradi