Netflix releases "Audrie&Daisy"
Two girls. Two nights. Two heartbreaking stories. "Audrie&Daisy," a documentary produced in part for the purpose of being shown in schools, was released on Netflix on Sept. 23, 10 months after its January debut at the Sundance Film Festival. When Actual Films producers Bonni Cohen and Jon Shenk decided that they would like to create a film highlighting the effects of cyberbullying, they chose to follow the stories of Audrie Pott and Daisy Coleman, two girls on opposite sides of the country who were both sexually assaulted and consequently cyberbullied.

Though Coleman and Audrie never met, the producers felt that their stories collectively profiled America's cyberbullying situation. Coleman, though damaged by her incident, was able to make it through the assault and the ensuing hate with the help of her family. Unfortunately, Audrie did not survive long enough to tell her story herself.

[embedyt] http://www.youtube.com/watch?v=yX7ZJd_cKqA[/embedyt]


Audrie's Story

On April 11, 2013, three boys — middle school friends of Audrie — were arrested. It had been seven months since the boys had begun hiding their phones, seven months since the police had started interrogating and searching, seven months since Sept. 10, 2012. During those seven months, police seized suspects' phones and computers, the victim's social media history was searched, the victim's family hired a private investigator and suspects desperately tried to hide the digital evidence. The city was investigating a suicide.

Audrie, a sophomore at Saratoga High School, had hung herself.

A week before taking her life, Audrie had already begun her own investigation. After a Labor Day weekend party on Sept. 2, Audrie woke up with a hazy memory and a blanket draped over her, covering disheveled clothes that failed to hide the vulgar scribbles of marker on her body.

Audrie was trying to understand the details from her night of partying, but as she asked her friends, lies and confusion began to spread. Friends told her there had been nude pictures taken of her with inappropriate drawings at different parts of her body, but no one was really sure who had the photos and who was spreading them. Audrie tried to ensure that all of the pictures were deleted, but she soon realized that it was out of her control. The photos were out, out in the world, out of her reach.
Several days after the party, Audrie sent her friend a message.
My life is over.
On Sept. 10, 2012, Audrie's stepmother, Lisa Pott, found Audrie hanging in the shower. She called for paramedics, but it was too late. The Labor Day party had done the deepest damage to Audrie that it could possibly inflict.
The Audrie Pott Foundation
While the Pott family was still shocked and devastated by the incident, they were approached by news organizations hoping to tell Audrie's story. Though hesitant to speak publicly, they were forced to decide if they wanted Audrie's story to be told to the world as Audrie Pott or as "Jane Doe." They chose to let the world know who Audrie Pott was.
"Audrie didn't survive, so we knew we had an opportunity to speak out on her behalf, and give her a voice, whereas most victims are too ashamed to come forward," Lisa said. "So, we thought we could do this and be a voice for all those people who are too ashamed to come forward."
The Audrie Pott Foundation serves this purpose. Though Audrie's parents, Lawrence and Sheila Pott, created the foundation to provide scholarships to students who shared Audrie's interest in music, the foundation quickly evolved into a front for spreading awareness of cyberbullying and teen suicide. Now, the foundation's CEO is Lisa Pott, Audrie's stepmother.
Though Lisa often feels as if she has no privacy because she is treated as the public face of Audrie's incident, the foundation has also helped her get through the tragedy. She explained that they wanted to ensure that other girls did not undergo the sexual harassment and online bullying that Audrie suffered through.
This isn't really just about us and our daughter. We're doing this for all daughters. Every time we get an email or a message or someone who personally tells us that, it helps us keep going, because it lets us know we are helping people.

Lisa Pott
In order to comprehensively spread Audrie's story, the Pott family has made sure that not only Audrie's parents spoke, but that the culprits spoke too. The Pott family won a civil case against the three boys, requiring them to speak publicly of their actions on several occasions — including in "Audrie&Daisy." During the original investigation, police officers were obstructed by empty rumors, hidden evidence, and students who did not want to talk. According to Lisa Pott, one boy jammed a screwdriver into his phone's charging port in order to prevent police from searching its contents. Now because of the work of the foundation, the producers of "Audrie&Daisy" were able to produce an accurate report much more easily.

The Making of "Audrie & Daisy"

Still, getting the information for the film was not a simple task. The Pott family had been approached by many filmmakers before, but had declined all of them since, according to Lisa, they did not want Audrie's story violated or misrepresented in a movie.

"It's such an unusual process, because you basically give your whole family to these filmmakers," Lisa said. "You're giving up yourself and your time, but you have no idea what the finished end result is going to be."

However, the Pott family trusted Cohen and Shenk. After looking at their previous films and speaking with them in person, Lisa believed that Cohen and Shenk would tell Audrie's story properly and accurately. Lisa also noted that many of Cohen and Shenk's films — including "Audrie&Daisy" — do not use narration, removing possible biases.

"We want the audience, in a way, to become their own narrator," Shenk said. "And tell the story that they piece together by getting these getting these pieces of information, getting these different perspectives."

For Audrie's portion of the film, the producers were only missing one final piece: Audrie. In order to tell Audrie's story without ever being able to meet her in person, Cohen and Shenk enlisted more help from the Pott family. The family gave the producers all of the information they had maintained during the time of the case, including information from a private investigator. The film also includes a montage of photos taken of Audrie with her best friend, photos of Audrie from middle school and family videotapes.

However, none of that showed how Audrie felt in the week following the Labor Day party. To allow the audience to understand how Audrie felt, Cohen and Shenk digitally recreated the chats Audrie had with her friends, hiding the students' names but remaining absolutely true to the messages sent.

"Audrie&Daisy" primarily tackles a somewhat new form of harassment: cyber bullying. The documentary serves as a call to action. Shenk explained that one of the main motives of the movie was to create awareness for this form of bullying.

"There's a major problem in our middle schools and high schools where a giant number of girls is getting assaulted," Shenk said. "When [Cohen and I] started doing research [about these assault cases], we felt like we could make a really compelling film about this — a film that would hold up a mirror to society and show us, 'where are we now with this issue of sex assault, and how does social media and cell phone and the internet play into that?'"

Shenk talked about the fact that because cyber bullying takes place online, the film focuses on how even one fake message or post can really ruin someone's life because anyone can see it.

The film not only touched on what teen cyberbullying can cause, but also how speaking out against bullying can cause just as large of an impact as bullying does. In the week that Audrie spent trying to regain control of her reputation, no one spoke up for Audrie.

"There's always reasons why people justify not saying anything," Lisa said. "It's just this bandwagon mentality of people just allowing victims to fall by the wayside and not helping them. And we really want that to change."

Lisa explained that the biggest aspect of the film for her family was not only to let people know what happened, but also for people to see the real Audrie.

"We wanted people to not just know about the crime, but we wanted people to see Audrie, and to see who she was," said Lisa said. "In some ways, ["Audrie & Daisy"] is a memorial to her. And seeing her on the big screen. I'm always happy to see her again."

[embedyt] http://www.youtube.com/watch?v=8xASXeIPuqM[/embedyt]
About the Writer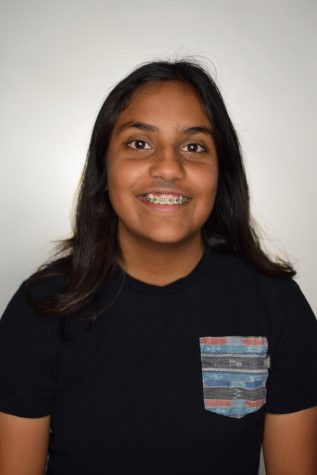 Mallika Singh, Staff Writer
Mallika Singh is a staff writer for El Estoque. She is a senior at Monta Vista High School. In her free time she enjoys playing guitar, singing and spending time with friends.