Leadership's "Bring Your Own Banana Day" attracts a large crowd
T

he bell had just rung, yet the line of students already curved around the rally court. Yet the huge line wasn't the only thing that was unusual. Each student's hand gripped a banana.

And at the start of the line, there was a tent set up. Leadership students were hard at work collecting bananas from students, cutting them and adding all the delicious toppings, from whipped cream to sprinkles that make a traditional banana split.

Click below to view images from the event
A Facebook event urging students to bring their own bananas to school puzzled many and led to some interesting reactions. But all was revealed on April 28, in the rally court during lunch, when students discovered that the bananas were for banana splits, complete with whipped cream and sprinkles. The ice cream was a welcome relief from the heat for students like freshman Nikita Shetty, who went to get ice cream with a couple of other friends. Although the banana split wasn't a complete surprise to her, "Bring Your Own Banana day" still left her satisfied.
"Some people had already guessed it, so I kind of already knew but I was just happy I got ice cream," Shetty said.
Others, like sophomore Daniel Hong, got a possible idea of where the event was going, but didn't really have much of a clue.
"All I knew was that they'd probably cash in the banana for some sort of monetary award," Hong said.
Being in Leadership, 2017 class treasurer Alex Maertens was glad about all the buzz on Facebook, since he thought it definitely helped to bring awareness to the event.
"The more people talked about it, the more people thought 'Maybe I'll just bring a banana because bananas are so cheap, I can bring it so easily, and maybe I'll receive something for it,'" Maertens said.
He explained that although the administrators were the first ones to come up with the idea of "Bring Your Own Banana Day," the rest of Leadership gravitated towards it because of the mystery aspect of it all.
It's really good to see something that's not class competition-related and that people can just go out and have a good time, for something as small and pointless as a banana." Junior alex Maertens
And as students all came to the rally court and were greeted with a sweet treat, many walked away with a banana split in hand and a smile on their face.
"I love MV[HS] and banana splits!" Hong said.
About the Writer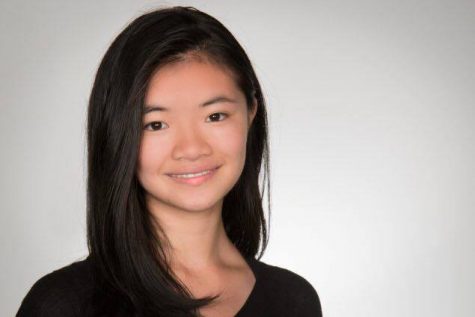 Ilena Peng, Staff writer
Ilena Peng is a senior with a love for tea, books and journalism. Formerly, Ilena was one of two editors-in-chief, as well as a news, entertainment and business editor.