Sunday Projects: Cherry Blossom Festival
Co-authored by Ilena Peng.
Additional reporting by Hannan Waliullah and Om Khandekar.

T

he air in Memorial Park was alive with flutes, drums and idle chatter, a sign that the annual Cherry Blossom Festival had once again come to Cupertino, bringing exhibits, snacks and lively displays with it. The voices and footsteps of hundreds of people resonated across the park as vendors excitedly presented various works of art, instruments and clothing. Though the same festival takes place each year, families still return annually with the anticipation of having a good time. This year's celebration does not disappoint.

Cupertino has long been sister cities with the city of Toyokawa in Japan. Yet what many don't realize is that the annual Cherry Blossom Festival isn't just a place where families can spend their weekend — it is also intended to commemorate Cupertino's strong ties with its sister city Toyokawa.
---
[soundcloud url="https://api.soundcloud.com/tracks/260933141″ params="color=ff9900&auto_play=false&hide_related=false&show_comments=true&show_user=true&show_reposts=false" width="100%" height="166″ iframe="true" /]

Musical Musings

Carefully measuring and forming holes on a stick of bamboo, Japanese flute enthusiast Michael Kanner crafts the instrument with the dexterity of a surgeon. Even the most oblivious passerby can tell he's experienced in his trade by the way he gently brings the flute to his lips and plays a soft melody. Over 35 years, he has undoubtedly accumulated a considerable amount of knowledge about bamboo flutes.
Kanner first encountered bamboo flutes when he bought his first flute at a Renaissance fair in Berkeley. He then went camping in Hawaii and noticed the bamboo forests growing around him, perceiving them as an opportunity to build bamboo flutes. Camping along the beach, Kanner found stalks of bamboo and crafted what would be the first of his vast collection of hand-crafted bamboo instruments. He eventually brought the flutes back to California to sell.
Other avid flutists kindle Kanner's burning passion for bamboo instruments — he recalls walking down Telegraph Avenue in Berkeley once and seeing a man play the Shakuhachi, or a Japanese end-blown flute. The man told Kanner about how the instrument had been used by Zen Buddhist monks to increase their inner awareness. Eventually, the man also taught Kanner how to make the Shakuhachi, showing him the tools and measurements for crafting the instrument.
Today, Kanner spends his time making flute repairs, giving children's workshops and delivering performances. In doing so, he leaves a legacy of the traditional Shakuhachi for everybody to enjoy.
---
Crown Jewel
Standing behind rows of jewelry shimmering in the morning sun is Nicole Powers, who sells her handmade jewelry with her husband Mike Powers. She first started making jewelry 13 years ago when she wanted to create a particularly unique piece of jewelry that she hadn't been able to find elsewhere.
"I was a waitress at a brand new Chili's and I wanted chili pepper earrings but I couldn't find them anywhere," Nicole said. "But I found the beads so I taught myself how to make them into earrings and then everybody wanted a pair."
What makes Powers' booth unique is that if someone has a special request, she will create a unique piece just for them.
At her friend's encouragement, she first started selling jewelry at farmer's markets 11 years ago, with only a few pieces. Soon after, she began selling jewelry at festivals like this one. Her interest in a pair of chili pepper earrings led her from farmer's markets to festivals to an online store. Yet Powers says that selling her jewelry online isn't quite as fulfilling as the experience of being at a festival like the Cherry Blossom festival, which stands out even among others due to the rich cultural experience it offers.
"This is a wonderful cultural festival. Gosh, I loved listening to the Taiko drums yesterday afternoon," Powers said. "Love the music, love the food."
---
It's in the Game
With small balloons bobbing in a kiddie pool, the booth Homestead HS' Japanese National Honor Society set up looks rather childish. Yet the club isn't a stranger to culturally rich events like the Cherry Blossom Festival, since they frequently visit Japanese cultural events in the area, like Mochitsuki at the Wesley Methodist Church, which involves making mochi.
Their booth consisted of a game called "yoyo tsuri," where players use a hook that's attached to a short piece of paper to try and pick up a small balloon by its string.
Scroll over the image below to see how the game works:
HHS sophomore Rebecca Zhu is an officer of HHS' Japanese National Honor Society and she assists the main officers of the club. She says that the game was extremely popular during the first day of the festival, in part because it's such a simplistic game that anyone can play.
"The kids especially seem to enjoy it. It was really fun for them because it's not something that hard," Zhu said. "I think both kids and parents found it [to be] a really interesting game … they just like to find something they can relate to in Japanese culture."
---
Through the Lens
Unlike the chaotic nature of the booths surrounding his, Michael Fernandez chooses to set his vibrant photos against a simple white backdrop. A calm picture of a temple in Japan adorned with cherry blossoms is reflected by a bright red shot of a dim cavern letting in a beam of light on the far wall. His pictures, many of them landscapes, are sharp and lively, capturing the essence of landmarks through the eyes of a lens. Fernandez has been around the world, from Fiji to Mexico. But among the countless destinations he has visited, Fernandez recommends taking images in California.
"There's so much here, along the eastern Sierras," Fernandez said. "All around highway 395, Bishop, Mammoth, up to Lake Tahoe, everything you need to see is here."
---
Sweet Tooth
Young students stood masked by a screen to keep out bugs, talking quietly as they prepared for an ongoing
rush of food lovers. These students, who were selected to be part of the exchange program between Toyokawa and Cupertino, sold cotton candy. Seventh grader Audrey Hambrick from Lawson MS stood in the corner surrounded by bags of colored sugar used to make the candy floss.
For Hambrick and the other students, the highlight of the festival was the performances, in particular, the Taiko drums. And when asked whether they enjoyed selling cotton candy, Hambrick and LMS eighth grader Kyle Yu had a simple explanation.
"Yeah, which kid doesn't?" Yu said.
"It's sugar on a stick," Hambrick said.
---
Home on the Range
Among all the small tents housing little handmade crafts, there's one that stands out — a fenced-in corral filled with ponies.
Al Mundey, who has worked with horses for over 20 years and has come to the Cherry Blossom Festival every year since its beginning in 1983, doesn't find the cultural part of the festival to be all that interesting. For him, the best part of the festival is the children that are there and the joy on their faces upon seeing the ponies.
According to Mundey, for the most part, kids love participating in the rides. When Mundey gives a little "yee-ha," all the children echo his shout. Butthere are always just a few who are scared of the ponies.
"They don't really freak out — they just cry; they don't wanna get on them," Mundey said, "But if they cry and you put the kid on the horse, once the horse starts moving, most of the kids will stop crying."
---
Seeds of Succulence
Behind the orderly arrangements of succulents and cacti stands a woman carefully tending her plants. Having grown some of the plants herself, Noelle Le shares her
aptitude for botany with the visitors at the Cherry Blossom Festival. After losing her job, Le turned to her lifelong
passion — growing plants.
"Everybody is into these kinds of plants," Le said, "because it's easy and very hardy."
---
Cultural Exchange
Sitting at the crossroads of displays filled with colorful trinkets, a plain white booth is set up at the festival long before the other vendors get there, and remains long after they leave.
Kristi Ralston is volunteering for Cupertino's Sister City Committee's booth to help raise money for its program, which supports an exchange between middle school students in Cupertino and Toyokawa each year. American student delegations are sent to Japanese households annually to get a glimpse of Japanese lifestyle, and in turn Japanese delegations visit Cupertino to experience the American lifestyle. Ralston hosted for two Japanese girls last year, and her daughter visited Japan in July.
"It was kind of interesting," Ralston said. "Last year, one of the girls who came to my house, her mother came [to Cupertino] when she was in junior high school, as a delegate 32 years ago."
At Cupertino's Cherry Blossom Festival, the most recent delegation selected to go to Japan is hosting a fundraiser to fund future students' trips. The program, which has been around for over 30 years, has had a cultural impact on both Cupertino's and Toyokawa's residents.
During the exchange program, students spend time with their host families and participate in school events, gaining exposure to various activities from swimming with Japanese schoolchildren to practicing karate in a Japanese dojo. At the end of the program, the American exchange students also take a bullet train to Kyoto.
As a mother who hosted for Japanese students in the past, Ralston is now a member of the Sister City Committee, hoping to carry on the cultural significance of the exchange program.
About the Writer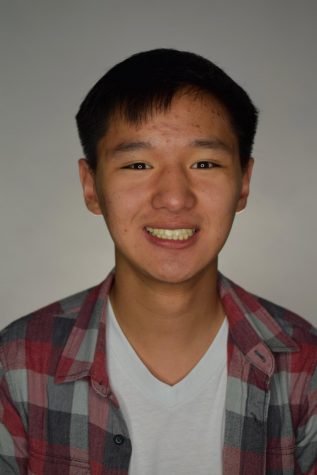 Daniel Lin, Staff writer
Lin, a senior and third-year staff member of El Estoque, serves as Webmaster for elestoque.org. Lin was Copy Editor and Special Report Editor in 10th and 11th grade, respectively.