Track and Field: Q&A with team freshmen
Cowritten by Hannan Waliullah and Fatima Ali

Photos by Fatima Ali

E

veryone knows what it's like to be an freshman, whether they're a teacher or a student at MVHS. They've all been through the transition from middle school to high school, not knowing where or how they'll fit in.

A few find their homes in playing a sport they love. Each sport at MVHS has its own family and community. Track and field is one of those families, with over 100 students in the program, each having their own event and place to fit in.

Take a look at some of the stories below of freshmen finding their place in track and field, as well as making goals for the season.
FRESHMAN CLAIRE CHANG
EVENTS: 400m, 800m, 1600m and 3200m
El Estoque: Do you have any personal goals for this season?
Chang: As a freshman, I don't really have any personal records that I'm aiming for. There's not really a time frame that I want for my runs; I think it's just to see improvement from the beginning of the year to the end of the year, and not to have any bad races.
EE: How is high school track different from middle school track?
Chang: High school track is a lot more legit. You actually have to put in the work and the effort in order to get better. Everyone else is already at a high stage of performance. In middle school track, it wouldn't be as serious and nobody really cared about what the result was. But here it is a lot more important because you're scoring for your team and you want to improve for yourself.
EE: Does the coach have any goals for your team?
Chang: He thinks of us like his children and wants us to succeed in general. The coach has expectations for the whole team to be good people and good teammates, congratulate each other and thank the volunteers and stuff, but as for individual time goals, it's more specific to certain people that he's known better or who have had more success in track.
FRESHMAN DEREK ZHENG
EVENTS: 4 x 400m, triple jump and hurdles
EE: What's it like to be the freshman on the team?
Zheng: I'm not really bothered by it because all the upperclassmen are really helpful and they are good teachers. They are basically your coaches when the coaches aren't there. They've been doing this for years and they know what they're doing.
EE: Do you remember any time when an upperclassmen was particularly helpful?
Zheng:  A junior, Matthew [Ho], helped me with my hurdle form, like jumping over the hurdle. [There's] also lots of general advice from my teammates.
EE: How is track different now from what it was in middle school?
DZ: The stakes are just higher, and everyone's more competitive. Everyone's more experienced, and it's more structured. It's good running on a rubber track and having the electric camera every single time.
FRESHMAN LAUREN LING
EVENTS: 100m 200m, 400m, long jump
EE: How are high school practices compared to the ones in middle school?
Ling: It's more structured because we actually have things that we have to do everyday and the coach watches every person. [Middle school] was like, 'Oh you can slack off' or 'Oh its okay, its like one day'. [High school coaches} expects you to work hard every day and try your best.
EE: Are your fellow teammates and upperclassmen helpful?
Ling: They give me advice, and they comfort me. No matter what I get, they say that my number doesn't define who I am, and that as long as [I] work hard, it's fine. You learn things that you wouldn't really learn in a classroom environment.
EE: How was your track meet yesterday?
Ling: I was really nervous. I did two events yesterday: the long jump and the 200. I didn't do really well on the long jump and it was my first time and I felt really bad about that, but my friends [told me] I should focus on my next event, so I did better at the 200 and got second place.
FRESHMAN EVELYN HOW
EVENTS: 100m, 4 by 1, 4 by 4 and 200m
EE: How do your teammates act around you?
How: We're all a big family and after each event we just go up and say things like 'Hey, good job' and you just congratulate people. Everyone is super bonded.
EE: How did your first track meet go?
How: It went great. It was a more competitive environment, but our track squad is really supportive. As you're running, you can hear everyone cheering.
EE: How does it feel to be among the youngest on the team?
How: It feels a bit intimidating because there's really good people in the other grades, but it's also kinda of fun because those people could tutor me in running and sprinting and help me get better. They're always very supportive.
EE: What's your favorite part of track, so far?
How: There's too many favorite parts for me to choose from. Track practice is fun in itself, as well as the meets.
About the Writer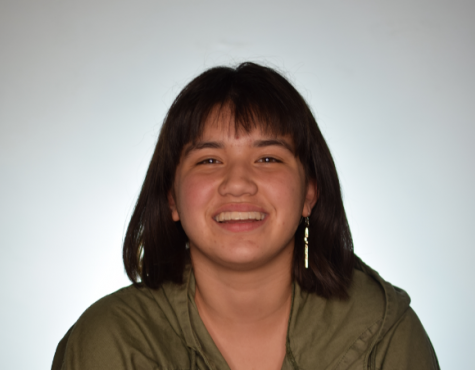 Emma Lam, Staff writer
Emma Lam is a senior and a third year member of El Estoque. She enjoys pitching creative ideas in her section as well as designing pages. She currently serves as a copy editor and in the past has served as a Special Report Editor and Public Relations