Game GIFs: Boys soccer achieves 2-0 win against Lynbrook HS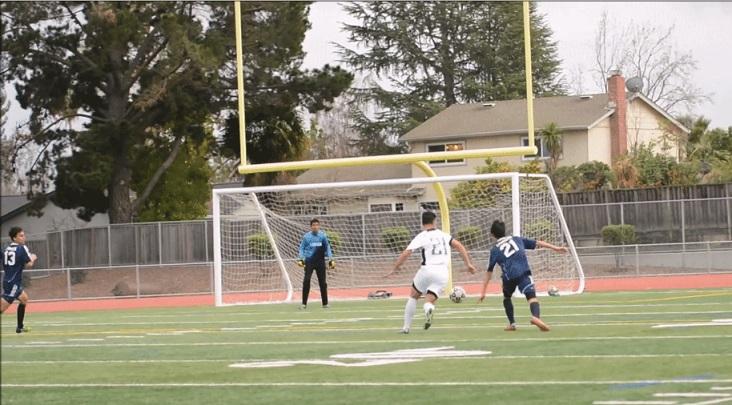 Justin Kim
February 2, 2016
Video by Derek Shao

For much of the beginning of the season, the MVHS boys soccer team suffered from slow starts and a lack of communication. On this rainy day, as dark clouds were setting in, the Matadors set to correct their errors in order to defeat their opponents from Lynbrook.
On Jan. 29 at 3:30 p.m., the boys soccer team faced off against Lynbrook High School. The Matadors, coming into the game with high spirits and energy, secured an early lead as both senior Radwan Hamwi and junior Nikash Narula took advantage of the Vikings' weak defense and scored within the first 20 minutes of the game. With tight possession of the ball, the boys balanced offensive and defensive plays to keep LHS from scoring any goals, resulting in a 2-0 victory for the Matadors.
Check out some highlights of the game:
Videos by Justin Kim


Senior Anjan Amarnath assists the ball to Hamwi, who scores the first goal of the game.

Hamwi passes the ball to senior Hari Kaushik. Kaushik trips and flips while attempting to score a goal.

Junior Hidetoshi Yoshimura is surrounded by three LHS players and as a result loses possession of the ball.

Narula passes the ball to Yoshimura. Yoshimura attempts to score a goal with his header.

Narula scores the second goal of the match.

Senior goalie Thomas Lenihan secures the ball and dropkicks it to teammates.

Junior Alex Dunn keeps the ball out of Lynbrook possession so that Hamwi can move it away from the MV goal.
Co-authored by Tyler Lin