Back to the beginning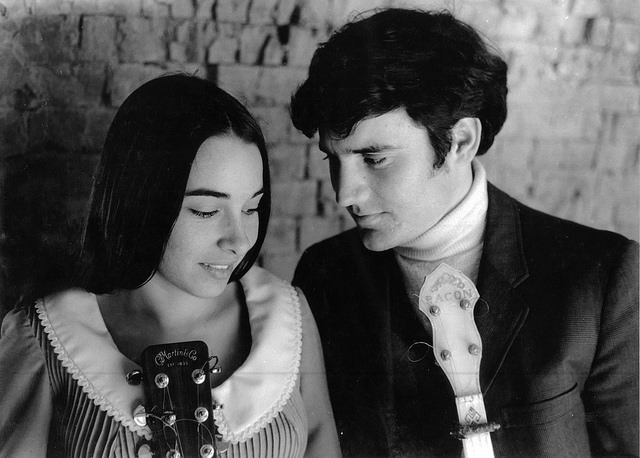 W

e met right there," art and multimedia teacher Dale Barcellos said as he pointed to his living room. In that same space, decades ago, two young musicians sang their first song together. Years later they would find themselves together again, married and lounging on the patio outside.

"Look at how far we've come," Barcellos said with a smile.

Dale and his wife Marilyn have been in sync since the moment they met. Their musical success, twin teaching careers and joint retirements were carried out in harmony. With a history spanning decades and a story captured in over 4000 photos, the idea that their relationship stemmed from an exaggeration strikes a chord.

The two met when Dale's cousin, Douglas Guilbert, spun a promising story about Marilyn to disguise his desperate need for a ride to San Jose. Dale obliged, but not without skepticism.

"'Oh, she loves music and she is really into guitars and loves sports cars,' Doug told me,"Dale said. "Of course, it was total crap. He had no idea."

Regardless, Dale took his cousin to a quaint home in the middle of Campbell. There he would find that every bent truth his cousin fabricated was a hard fact. Marilyn walked out in an old sweatshirt covered in paint and torn Levi's jeans. At 18 years old, she was an artist, a musician and the host of a sandal workshop where she would teach customers how to make sandals from leather in four hours. Later that night, he picked up his guitar and sang folk style songs by the band "Peter, Paul and Mary."
"It was magic," Dale said. "Our voices fit together like a glove."
So began the light rock and soul band known as "The Great Wizard." Though the band would fluctuate in size, Dale and Marilyn were always at the heart — an everlasting duet. In towns across the country and occasionally upon the stage of nationally televised channels, "The Great Wizard" left a magical legacy spanning 27 years.
It was all uphill from there. Fancy hotels were hollering for them months in advance. Weekends were filled with music festivals and gigs. Even the Capitol Hill White House staff was present in the audience once.
But slowly the tempo of a professional musician became too swift. Dale and Marilyn eventually settled down and their other interests, namely teaching, took a greater part in their minds. When the final curtain closed at the end of their national tour, they agreed to depart their act and began a new kind of performance. Over the course of the next few years, Dale would both learn and teach as he familiarized himself with the multimedia design and earned his teaching credentials. Marilyn went to teach at Westmont High School and Dale found his home at MVHS.
"When I first went into teaching," Dale said, "I said to myself, 'You have 27 years of experience on stage. This should be easy.'"
But by the first day, he realized that the job would be far from easy. Dale dreamed of the moment he would walk into MVHS' portable four on the first day of class in 2004.
Apparently, it was a dream for the students, too. They were sleeping in his class.
"It suddenly dawned on me," Dale said, "and I am going [gasp]. These kids don't want to be here! This is not like a night club at all!"
One by one, the students piled into his classroom, slumped down and drifted into lazy conversation or slumber. Dale was stunned, and it would take him four to five years to accept this kind of audience.
When I stopped giving kids grades, I had to find another way to keep the kids going down the road, since I gave up my only lever of power," Dale said. "I had to become more of an entertainer."
While some students slept, others were inspired by the man who carried a song in his heart. Dale not only served as a multimedia and art teacher, but as an adviser, a friend and confidant to his students.
"He's a different kind of teacher," sophomore Varun Sachdeva said. "He's very lenient and connected with the students. You can tell him anything you want to."
Dale and Marilyn tried to maintain their musical life over the course of the time, but now, as they steer close to 70 years, they find it hard to find the energy for both teaching and music. When Dale and Marilyn signed their retirement papers this year, they were sad but optimistic to return to their world of songs. Though they have no intentions of playing professionally, the duo anticipates the familiar warmth from friends and band members they had befriended over the course of their lives.
Back on the patio Dale and Marilyn reminisced of the years they spent together. All around them lies the mementos of the previous decades, from instruments to collectibles and photographs to memories. One of their greatest achievements however will not be stored in a box but within the privileged students and acquaintances of the musical duo. Dale and Marilyn will retire after the 2015 school year but their song will echo in the minds of their hundreds of previous students.
As Dale began to sing "The Ballad of the Greenland Whalers," the song that sparked their connection all those years ago, Marilyn jumps in with perfect harmony. In 49 years they have not missed a beat.
And in that sense the duet will always be on tour.
Photos and music used with permission of Dale Barcellos