REX Productions releases 'Absolution'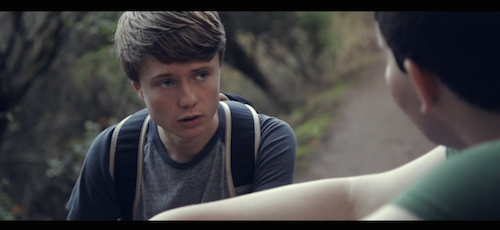 A

 frustrated high school student named William (junior Zach Sanchez) stands, hand-to-head, on the dirt hiking trail as his friend Jack (junior Thaddeus Tarshis) walks away, map in hand. The screen goes dark, and Jack reappears, staring at an article reporting that William has been missing for a week.

The students in B103 hold their breath and look around the room quickly to snap back to reality. A few students shuffle quietly around the room trying to find a space to sit, while others remain watching the film with mouths wide open.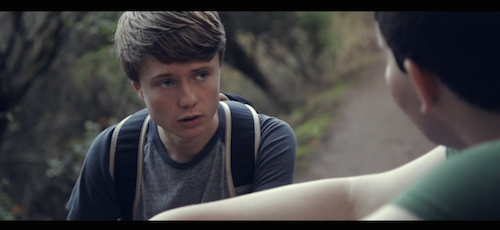 On April 10, REX Productions held the premiere of its short film, "Absolution," at lunch. The film deals with social anxiety and schizophrenia, a mental disorder in which people live in an abnormal reality. The plot focuses on Jack, a boy who leaves his friend William in the woods without a map following an argument. When William is later reported missing, Jack is plagued by an overwhelming guilt, and as he resumes his usual routine, he is unable to shake William's presence in his mind. This persistent paranoia presents the schizophrenic theme of "Absolution," culminating in the short film's shocking ending.

The premiere consisted of a viewing of the film, a "Behind the Scenes" video and an optional Q&A session with the cast and crew of the film. Feedback on the film was generally positive, with many students left awestruck by its quality and depth.

"I didn't know what it was going to be about [coming to the premiere], but it was pretty cool," senior Lamisa Rab said. "It would be cool to be part of the filming process."

REX Productions is a film club on campus that has produced several short films and music videos over the past few years, usually featuring Drama students as the lead actors. The club has made movies ranging from love stories to mystery and crime. According to club president and director senior Eric Xu, there has been a natural progression towards a darker and more serious theme, culminating in "Absolution."
[accordions] [accordion title=CAST]

William | junior Thaddeus Tarshis
Jack | junior Zach Sanchez
Dan | class of 2014 alumnus Alexander Pieb
Jack's Mother | English teacher Vanessa Otto
Jogger | senior R.J. Siu
Strange Man | science teacher Kyle Jones

[/accordion] [accordion title=CREW]

Director | senior Eric Xu
Writers | seniors Eric Xu and Stephen Lai, sophomores Roy Tsui and Henry Wang
Location Sound Engineer | senior Stephen Lai
Boom Operators | sophomores Joyce Li and Roy Tsui
Utility Sound Technician | junior Nicole Anderson
Gaffer | sophomore Henry Wang
Production Manager | senior Annie Wang
Lighting Technicians | sophomore Nithin Kumar, freshmen Yash Goyal and Neel Chaudhari
Clapperloader | freshman Anirudh Chaudhary
Set Videographer | senior Sara Ye
Editors | senior Eric Xu and sophomore Henry Wang

[/accordion] [/accordions]

Planning for the movie began last year, but due to the filming of another movie and other issues, the production of "Absolution" was delayed. Once the script was finalized in November 2014, the actors were recruited by the club officers and production began.

Tarshis, who has worked with REX Productions on a previous film and is a current Drama student, was recruited for the film by Xu. He found that acting for film can be advantageous, since it is not too difficult to refilm a scene and the camera can fix many problems. However, he did find acting for film to be quite a change from his usual stage acting.

"Being on stage is a little different [from film acting] because you always have people on different spots," Tarshis said. "[Sanchez] and I are friends, so it was fun. It's kind of fun to get away from the stage style because you get to show off your acting to different people."

The film was created in response to the mental health film contest Art With Impact. According to Xu, the club chose to focus on schizophrenia since it was a topic that lent itself to a relatable and unique theme, as it is something that can happen to anyone.

Although the film received positive feedback, Xu is uncertain of how it will fare in the contest.

"I don't have high expectations for it because at the time we just wanted to write for ourselves, for better narrative. I think we did a great job of showing what the problem is in a really engaging format, but we didn't do it like 'here's what you can do to help people,'" Xu said. "I'm hoping the judges will say 'well, they showed the problem really well and that will reduce the stigma because people will take it seriously now.' [But] you never know how the judges see things."

Competition results will be announced in June, and the club will continue focusing on its upcoming projects in the meantime. REX Productions' "Absolution" can be viewed here.
El Estoque: Can you tell us a little bit about the idea behind Absolution?
Senior Eric Xu: We did this competition [which aims] to reduce the stigma around mental illness. This time, we wanted to do something that was a little more severe, like schizophrenia. We wanted it to be relatable but also kind of out there as well… we went with schizophrenia because it is a manifestation of guilt.
EE: What is your favorite moment from filming?
EX: The whole shoot was kind of tiring. The most fun part — if you don't count the premiere — was the indoor shoot where we got to smash the sugar glass bottle.
EE: What was the most difficult part about filming this movie?
EX: This is a common challenge that we have, making the plot scenes coherent. We don't want [the plot] directly stated in the dialogue or anything, you have to show it and you want to make sure people catch on. As for filming, probably some travel issues when you're filming outdoors, when you're filming the running shots, it's physically tiring. When we were filming the hiking shot, there were a lot of hikers around us.
EE: What did you take away from this experience?
EX: First off, don't try to make your own sugar glass bottles, just buy pre-made ones. Maybe the writing is the most important thing we learned, to keep it concise but also to keep it filled with action. Just having things where even if people don't understand the theme, they can just watch the film and have fun. We apply that more now.
EE: Was there any inspiration behind the film?
EX: It was just these ideas that I had, relating to depression, relating to guilt over wronging a friend. And it was just trying to connect that.
EE: How did you ensure that the actors carried through the meaning in the script?
EX: I work with [Tarshis] a lot now, but that was actually our second major project and the first one that turned into a film. At the time we started the film, we talked about the idea of why we were doing the film. When we got him on the set… all of our actors pretty much stick to the script. Sometimes if I see him doing something that seems out of character, I'll just let him know. It's a very in-the-moment kind of thing.
EE: What is the future of REX Productions?
EX: We're finding replacements for each of us. Our club works better with longer-term leadership. My hopes are a minor rebranding just to signify that I am no longer directing as the MV division, just so they have their own identity. I definitely want them to keep [making films], and to follow the track that I've laid out with the film festivals and corporate competitions and things, that'll bring them the most value. I also hope to come back in summer to work on some big projects with them just to get back into it every once in a while and do something big when I do.