The Other Ball Game: Students struggle to pursue their passion for cricket in America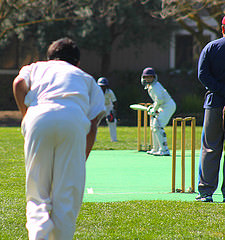 S
even boys, ages 5 to 13, rally around in a circle just outside of the Cupertino library on March 14. "Wow," they whisper to each other as they take turns stroking their hands along the shining new cricket bat in the center of the circle.
Instead of Michael Jordan shoes, these boys ogle a vintage box for a red cricket ball signed by Rohit Sharma. Instead of a Colin Kaepernick jersey, they save up for posters of Sachin Tendulkar. Instead of a sporting U.S.A. jacket, they're wearing a light blue jersey with strokes of orange, white and green brushed across the word "India."
Cricket is played mostly by immigrants making it one of the most diverse sports in America. However, the cricket fervor apparent in countries like India, Britain and Australia is yet to catch on in America.
Cricket in the United States
Hemant Buch and his wife cofounded the California Cricket Academy, one of 50 cricket leagues in America, to spread cricket and sustain a world class cricket program, despite the unpopularity of the sport.
"In very few places do we have this kind of program," Neeraj Bhalla, whose son is part of this group, said. "But it is a big struggle in Bay Area since there is no space to play the game."
A standard cricket field spans more than 140 yards wide, and the cricket pitch is made of sand. For these boys they play on a field less than 100 yards long — one third of a football field smaller than a standard size. And their pitch? Just a concrete pad placed over the patchy grass.
Photos taken by Avni Prasad on March 14.
Idenity crisis
The lack of financial support for cricket in the U.S. prevents many Americans from pursuing a passion for cricket.
"If my son keeps playing as he does now, I know he will make [the under 19 U.S.A. cricket team]," Neeraj said. "But there is no career or money you can make off of living that dream."
With roots in India and homes in America, these boys are left facing an identity crisis. Should they continue playing cricket knowing there is little hope of receiving acknowledgement from their home country? Or should they drop their cricket ball for a baseball and conform to a more ordinary dream in America?
Senior Rutvij Bhise used to be one of these boys. He played on the same patchy field outside the Cupertino Library. He faced the same identity crisis. And he chose the same ball game to pursue.
Before Bhise picked up a cricket ball 12 years ago, he was just a young boy interested in every ball game under the sun. He played baseball. He played football. He even played slam ball — basketball on trampolines.
In 2003, when India went to the Cricket World Cup, Bhise and his family went to the Indian Community Center in Milpitas to watch the game. The excitement from the 300 people in the room inspired Bhise to sign up for California Cricket Academy.
"I took to the sport like a fish in the water," Bhise said. "[Cricket] was one of the three sports I was playing at that time, but it was the one I felt the most at home while playing."
"Home" for Bhise was not baseball or football or slamball. It was cricket. And his inspiration came from a place 8,203 miles from home — India.
Cricket career
"Very few people are as lucky to discover their true passion in life as early as I did," Bhise said. "So, I am really thankful for that."
After one too many windows broken, Bhise had officially outgrown the patchy field outside the Cupertino library. Bhise, along with senior Anirudh Srinivas, were recruited for the under 15 U.S.A. cricket team. For both of them, one of their best moments of their cricket career was the time they first put on the red, white and blue jersey.
"I had seen this on TV all the time," Srinivas said, "when the team walks out on the field together, the umpire picks out the ball from a box and hands it to the opening bowler. I got to go through the same [actions]. And live that same moment."
Like father like son
Srinivas's father dreamed of becoming a national player in India, but an injury crushed those hopes. Despite residing in America, Srinivas picked up his father's dream and aspires to someday wear the national cricket jersey for India.
"In the U.S., since we don't have much [financial] support, it is not an actual profession, since you can't get paid that much [for playing nationally]," Srinivas said. "But, cricket was actually the very first [outdoors] sport played in America. The president played cricket before baseball was invented. Not many people know that, and they disregard [cricket] as not an 'American sport.'"
Losing home base
Surprisingly, cricket was once America's national sport. In fact, the first international cricket game was hosted by the U.S against Canada. Introduced by the British, cricket was a common pastime from the early 1700s to the mid 1800s. However, after the Civil War, cricket took the backseat as baseball was promoted as a patriotic and native sport.
"Before the tech boom, America was a society arguably twice as fast paced as any other society in the world," senior Bhise said. "So when you have a game that takes five days, eight hours a day, it is very difficult for a society that is used to quick rewards to find satisfaction in a slow sport like cricket."
A shorter ball game
However, newer, shorter formats of cricket are gaining more popularity amongst the younger generation. A five-day test match has been condensed to a twenty over game, which lasts only three hours, roughly the same amount of time as a baseball game.
"Twenty20 cricket is taking off in the world," Bhise said. "I hope to see cricket be come more popular in America because of the short game being introduced."
Patiently, Bhise, Srinivas, Buch and over 150 of the boys in the California Cricket Academy wait for support. They have experience — cricket, after all, is a game of patience.
Back outside the Cupertino library, the boys begin their eight-hour-long game under the scorching sun. It's a long game. There are even tea breaks. Some may not get to touch the ball. Others may never get to bat. But, not one of them will complain about the game.