Girls soccer: MVHS defeats Kings Academy 1-0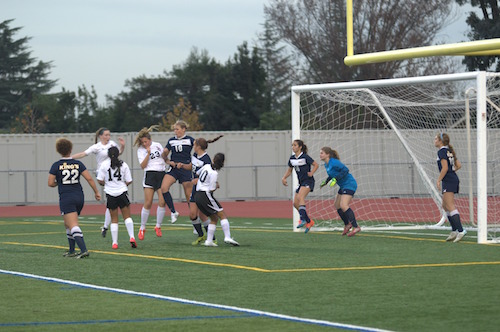 Varsha Venkat
December 16, 2014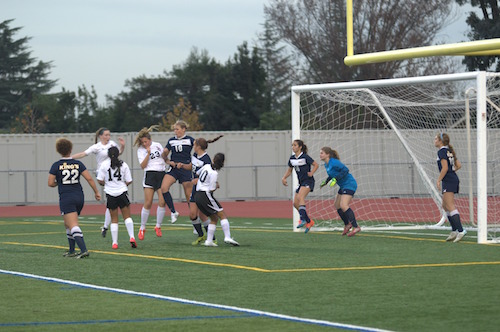 A

fter a slow first half in its preseason game against Kings Academy on Dec. 9, the girls soccer team dominated in the second half to score a goal and defeat the Knights' division A team 1-0. The game marked the Matadors' first win of the year.

The team played more aggressively than they had in previous games, which helped them block the Knights' predominantly offensive plays. In the first half, the Knights attempted many shots to the goal that were blocked by MVHS goalie junior Monica Polgar. The Knights' control over the ball continued into the second half, but they often missed shots, with the ball often hitting the edge of the goal post.

Into the second half, the Matadors stepped up their offense and changed their formation to include three forwards, as suggested by coach DJ Driscoll. After a series of switches, senior Janaye Sakkas passed the ball to junior Alissa Paterson. Paterson had missed a corner kick earlier in the game and was frustrated with herself. The pass was a perfect opportunity for her to redeem herself — she would not let it go.

With her fellow players holding back the Knights' defense, Paterson shot the ball into the goal, making the score 1-0.

"I had to do everything I could to put [the ball] in," Paterson said. "The goalie is coming out so I just had to tip the ball over."

Following the goal, MVHS made stronger offensive plays and succeeded in keeping the ball away from the Knights. Paterson said that having a win so early in the year boosted the team's morale and hopes that this will help the players once they get into the season.

She attributes the team's success to its well-coordinated defense and better understanding of each player's skills after scrimmages. Freshman Nanda
Nayak, who made several runs during the game, also believes that the team's win was a result of its experience.
"I think we're more comfortable with each other because we practiced more with each other," Nayak said. "We went into [this game] better than we did the last game."
Driscoll is proud of the team's progress and looks forward to a successful season.
"It was great, I mean only two games this season [and] we got our first win," Driscoll said. "It wasn't an easy win. I keep on telling the girls they got to scratch their claws to win games, and they did that today, so I'm really proud of them."
The team's next home game will be at 3:30 p.m. on Jan. 9, against Cupertino High School.