Redefining science successes at MVHS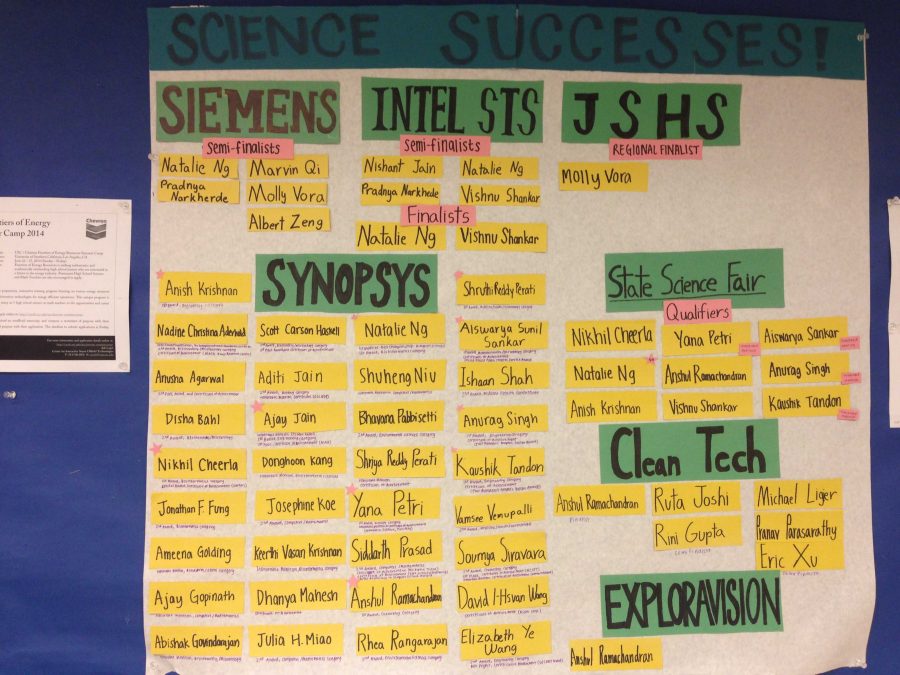 Yashashree Pisolkar
May 16, 2014
Self-motivation, creativity and willingness to improve prove to be strong measures of success for science fair participants.
Taped up against the back wall of AP Biology and STEM teacher Renee Fallon's classroom is a poster board labeled "Science Successes!" The poster displays yellow post-it notes that feature names of MVHS students who have received awards for their research projects in this year's science competitions. Under each name is a handwritten summary of the student's cummulative wins in honor of their improved performance from previous years.
Recent additions to the poster include the results from the California State Science Fair competition, which were announced on April 29 at the California Science Center in Exposition Park, south of downtown Los Angeles. Five MVHS students won awards and honorable mentions at the state fair. More students had strong performances at other local competitions throughout the year.
According to former Engineering and Technology teacher and President of next year's Synopsys Championship, Bruce Kawanami, students' commitment to the process of research rather than fixation on competition results is what makes their wins a true success. Kawanami, who taught engineering at MVHS from 1999 to 2010, believes that success in science competitions should be defined by a student's creativity and originality rather than the number of first or second place wins he or she receives or the resources that students have access to.
"Over the years, MVHS students have consistently performed well in math and science, but [science fairs] are a tremendous opportunity," Kawanami said. "This opportunity is totally unique, it's your idea, your execution … the fair sets up students for their futures really well."
A comparison between last year's "Science Successes" poster and this year's poster reveals a significant increase in overall wins and honorable mentions for participating students in competitions including The Siemens Competition in Math, Synopsys Championship, Intel Science Talent Search, Junior Science and Humanities Symposium, International BioGENEius, California State Science Fair and Clean Tech Competition. According to Fallon, who has been pushing for greater student participation in research projects with the inception of the STEM class during the 2012 – 2013 school year, the competition gets tougher every year due to the culmination of student work on multiple research papers during their high school careers. Regardless of the competition, however, Fallon encourages her students and mentees to maintain emphasis on the process and development of their research rather than the desire to accumulate awards and certificates.
The right approach
MVHS senior Anshul Ramachandran is one student who began his first individual research project during his freshman year at Bellarmine College Preparatory. Ramachandran recalls coding and bug-fixing for hours together before his success this year. In early April, Ramachandran won first place in the Chemistry category of the Synopsys competition for his project, which involved determining the structure of polyatomic ions in aqueous solutions through the use of molecular dynamics simulations. More simply, Ramachandran used computer software to analyze polyatomic ion structures. His win at the regional level qualified him for the state fair. According to Ramachandran, mentorship and access to resources help lead to a strong performance during competition season, but perhaps the most important factor is self-motivation.
"You don't want [your mentor] to be the person who just gives you your project," Ramachandran said. "I feel like that's not the right way to approach research … you have to take the initiative to use your mentor as a resource to bounce off ideas. You have to make an effort."
Disparity in resources
A look at the Synopsys science fair winners roster reveals research project headlines that mimic PhD level theses: "Prognostic Biomarker Tool for Glioblastoma: A Multi-Dimensional Cluster Analysis to Identify Target Genomic Signatures" or "The effects of ingestion of spores and proteinaceous parasporal crystals produced by Bacillus thuringiensis on the survival and olfactory associative learning performance of adult honeybees of the species Apis mellifera."
These headlines aptly reflect the complex and high caliber research that MVHS students are handling on a daily basis. According to Kawanami, the level of competition at the regional level has increased because students are gaining independent access to professional labs and mentors regardless of the resources that are made available at school. Kawanami notes that while the caliber of the research is much higher, access to labs and professional mentorship is causing a greater divide between the resources that are available to competitors.
"We want to maintain the quality of research, but we also want to keep the fair accessible to all students regardless of the resources they have," Kawanami said.
Many students turn to school databases like EBSCO and JSTOR for preliminary research, but freshman Anusha Agarwal, a student in Fallon's STEM class, said that not having access to advanced equipment at university labs is a disadvantage when it comes to testing a complex hypothesis. According to Agarwal, the $25 resources budget that the STEM class offers does not sufficiently cover the costs or needs of the research project. In such cases, students turn to parents to fund their research projects.
"MVHS is a [level] one facility so we can't have animals such as mice or invertebrates in our science classes; but to study what I want to study, I think I need more resources, and universities have a higher safety-level labs for that," Agarwal said.
Salvaging the gap
Although Kawanami and his fellow directors and competition judges are aware of the possible discrepancy between resources that students use for their research, salvaging the gap is a difficult task. Kawanami hopes that over the next year he can work with the Synopsys Board to encourage students to participate in research without being limited by the resources made available. However, Kawanami said that further regulations or parameters may prove to be counter-productive as participants are deprived of the freedom to expand their scientific horizons. Nonetheless, the Board hopes that encouraging students to think creatively will foster imaginative ways to accomplish cost-effective research.
"Our goal is to run very clean operations. The agenda is the benefit of the students," Kawanami said. "Competition is shifting the focus away from the process to the result, and that's something we need to balance next year."