Scanty rainfall prompts water conservation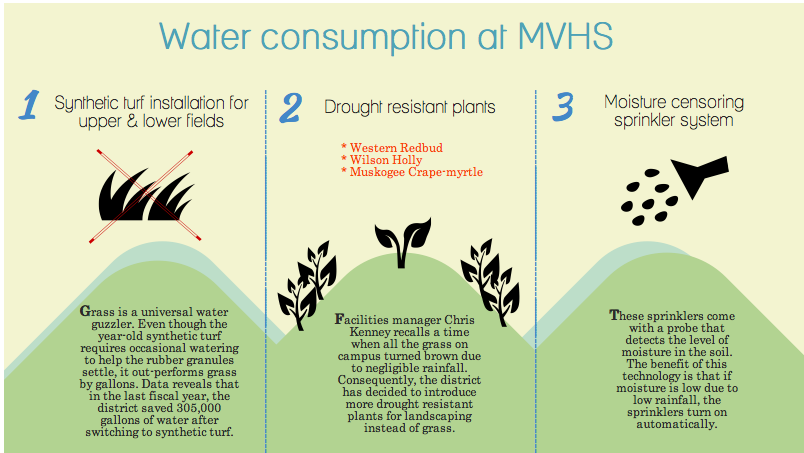 Yashashree Pisolkar
February 10, 2014
Inspection of water usage on campus reveals positive measures for conservation.
Cupertino residents, as well as neighbors in the South Bay, were slumbering on Wednesday night when rainfall finally hit the parched pavements. Just as morning commuters got into their cars to head to work and school, "101.3 Star Mornings" host Sandy Stec echoed the common relief: "Thank God, it's raining."
California has had a long history of droughts. In fact, we are in the third consecutive year of the ongoing dry spell. According to a Huffington Post Green News article, as of mid-January, water levels in California's main reservoirs and lakes –– namely Lake Shasta, Lake Tahoe, San Luis Reservoir and Folsom Lake –– have only averaged around the 30 percent-full mark. According to a report published by the California Department of Water Resources, over 75 percent of the state's annual precipitation happens between November and March. Already into February, the state has seen only 21 percent of total annual rainfall.
Consumption on campus
According to FUHSD Director of Facilities Erik Walukiewicz, consumption-conscious efforts have been at the forefront of campus landscaping and design at all five schools within the district. Walukiewicz reveals that a good portion of rainfall from now until the end of the season will be run-off, not necessarily capable of amelioration. Even then, the state-of-the-art irrigation systems on campus and purposeful selection of plants and shrubs will ensure controlled water usage in three main areas: athletic fields, property watering and landscape.
Promoting conservation efforts
In an effort to help raise awareness of the drought and its impact on campus, MV Green Society is starting to take initiatives toward promoting water conservation. Having started two years ago under a different name, MV Green Society was formerly a small branch under a larger organization which sent representatives to state senates and town meetings in order to pass certain laws addressing the environment. Among other laws, the club aided in passing the Plastic Bag Ban in Cupertino.
This past year, the club has switched to focusing more on the school level and bringing change by helping MVHS students directly. Because of the recent speculation on the California drought, the club has began contemplating how they can encourage the student body to conserve. Club co-president junior Rizwanulla Mohammed said that an effective way to build awareness throughout the campus would be to put up flyers and posters explaining how the drought directly affects the student body. Although it has rained this past week, the floodgates still haven't completely opened. Mohammed advises students to think through the amount of water they consume on campus and how that amount can affect everyone else.
"Be informed about what you are doing," Mohammed said. "Be careful about the decisions you make."
Measures that students can take
Biology and AP Environmental Science teacher Andrew Goldenkranz has his own concerns about the ongoing drought. He says that according to tree-ring data, this current weather may be the beginning of a prolonged drought situation, which can leave California drier than it has ever been in the past 500 years.
Although it has started raining over the past few days, the amount is a relatively small portion of the overall water shortage.
"If we are short a five gallon bucket of water, this is a 16 ounce cup compared to the amount of water that's missing from the system right now," Goldenkranz said.
As a result of the drought, he says that water prices are going to go up quite rapidly. Since it is going to become more expensive for the district to pay for our school's water supply, students can expect to see cutbacks in luxuries such as landscaping. In addition, he says that in an effort to conserve more water, the school should work toward implementing motion sensors in sinks, and installing low-flow toilets.
Goldenkranz suggests that the student body work actively towards lowering water consumption. The largest impact can be made at home, where he advocates for lowering the duration of showers. Also, he says that eating meat is very water intensive, especially since it takes over 800 gallons of water to produce a pound of hamburger meat. Since 25% of California's water supply goes toward food, he advises students to eat lower on the food chain.
Although Goldenkranz is welcoming the rain with open arms, he worries that it might make people complacent. He strongly suggests that students keep in mind that their responsibility toward conserving water does not end with the rain's arrival.
"After all, it's just a couple of drops in the bucket," he said.