Dramatic changes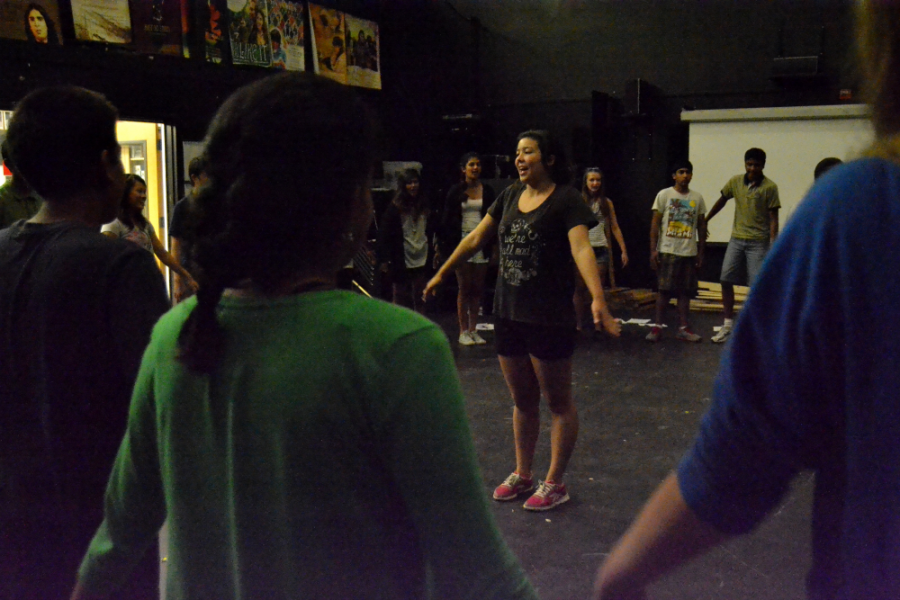 Rhonda Mak
September 29, 2013
1. Less textbook, more drama
Previously, the drama courses implemented textbook reading in the curriculum. Students would fill out a worksheet and be quizzed on the material later. This year, the department is experimenting with more hands-on teaching instead of using textbook methods.
"We're still teaching what's in the book, but through hands-on activities," said new drama teacher Sara Capule. Rather than reading about the importance of vocal exercises, for example, students will discuss the significance in groups. From such activities, Capule plans to have a more
interactive atmosphere in drama.
2. Open auditions instead of closed auditions
For the first time, the drama department is implementing open auditions for all productions. In years past, only students enrolled in Advanced Drama or higher were given acting roles in the school productions. With open auditions, any MVHS student is able to act in the play, whether or not they are enrolled in a drama. For many in the drama program, this is a welcome change. "With every drama department there are problems, and we look forward to having those fixed with new minds and new perspectives," junior Megan Chandler said. At the same time, open auditions have their drawbacks. It is difficult to work around people that have been cast and unexpectedly become unavailable to act. "It's not so much that people are not talented … but sometimes it's their attitude. In casting, it's not really about who's a good actor or who's a bad actor but where everyone fits together," Chandler said. In a production, it is critical to make sure everyone works together as a whole.
3. Taking a step back with TAs
Drama TAs have always assumed instructing roles, but this year the focus has shifted to mentoring and advising.
"TAing is already a lot different because Beginning Drama was kind of TA controlled [last year], since our [former] teacher Holly Cornelison had a lot that she had to do," said senior Mikey Goldman, a drama TA of two years. "Now, we're doing so many new things in the business part of drama that the class part is shifting towards a more teacher driven class. Students are getting more teacher guidance and TAs are more help. We push them a bit more."
4. Experimenting with marketing
In the past, the drama department invited alumni or drama students to create promotional posters for productions. This year, the marketing advisors plan to team up with film club REX Productions to shoot trailers for every major production. The department hopes that experimenting with different advertising will help viewership grow.

"We're shifting how we advertise," said Goldman, who is also the department's marketing director. "I think, from a marketing standpoint, we're really just trying new things to see what people respond to so we get a better feel for the years to come and how we're going to connect [all of it]."

5. Tech emphasis
Although drama students have always been taught about theater technology, this year Capule intends to emphasize set building. The plans include inviting a colleague of Capule's whom will assist in training the students, teaching them how to nail wood properly or pick the right kind of wood for certain sets.